Step 1:
The first step to the PERFECT smokey eye is to PREP THE LID so as the shadow doesnt melt into the crease. We do this by applying an eye shadow base. You can use either a foundation primer or simply do as i do and use a neutral cream shadow.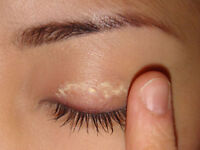 Step 2:
Apply a light gold or light beige ALL OVER the eyelid. Again- Cream shadow is best for this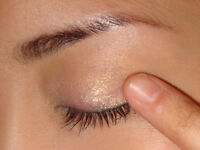 Step 3:
Using a FLAT eye shadow brush, PAT a medium brown or bronze eye shadow over the lid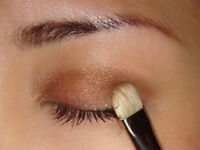 Step 4:
Using either a small angled brush darken the creases and outer corner of the eye with a dark brown eye shadow & blend off sharp edges with a soft fluffy blending brush
TIP: IF YOU DONT HAVE A SMALL ANGLED BRUSH- A COTTON TIP WORKS JUST FINE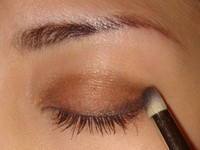 Step 5:
Apply the same dark eye shadow as you just used, but this time to the bottom of the eye
TIP: AGAIN, I FIND THE COTTON TIP WORKS GREAT. FOR EXTRA LONG WEAR- DAMPEN THE COTTON TIP BEFORE DIPPING INTO THE SHADOW. THIS IS ALSO REALLY HAND FOR PEOPLE WHO LIKE THE LOOK OF EYELINER BUT CANT HANDEL APPLYING THE PENCIL.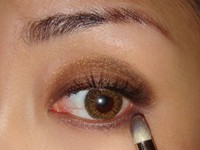 Step 6:
Now draw a line along the upper lash line with a black liquid or gel eye liner. To create the illusion of longer, bigger eyes- drag the line a few MM past the outter corner. Line the water line as well to make sure there are no "whites" peeping through.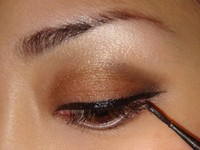 Step 7:
Brush a very light or golden high lighter across the lid and all the way up to the brow bone, and then follow through on the bottom lid also.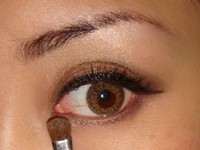 Step 8:
Apply several coasts of mascara to both the top and bottom lashes. You can even add some fake lashes for a "Dramatic" look.
& Wal-AH! There you have it! The perfect smokey eye for any occasion!