I'll review the electric ceramic jug collection held by the Powerhouse Museum in its
'...never done': women's work in the home

exhibit. Featured is a 1920s suburban kitchen displaying many sought-after varieties of electric jugs. Fancy electric jugs like these became a status symbol as electricity was rolled out to suburbs and towns across Australia; the more eccentric and fancy a jug the better!
These antique electric kettles capture a fascinating part of our interwar domestic landscape. After decades of dutiful service it is rare to find museum quality pieces like these.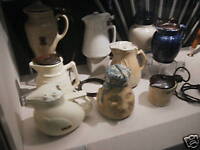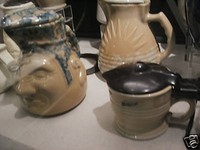 These jugs were donated to the museum by members of the community
Vintage jug collecting is a serious hobby for those interested in Australian pottery and its history. These old designs remind us of a bygone era in Australia and are making a huge comeback in the form of fancy ornaments standing silent witness to the daily rituals in modern Aussie kitchens. Its well worth visiting Sydney to see them for yourself. The collection includes examples of:
Sunshine Electrix Sunray Jug 1930s

Hecla Grecian Urn Electric Jug 1929

Wynyard Stoneware Electric Jug 1920s

Sunshine Electrix Face Jug 1935

Fowler Stoneware Blue Glazed Electric Jug with Bakelite Lid 1930s

Hotpoint 1 Pint Electric Jug with Removable Bakelite Lid 1930s

Monash Toucan Electric Jug 1930s
For selective collectors these varieties are the Holy Grail so unless you already know a collector , come along to the museum to take a peek at the full collection for yourself.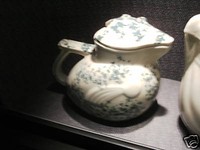 Since you've read this far I am sure you found this guide useful so please vote!