**The property market has always been Big Business. The Australian dream is to own your own home and there are a lot of people that wont stop until the day they can stand on that front porch somewhere perhaps near the beach, keys in hand smiling for the photo saying, 'Yep, it's all mine'. ** J.Wright

The Australian Dream. Its a part of who we are.
We also like to think our culture is one of equal rights.
We all want our 'Castle' so to speak no matter where we fit on the financial ladder. To feel proud about something we can rest in, feel safe in, feed and rear our kids in and plant our gardens and memories in.
It sort of does mean an awful lot, right? These days there even exists support for 1st home Buyers to get up and running with not too much of an initial cash outlay. So, what about those people that have always Rented a home?
Weekly Rentals can ask anywhere from $370 to over $1000 depending on where you are looking at setting up. While some people just want shelter from the elements and are not in the least interested in having a vege patch to be proud of, others long for ownership, that patch of earth that belongs to them and will belong to their children.
What about when the dream is not the reality, when cash outlay is out of order and life seems to keep spinning like a mad top that One just can't get control of? Costs of living when it involves kids, school and medical expenses to name a few areas keeps taking the upper hand and there can seem no relief in sight. Then there can be the issue of job security and the little waving flag that stands as a reminder of an increasingly changing environment.
Been made redundant recently? So many have experienced this and the awful toll it takes. A close friend related the stress of redundancy after working for a firm for over 11 years. Not only were others like her given the bad news but thousands of dollars have been left owed to those given the final salute. The pressure to then chase up after your rights is not only time consuming but adds to the blow. Relationships can cop the strain including those with our kids. We would love to be able to provide everything our kids need when they need it wouldn't we? We simply don't want our precious offspring to experience hardships like we experienced growing up, so we take on more work and then even our partners work and we encourage our kids to work and to save and be good at whatever they put their minds too. Losing that income stream can feel like the end of the happy carosole ride all too soon.
We as Australians in fact, are constantly aiming for our young aspiring Aussies to be proud of who they are and what they do as long as it is their personal best. We strive to better the future so less and less go without oppurtunities.
When we consider our schools, Teachers can be very persistant in how well a student achieves on a daily basis. And that's a good thing. But if a child doesnt fit the 'check list' for the statistical chart of averages per age group, then alarm bells ring loud and clear and parents are rounded up to discuss all the pending fears of a future without oppurtunites and one of social and academic struggle. There appears little room for some shades of grey. Can kids just be kids anymore? We may find ourselves asking whether the five year old child in the classroom that communicates using animal sounds while bearing a cheeky grin is truly showing signs of autism or not, especially if that child happens to be our own. Now suddenly there seem to be issues affecting the flow of things, issues that haven't appeared problematic for us before perhaps. The end of the ride? Must he/she be assigned immediately to a speech pathologist, paediatritian, occupational therapist and school appointed psychologist? This is not how you foresaw things. This is not what you wanted to hear or deal with. The mad top has begun spinning. While it's true we must look to the future with optimism it would be agreed that we are directed everyday by the Media to do less, stress less, even think less. This has to be a joke right? Stress less? When has that ever been easy. "I only ever wanted a vege patch, something little even," you find yourself lamenting when spirits are dashed. "But I have to think about the health of my heart, kidneys, brain and stomach, right? Could I do juices? Oh well, no, not without the vegetables and I don't want anything that isn't organic."
The property market is like our dreamed of private garden. It highlights our hopes, dreams and realities that for some people mean being alive and living, putting roots down to then expand freely in other areas. So much depends on the positive outcome of this in order for us to be truly free and therefore happy it feels. And thats what it is, the promise of freedom. The promise of control over our own lives, the promise of security, of success,
That 'freedom' comes with a price though called a mortgage( weeds or the imposing thoughts of others over our personal values) and anything wanting maintenance,( like caring for our bodies, our minds), including insurance and rates, ( paying to see the paediatrician to evaluate your child etc). Perhaps it could be better described 'the promise of control'. Our perfect health and minds would grant us longevity so achieving our personal best is a priority. We want to have a say over where our lives are heading. If we take the foundation of our individual level of education (outcomes cannot be dictated! ) and our creative flair in whatever our professional field and know where to draw the line for ourselves, not for our teachers, our bosses, our neighbours etc, then we could probably find happiness in choosing to be grateful for what we already have and can create in all its unique shapes and forms however small ( planting a tub of tomotoes or makin up little containers of herbs ) and doing our best to take care of these things.
Our place of rental dwelling could be a real home or 'Castle', a true haven even within the formal boundaries attached to it if we choose it to be. Our very own unique Australian dream.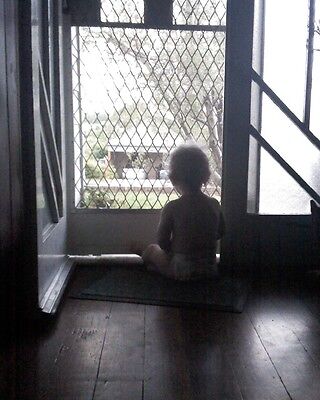 ** Notes from Emporium Eve-Phantas **