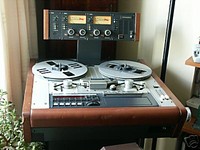 Like the idea of having a tape recorder?,or you already have one, and want to get something better?. ..Thinking of buying one on eBay? -Want the best that's around? -This may sound like an ad for a manufacturer,but it isn't!.
If you want probably the best open reel machines made in the world - look for a STUDER !. They'll knock spots off of the competition!.I worked professionally with these machines for 30 years ,and have a number of them now in my collection,from the large 'A 80's' , down to the smaller sophisticated 'A 810's'. Quality and reliabilty are the key words for Studers.Being professional machines,they were normally connected to a mixing desk,however they can also be also connected to a 'Hi Fi' set up without problems.
I first became interested in tape recording in 1962-starting out with a small battery operated machine that my father bought for me. It used a permanent magnet for an erase head ,and had one motor that worked on a pivot-which worked the drive of the machine,plus the spooling,and it sounded pretty dreadfull !
Over the years I progressed gradually with better machines- Truvox / Brennell / Ferrograph etc, and now have quite a collection,However if you want to miss all the 'inbetween' machines - start at the top -which takes me back to the start of this guide!.......
if you feel this guide was helpful,please tick the 'yes' box - this way more people will get to see the guide.