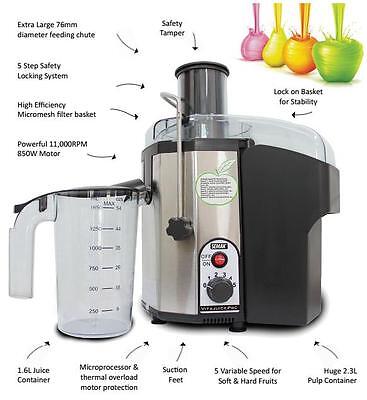 If you run a commercial food enterprise such as a cafe, juice bar or restaurant where high quality juice is needed on demand then the Semak Vita Juice Light Pro might just be the juicer you want.
This is a quality, high performance centrifugal juicer, full of innovative and user friendly features, without the big price tag.
With a heavy duty 850W motor, a 76mm hopper, an ultra efficient micro-mesh filter and 12 month commercial use warranty the Vita Juice pro reflects the Semak manufacturing philosophy:
"to build and manufacture quality equipment that is built to last, repairable and supported by spare parts."
Which means you can purchase the Vita Juice Pro with the added reassurance of getting a reliable and durable juicer with the support of Semak Australia. Semak have a solid 65 years of manufacturing and supplying both domestic and commercial appliances to Australian and overseas customers.
Some of the stand out features of this juicer that make it ideal for commercial juicing usage are:
The Intelligent Motor Control (IMC) feature incorporates a microprocessor that matches the motor's torque to load balance. Which means you're not getting higher energy and task efficiency, but also the added benefit of advanced motor protection from overheating. The Vita Juice Pro is actually built to last unlike many of the similar styled juicers on the market, that promise much, but quickly disappoint with under-performance, or problems with parts and motor issues.
A Powerful 11,000RPM 850KW Motor. Which means you're getting a heavy duty commercial motor that offers the power to spin dry the maximum yield from all fruits and vegetables. Whether it's watermelon or carrots you'll get an abundant, high quality juice yield, more juice less waste.
Extra large 76mm diameter feeding chute. Which means that in a busy work environment unnecessary cut up time can be saved with fruits and vegetables. Very convenient when you get that sudden surge of customers all wanting apple juice at the same time!
Removable stainless steel blade and high efficiency micro-mesh filter and basket. This is a very important feature of the Vita Juice Pro, because the juice is strained through a filter, the yield and quality is maximised. Which means you can provide your paying customers with a texturally smooth, nutrient rich juice without all the lumpy pieces of fiber. The disc and filter are easily removable so it's quick to disassemble and clean. Of course all parts are replaceable with Semak Australia.
5 speed option for maximum yield. Fruits and vegetables all differ in their denseness and water content so it's important that a juicers rpm's can adapt accordingly for maximum juice extraction and pulp extraction. The 5 speed option is a user friendly feature that allows maximum juice extraction with both soft fruits and vege's, reducing the amount of clean up mess.
12 months commercial warranty and the backing of Semak Australia. Which means you have the reassurance of Australian based after sales service, supported by easily available spare parts.