Sought-after, like sunlight itself, the sunray jug is breathtaking and prized for its ability to capture the evanescent beauty of dawn. No matter the season or weather, the sun would rise in your kitchen, giving warmth, if you owned this jug.
Sunray Motif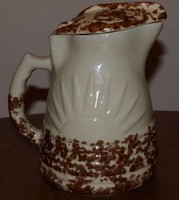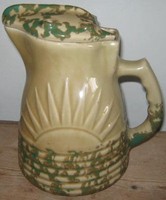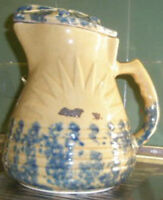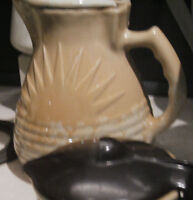 Green & brown are reminiscent of sunrise over the meadows & fields while blue is reminiscent of sunrise over the ocean.
Height = 240mm Width = 205mm Depth = 190mm
Made by Sunshine Electrix circa 1930
Sunshine Electrix takes its name from the inner-western Melbourne suburb of Sunshine, VIC, where it was headquartered. The locality was originally called Braybrook Junction, until 1907, when the employee residents of the town petitioned to have its name changed to honour the number one employer The Sunshine Harvester Company. The Post Office was renamed Sunshine in 1907.

When electricity came to Victoria's towns and suburbs its not surprising new electronics companies sprang up in Melbourne's inner-west. Sunshine is the junction of the railway lines from Melbourne to Ballarat and Bendigo where the great potteries of Bendigo, Eaglehawk, Epson, California Gully & Jackass Flat could transport their ceramics to Sunshine Electrix for electrification then sales distribution. Inspired by the bright dreamy name of Sunshine rather than the cold grey climate, the sunray motif was use as brand logo and the Sun inspired many early art deco designs which are as breathtaking as sunrise itself.
The jug came in a few sizes. Around the base of the body, ridges reach a third of the way up to form a horizon, over which a half sun has risen. Sunrays extend to the neck. A speckled/mottled effect is given to the swing lid and the ridged area forming the horizon, green and brown are reminiscent of sunrise over the meadows and fields while blue is reminiscent of sunrise over the ocean. Some jugs were completely speckled all over.

Two transfer stickers were applied. The Sunshine Electrix brand logo went to occupy and form the sun, while underneath, electrical specifications are given. Jugs with little use retaining their transfers are highly collectable, to see one check out the Powerhouse Museum's collection.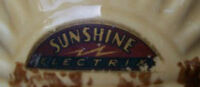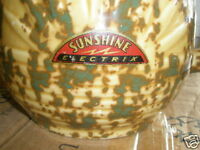 Since you've read this far I am sure you found this guide useful so
please vote
!