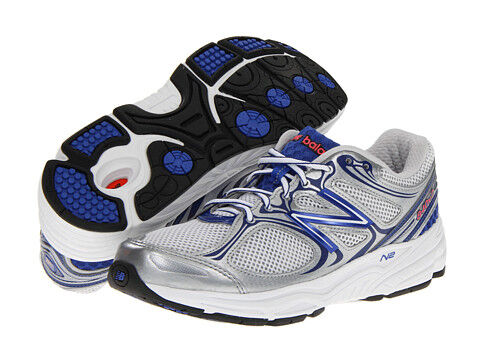 A good pair of quality
athletic shoes
is often one of the most important possessions of an avid runner. Quality running shoes must be comfortable and durable to ensure that they do not leave the runner vulnerable to injury or discomfort. Additionally, the needs and goals of each avid runner vary, requiring different needs from their athletic shoes. Long-distance runners need athletic shoes with cushioning and support for longer runs, while short-distance runners often need a shoe that is more durable for sprints.
The best athletic shoe for an avid runner is the one that is tailored to an athlete's personal running style. Athletic shoes for avid runners are available for purchase at shoe stores, sporting good stores, and online at helpful websites like eBay. There are seven athletic shoes for avid runners that cover a range of types of running shoes and running styles.
Athletic Shoe 1: Saucony Progrid Guide 5
The
Saucony Progrid Guide 5
shoes are light, stable, and shock-absorbing, making them an excellent choice for road runners. The low heel-to-toe drop helps runners stay on their forefeet. Additionally, this athletic shoe uses a light rubber on the outsole of the shoe. For avid fans of the Saucony Progrid Guide, the 5 is almost 56 grams lighter than its predecessor. This model features Saucony's trademark Progrid foam from heel to toe for a smooth transition with less impact. Overall, this athletic shoe is light and flexible with its biggest downfall being laces that are just a little too long.
Athletic Shoe 2: Asics Gel Kayano 18
With 18 different evolutions, the Asics Gel Kayano has made its place as a distance running shoe titan. The
Gel Kayano 18
is known for being one of the best running shoes for comfort, cushion, and stability combined. For runners familiar with this Asics model, the 18 is about 14 grams lighter than the
Gel Kayano 17
. Because of its protective cushion, this shoe is especially well-built for runners who battle piriformis syndrome, or chronic foot pain. The rearfoot features an external heel counter, which keeps a firm grip on the heel while wrapping the Achilles in a cushioned, soft padding. Overall, this athletic shoe delivers a lot of protection and is surprisingly lightweight.
Athletic Shoe 3: Brooks Trance 11
The
Brooks Trance 11
is a running shoe that matches stability and cushioning to that of an individual runner's specific foot. The Trance 11 comes in three different versions based on shoe size. Each version varies in terms of the amount of foam density found in the middle of the shoe. The density of the foam increases as the size of the shoe increases, with the biggest shoe size getting the firmest and most dense foam of all. This shoe is especially good for bigger runners, as well as runners with normal to flat arches. Overall, this shoe feels like it is created to the exact custom specifications of an individual's foot.
Athletic Shoe 4: Asics Gel Excel 33
With so much cushioning and flexibility in one compact shoe, the
Asics Gel Excel 33
is great for beginning runners who are looking to take it to the next level. While usually a shoe with this much extra padding in the midsole makes it hard to bend, the Gel Excel 33 has deep-placed grooves, which allow runners to bend their forefoot with ease. Additionally, these deep-placed grooves provide a smooth transition and more energy-efficient toe off. Because this shoe does not have a lot of the stability features found in other top running shoes, it is good for high-arched runners who do not need any motion correction.
Athletic Shoe 5: Mizuno Wave Creation 13
The
Mizuno Wave Creation 13
was created specifically with larger, or more heavy-set runners in mind. The Wave Creation 13 provides firm footing with each step, and absorbs a runner's weight without settling into the terrain. The Creation 13 features a nontraditional midsole with plastic plates separated by rubber shock absorbers. The upper part of the shoe provides extreme flexibility and conforms to a host of different types of feet. Unrelated to its strength as a running shoe, some consumers report that the colour from the fabric of the shoe bleeds onto socks. Overall, this shoe provides extra stability to larger runners and fits snugly with the arch of the foot.
Athletic Shoe 6: New Balance Minimus Zero
To keep up with the modern trend of minimalist running shoes, New Balance released the
Minimus Zero
, which functions like a bare foot with an outsole. Not as wide as other minimalist shoes available, this shoe is versatile as a long distance shoe or as a racing flat. The Minimus Zero has a synthetic mesh that wraps around the arch and opens up to provide breathing room for the toes. This shoe is excellent for a runner who has already delved into the barefoot running world and wants a minimalist shoe that is efficient and extremely light.
Athletic Shoe 7: Saucony PowerGrid Triumph 9
The
Triumph 9
is popular for its all-around comfort as a short to middle distance running shoe. As the ninth version in the Powergrid Triumph series, this shoe has more padding than its predecessor, which has made it especially popular among larger runners. This shoe provides a softer ride up front and utilises Sauc-fit, which locks the foot on the platform for a better fit. However, although more successful with heavier runners, the extra padding of the Triumph 9 decreased this model's flexibility and responsiveness for lighter runners. Overall, this is a good choice for heavier, forefoot strikers.
Comparison of the Top 7 Athletic Shoes for Avid Runners
All seven athletic shoes are exceptional running shoes in their own way. The following chart compares some of the specifics of each shoe model including brand, model, heel height, forefoot height, weight, and type.
| | | | | | |
| --- | --- | --- | --- | --- | --- |
| Brand | Model | Heel Height (mm) | Forefoot Height (mm) | Weight (g) | Type |
| Saucony | Progrid Guide 5 | 33.6 | 24.8 | 289 | Road |
| Asics | Gel Kayano 18 | 36.9 | 26.9 | 314 | Short to Middle Distance |
| Brooks | Trance 11 | 36.0 | 25.5 | 354 | Middle to Long Distance |
| Asics | Get Excel 33 | 33.4 | 24.5 | 303 | Short to Middle Distance |
| Mizuno | Wave Creation 13 | 36.6 | 24.9 | 360 | Middle to Long Distance |
| New Balance | Minimus Zero | 12.3 | 10.7 | 130 | Minimalist |
| Saucony | PowerGrid Triumph 9 | 34.1 | 26.4 | 266 | Short to Middle Distance |
This chart covers the basics of the top athletic shoes available for avid runners. This chart should not substitute trying on potential purchases to see if they suit an individual runner's unique preferences.
How to Buy Athletic Shoes for Avid Runners on eBay
eBay
has a range of different athletic shoes available for avid runners. Additionally, eBay helps make running affordable by providing a number of
deals
on
men's smartshoes
. For example, if you are interested specifically in the Asics Gel Kayano model, eBay has products available that match this description from a number of different sellers. These sellers include
Top-rated sellers
that consistently receive high ratings from buyers, post items quickly, and have a track record of excellent service.
To check on the availability of the
Asics Gel Kayano
model, or any men's athletic shoes on eBay, simply navigate to the
eBay
home page and type your desired brand and model of shoe into the keyword search. A list of options matching your search terms is then populated for you to view. You can also filter out your search results even further by adding in a desired price, condition, and size.
Conclusion
One of the most important things an avid runner can do to improve their performance is equip themselves with the proper running shoes. However, finding the right athletic shoe for an individual depends on the shape and contour of a runner's foot, as well as their desired preference for flexibility, stability, and comfort. To help meet a range of needs, companies that manufacturer athletic shoes make a wide selection of running shoes with different construction and technology.
Further, some shoes are designed with specific types of distance, skill level, and terrain in mind. Whether a novice or an experienced runner, the top seven athletic shoes have something for everyone. Doing research into what each of these models offer helps buyers narrow down what athletic shoe is the right choice for them depending on their running style.