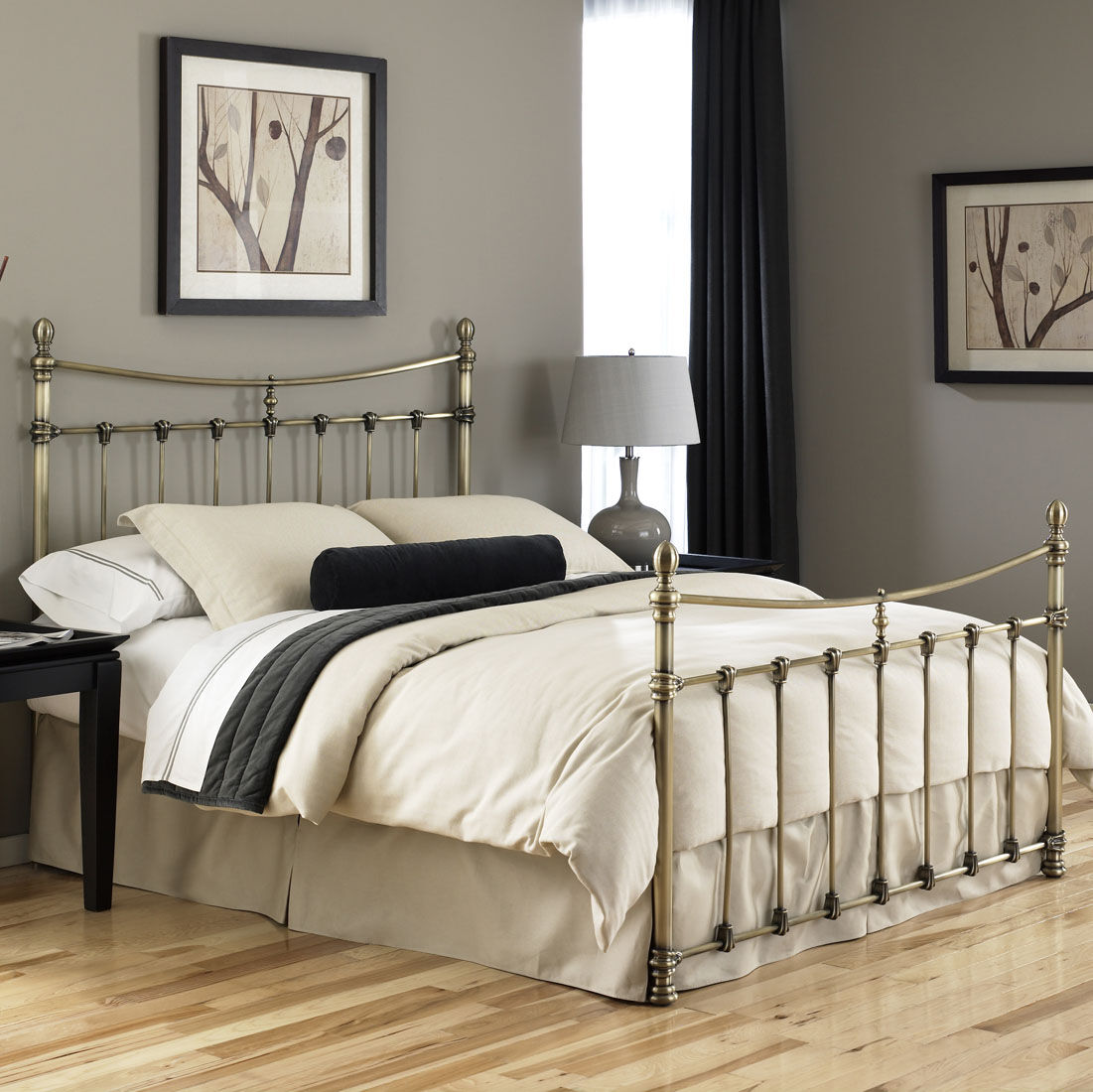 Brass beds have a history steeped in antiquity, making an appearance in England, first during the 1820s with their popularity peaking during the Victorian era. These timeless pieces of furniture have made their way from antique shops to homes, time and again several times during the past decades. Shoppers can buy these antique brass beds or their reproduced versions online as well, from shops such as eBay, taking their pick from designs that clearly indicate the eras during which the designs were popular. Whether the shopper wants the whimsical curves, ornate floral scrolls, rustic fence designs, or plain geometrical shapes on the headboards and footboards, there are plenty of exotic brass beds to select from, so the shopper is spoilt for choice.
Brass Bed Designs Available For Shoppers to Buy
All vintage designs of brass bedsteads, whether traditional, contemporary, eclectic, or modern, are easily available for shoppers to create distinct styles in different bedrooms. Ranging from opulent and intricately designed head and footboards to simple rods creating clean lines, shoppers can find brass beds in a wide price range. The styles and designs typical to some bygone eras are as below.
Victorian Brass Beds
Brass beds created during the Victorian era for royals and other nobility were exquisite, opulent pieces with ornate scrolls, curves, intricate floral designs on the head and footboards and fleur-de-lis on posts. Crest rails, finials, brass tubings, tall corner posts, and variously designed brass castings enhanced its durability while decorating the bed frames as well. The four posts on a Victorian brass bed that supported testers was a functional design during the bygone era. Beautifully designed sheer fabric canopies hung on the testers for privacy and also protected the user from draughts and insects.
Edwardian Brass Beds
The rich and heavily ornate Victorian brass beds were replaced by sober, breathtakingly fresh and informal Edwardian style brass beds, during an era that lasted barely nine years from 1901. The designs were predominantly feminine with an accent on soft, floral designs with Art Nouveau being a contemporary of the Edwardian styles.
Oxford Brass Beds
Shorn of all intricate designs, filigree works and decorative castings, Oxford brass beds typically have curved headboards and footboards with straight and well-proportioned tubings and knobs replacing the ornate swirls and scrolls. A great design that blends easily with most types of decors, Oxford brass beds are elegant and affordable.
Brass Beds in Art Nouveau Style
Rather than borrowing ideas from history, the Art Nouveau style of the early 1880s was inspired by life itself where anything and everything represented art. Art Nouveau depictions of flowers, leaves, vines, grass, seaweed, insects and other life forms using sinuous lines and violent whiplash curves in rhythmic patterns to connect these, created abstract patterns. This was also evident in the antique brass bed styles of that period. Drawing upon elements from Japanese art as well, Art Nouveau graphics such as branches, tendrils, water lilies and poppies are some decorative elements commonly seen on Art Nouveau brass beds.
Art Deco Brass Bed Styles
Art Deco brass bed design and motifs featured angular and zigzag geometric forms on themes such as leaves, feathers, flowers, sunbursts, shells, chevrons and lightning bolts. Tubings were generally square or round with solid finials and the decorative elements on the head and foot boards were stylised flowers and foliage.
Recognising Antique Brass Beds
Buying an authentic antique brass bed means investing a huge sum of money, and anyone who wishes to buy one would most certainly want to ensure the authenticity of the item. For one, beds with an original finish should look a deep yellow gold, as antique brass is mostly lacquered to keep it from tarnishing. Shoppers must garner adequate knowledge about the styles, designs, and type of materials used during the period to make a fair assessment. However, that is a tough call as even experienced people may be taken in by a reproduction that may have aged, mistaking it for an antique. Buying from reputable sellers is one way of ensuring the item is worth the money spent. If the seller has an appraisal certificate from a reputable antiques appraiser, that is adequate proof of the antiquity of the brass bed.
How to Buy
Shoppers wanting antique brass beds can shop confidently from top rated eBay sellers, known for selling authentic goods. These sellers have a yellow badge of excellence from eBay in recognition of their high ratings and outstanding customer feedback.
Typing 'antique brass beds' into the search bar displays numerous brass beds listings. Filters such as 'era,' 'style,' 'condition,' and 'original/reproduction' allows the user to narrow down the listings to meet their requirements. The choice of 'original' or 'reproduction' is a crucial filter for shoppers looking for authentic antique brass beds. eBay Deals are money savers for deep discounts on the hottest merchandise including exclusive items like antique brass beds. Avail eBay Deals and own your favourite antique brass bed at great prices.