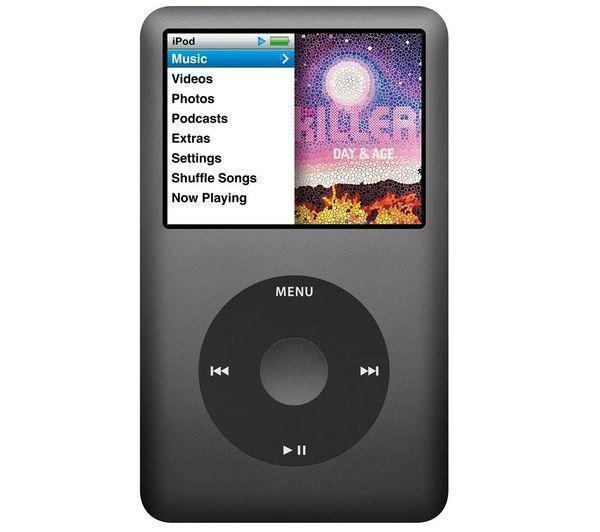 The influence of the iPod on music culture is apparent by the large amounts of people that use them daily. Once upon a time, when people wanted to listen to music they had to purchase records, tapes or CDs in order to do so. While the iPod was not the first MP3 player of its kind, it was the first one that caught on in the public eye. Today more people download songs as MP3 files from their computer and listen to them via portable music devices than purchase the songs on a physical CD.
There are many reasons for the rise in popularity of these devices, but chief among them is the fact that the iPod can store thousands of songs that users access simply by pressing a few buttons, vastly exceeding the capacity of a CD. These devices are sold new and used in electronics stores, as well as online at helpful websites like eBay. When it comes to finding a great deal on an iPod, the consumer must decide on a type based on storage capacity and features.
iPod Types
There are currently four different iPod versions available on the market: Classic, Nano, Shuffle, and Touch. All of these are MP3 players, but they each have specialised functions that appeal to certain buyers over others.
| | | | |
| --- | --- | --- | --- |
| Type | Largest Size (GB) | Average Battery Life | Year Released |
| Classic | 160 | 36 audio, 6 video | 2001 |
| Nano | 16 | 30 audio, 3.5 video | 2005 |
| Shuffle | 2 | 15 | 2005 |
| Touch | 64 | 40 audio, 7 video | 2007 |
They come in different price ranges and there are plenty of used older models for sale on eBay for a fraction of the price of new models.
iPod Classic
The iPod Classic is the name for the original iPod released in 2001. Since that time it has undergone a number of revisions, currently culminating in the sixth generation. The latest iPod models feature expansive digital storage space, with the largest being 160 GB, giving them the ability to store thousands of songs.
Because this was the first iPod, it uses several design features that other iPod types would later copy. One of these is the trademark iPod scroll wheel, used on all iPod devices except for the iPod Touch. Earlier generations used a mechanical scroll wheel, while later generations replaced it with a touch sensitive pad.
Because it was the first iPod, it is also somewhat limited in functionality. Bluetooth connectivity, and app downloads are unavailable on these devices. Only the fifth and sixth generation are capable of playing videos. First, second, and third generation devices do not even have an LCD screen. The first generation also only works with Apple computers and is not compatible with Windows.
iPod Nano
The iPod Nano is essentially a redesigned version of the iPod Mini. The idea behind the product remained the same. Developers created a smaller and lighter iPod, sacrificing larger storage capacity for portability. It is interesting to note that the work that went into developing the iPod Nano led to several energy-saving changes in the iPod Classic line.
Pros
There are several reasons to select an iPod Nano. Prime among them is its long battery life. The seventh generation iPod Nano has a 30 hour battery when playing music. The downside is that this version only has a three and a half hour battery life when playing video, but few users watch videos on the iPod Nano because the screen is so small.
Potential Cons
This product also went through several radical design changes throughout its life. Early generations have a strict resemblance to the iPod Classic. The sixth and seventh generations favour the touchscreen design of the iPod Touch.
Storage is also an issue. The early models had only one or two GB of storage. Over time, this amount steadily increased. The current seventh generation has 16 GB of storage, but this number pales in comparison to the 160 GB iPod Classic. Therefore, the iPod Nano is best reserved for those who do not want to collect a vast music library but rather use a smaller song list.
iPod Shuffle
The smallest of the iPod family, the iPod Shuffle is truly minimalist in nature. Its name comes from the fact that the device randomly shuffles through the playlist. Apple came up with this idea based on feedback from their customers who said that they often left their iPod on shuffle.
Things to Consider
These models use the click wheel commonly found on the iPod Classic but are missing a key feature: the screen. The lack of a screen means there is no way to internally organise the music, so that the songs held within randomly play in no specific order. However, the lack of a screen also means that this is a very compact iPod. It easily fits inside a pocket without being noticeable. Needless to say, this is strictly an audio iPod since the lack of a screen means there is no way to watch videos.
It is also extremely light on storage. This is not a problem for most users who select an iPod Shuffle since there is no way to organise the downloaded songs. After all, having a playlist in the thousands is a hinderance if the music is just going to play randomly. The first version features a 512 MB model but the current fourth generation increased its storage capacity up to four GB.
iPod Touch
At first glance the iPod Touch resembles Apple's iPhone. While it is not a phone, the two share a lot of similarities. The iPhone is a phone that comes with WiFi and connects to the internet. The iPod Touch is an MP3 player that also comes with WiFi. This means that along with the ability to play songs owners also have the ability to download apps, play games, and even check their email.
Its extended range of features make the iPod Touch the most expensive offering in the iPod lineup. As a hybrid MP3 player it bears little resemblance to the original iPod Classic. Gone is the traditional click wheel, replaced by a touchscreen more often seen on smartphones than MP3 players.
Features and Designs
This device is not lightweight on storage capacity either. Bigger than both the iPod Nano and the iPod Shuffle, its storage is only outclassed by the current generation iPod Classic. The first iPod Touch released in 2007 came with up to 32 GB. It is now possible to find the fifth generation with a 64 GB storage capacity. Because of its larger screen, the extra storage is appreciated as users often download videos and games along with music.
This iPod model seems impressive, but it is not for everyone. Owners who have grown accustomed to keeping thousands of songs on their iPod Classic sometimes have difficulty settling for the smaller storage of the iPod Touch. On the other hand, its ability to act as a personal assistant, as well as a gaming device, opened up the iPod to a whole new generation of users. Buyers who want an MP3 player that does more than simply play songs need the extra features of the iPod Touch. Those who want an MP3 player for playing songs may opt instead for the more traditional iPod Classic.
How to Buy iPods on eBay
eBay is the best place to find used iPods due to the enormity of choices. There are also plenty of new iPods sold for buyers who would rather have a brand new device. However, for the best deals it is worth your time to check out the used iPod selection. Many products are sold at a fraction of their original price.
Using eBay's Search Tools
Searching for an iPod is simple once you know what you want. A broad search for 'iPods' returns all types of models with everything from the iPod Classic, to the iPod Touch. If you already know what type of iPod you want, such as an iPod Touch, then type 'iPod Touch' into the search engine found on any eBay web page.
Users also choose to search by other factors. For example, if storage capacity is more important to you than anything else, simply perform a search for '32 GB iPods', or whichever version you prefer. Adding and removing limiters both limits and expands the search. Play around with the search engine to get the list of results that best fits your needs.
Conclusion
When it comes to MP3 players there is no other company that matches Apple's iPod in power, features, or battery life. Where there was once only a single choice, now consumers have the option to select between four different devices. The iPod Classic is a dedicated MP3 player with large storage capacity and a medium sized viewing screen.
The iPod Nano is a smaller version of the iPod Classic that is less expensive, and comes in a smaller size with smaller storage. Smallest of all is the iPod Shuffle that has a limited amount of storage and no viewing screen. The most advanced model is the iPod Touch, which comes with a touchscreen and WiFi. All of these models are available on eBay in new and used conditions. A little bit of research goes a long way into helping a buyer find the best model that fits his or her needs at the right price.
Apple iPod|iPod|Apple|iPod Nano|Used iPod