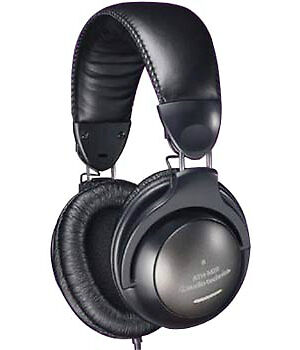 Among most important audio accessories for audio and video entertainment, headphones allow users to enjoy their music wherever they are. For those who do not know, Audio-Technica is a well known audio equipment manufacturer that also produces headphones. In fact, it is among the top brands in the audio industry as it produces equipment with exceptional quality and performance. Buyers who only want the best out of their headphones are likely to make a great choice with Audio-Technica, but they should also know that the headphones can be quite pricey. Therefore, before deciding to purchase a pair of Audio Technica headphones, it is important for buyers to learn about what sets this brand apart from other brands, and if Audio-Technica headphones are really worth purchasing for regular or professional use.
Audio-Technica is a Japanese audio equipment manufacturer that designs and produces all kinds of audio equipment including microphones, headphones, and even DJ turntables. Many Audio-Technica products are for professional use, but they are also great for regular users who want to enjoy their media with great sound quality. In the table below are the styles of headphones users can purchase from Audio-Technica.
| | |
| --- | --- |
| Headphone Styles | Description |
| Open back | Overhead headphones with open housing; do not fully enclose ears, so sound is audible to others; suitable for personal, indoor use |
| Closed back | Fully enclose the ears; reduces sound leakage and ambient noises |
| Portable overhead | Lightweight overhead headphones; provide performance close to full-sized headphones, but more portable |
| Supra aural | Portable headphones, with ear pads; lighter than portable overhead ones |
| Circumaural | Have ear pads that fully enclose the ears; great for noise cancellation |
| Ear hanger | Small headphones with hanger arms to secure them to the wearer's ears; very portable and comfortable |
| Ear bud or inner ear | Standard earphones; rest in the inner ear |
| Canal or in-ear | Worn like earplugs; rest in the ear canal; very good noise insulation |
One of the first things buyers look at when buying headphones is the style or form factor of the headphones. Audio-Technica produces headphones in various styles, so whether buyers are looking for a pair of professional equipment for their recording project or just headphones to enjoy their music, they can surely find a suitable pair. Besides knowing the available styles of Audio-Technica headphones, it is also a good idea to know how to choose the right headphones for specific uses.
Audio-Technica produces headphones for various uses, so it is important for buyers to choose the right headphones if they want to stay within their budget. Although Audio-Technica products are generally pricier than regular consumer audio products, they are actually quite affordable compared to products from other high-end audio equipment manufacturers. Therefore, Audio-Technica headphones offer among the best balance between sound quality and price.
Audio-Technica's Hi-Fi headphones offer the ultimate listening experience for music and movie lovers. The headphones come in closed and open back styles, and are designed to provide excellent comfort and sound quality no matter what users are listening to. Some Hi-Fi headphones to look at are the ATH-A500X and ATH-AD900X .
The studio monitor headphones from Audio-Technica are great for amateur and professional artists, as they provide exceptional sound quality and clarity. Anyone looking to record their own music or videos may find that these headphones can reproduce very accurate sounds. Plus, they are also comfortable and can be worn for many hours. Some good DJ headphones include the ATH-M30 and the ATH-T300 .
Good DJ headphones should have excellent noise isolation and power so DJs can listen to their music clearly while performing live. Audio-Technica DJ headphones have both those features, besides being lightweight and comfortable. Audio-Technica has mid-range and professional DJ headphones, with varying costs, so DJs should be able to find the right headphones for their needs. Besides looking at the power and sound quality of the headphones, DJs should also consider if the headphones are comfortable when used for one-ear sound monitoring.
Audio-Technica also has other consumer headphones, such as portable ones and headsets for making VoIP calls. These headphones are generally cheaper than the high-end, professional ones, and are suitable for users on a budget. However, they may not provide as much power as Audio-Technica's bigger headphones. That being said, Audio-Technica headsets can still satisfy many music lovers as they produce crisp, clear sounds, and often enough power to do justice to any music, movie, or videogame. One good portable headphone is the ATH-FC707 .
Audio-Technica headphones are far from being just ordinary headphones. They not only produce great quality sounds, but are also very comfortable to wear. With more users now aware of the importance of using high quality headphones for the best sound reproduction, more people are buying Audio-Technica headphones. However, buyers should still know how to choose the right headphones to suit their needs.
Whenever possible, buyers should try on any headphones before purchasing. After all, there is no other way to be sure of the performance of a pair of headphones. To find out the true quality of the headphones, buyers should listen to familiar music. Next, buyers should also take note of the fit and comfort of the headphones. The headphones should always fit well and be comfortable to wear, especially if users tend to wear their headphones often and for long periods of time. Buyers should also consider the environment in which they are going to use the headphones. Buyers who only want headphones for use at home can get powerful overhead headphones or those without much sound isolation. On the other hand, buyers who listen to their music on the go can get portable headphones with good noise cancellation.
No matter what kind of headphones buyers want, it is always a good idea to test them before buying. Another good practice when shopping for headphones is to read the specifications of the product and make sure all the desired features are present. Also, buyers can read reviews on a few headphones to help them decide on the best one to buy.
eBay has quite a long list of Audio-Technica headphones for sale. To search for the right headphones, just visit eBay, and type the name of the headphones you want into eBay's search bar. You can search for 'Audio - Technica headphones' or other relevant keywords. When going through the list of headphones, make sure you read all the information provided so you can choose the right product. To get some great deals on headphones, you can also check out eBay's Deals page.
Other things you should look at when choosing the right Audio-Technica headphones are the specifications, price, and delivery fee. Be sure to compare a few headphones and look at the pros and cons of each one. If you have any questions about a particular pair of headphones, you can just send the seller a message.
Conclusion
Audio-Technica headphones are among the best performing headphones on the market. Besides producing headphones for professional use, this manufacturer also produces an array of high quality headphones for regular consumers and audiophiles. Before setting out to shop for Audio-Technica headphones, it is a good idea to know the styles of headphones available. Some headphone styles buyers can choose from are the open back, closed back, ear hanger, and ear bud headphones.
Buyers should also know what kind of headphones according to the intended usage. If they only listen to music leisurely, they can get hi-fi or portable headphones. However, if they deal with music recording and DJ'ing, it is better to purchase professional headphones. There are many kinds of Audio-Technica headphones on the market, and even eBay has a large selection of them. Therefore, buyers should have no problem finding the right headphones.
Audio Technica Headphones|Hi-Fi Headphones|Wireless Headsets|Earbuds|Portable Electronics