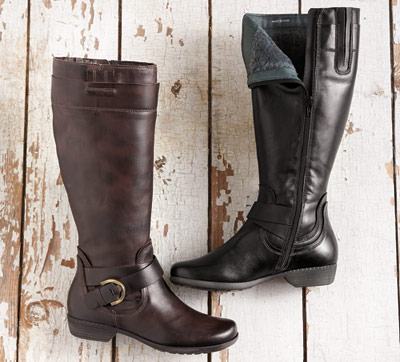 Women can opt to wear boots for a variety of reasons because footwear manufacturers produce boot styles that have both useful and stylish features. Since boots can be multipurpose, women should have a number of styles available in their footwear collections. In some cases, wearing boots are required to pursue a specific activity or occupation, so buyers need to understand how to assess a boot's construction to determine if a pair can meet any regulations. Conversely, women choosing to wear boots to express their individual fashion styles have a multitude of options when choosing the best boot design elements to complete a fashion ensemble. Women shopping for boots for any occasion can visit eBay to browse through an unparalleled selection that can match the practical and stylish challenges of everyday life. Before shopping for boots, buyers should know which types, style features, and conditions are available so that they can make the most appropriate purchasing decisions.
Types of Boots
Boots are valued by wearers for both their form and function. Before shopping on eBay, buyers should identify the types of boots they need to make browsing more efficient.
Popular Boot Types

Description

Work boots

Developed to be used by workers engaged in a particular trade

May need to have certain features, like fire resistant materials, to comply with worksite regulations

Sports boots

Designed to help wearers engage in a particular sports activity safely

Examples include hiking boots, motorcycle boots, and cowboy boots

Fashion boots

Designed to reflect fashion trends

Often contain distinct colours, trims, and stitching

Weather-related boots

Developed to provide benefits when worn in certain weather conditions

Examples include gumboots and snow boots

Equestrian boots

Worn by equestrian riders in both practice and show situations

Examples include dressage boots and field boots
When buyers are shopping on eBay for boots that are required for work or a special activity, they should review any regulations that can impact their purchasing choices. Requirements can include safety features, like steel-reinforced toes, or design features, like a particular boot colour. By reviewing any regulations, buyers can be certain to purchase boots that comply with any regulations and allow them to participate in a regulated activity without any problems.
Boot Style Features
All boots are constructed using three basic design elements including: the heel, sole, and upper of a boot. Although these elements may seem limited, footwear designers create a myriad of distinct-looking boots that women can value for useful or fashionable reasons.
Heels
The heel of a boot attaches to a boot's sole and creates elevation at the back of the boot. Depending on a boot's purpose, the design of a heel can be aesthetic or functional. For example, the heel of an equestrian boot is essential in providing stability for a horse rider while the rider has their feet in the stirrups of a horse's saddle. Because of this, buyers should make a distinction when shopping on eBay for boots that are chosen for fashionable vs. functional purposes. For functional boots to perform as intended, the heel is often regulated to be a certain height.
Women searching for fashion boots on eBay, however, have a variety of options to express their individual styles. High-heeled boots can feature stiletto-type heels or squared, chunky heels that provide more support to a wearer. Wedge heels often provide the same height as high heels but have a levelled surface between the front and back of the boot's sole. Flat-heeled boots have heels that provide little elevation and can include a heel that is constructed as part of a boot's sole.
Soles
The sole of a boot stretches from the front to the back of a boot's bottom and attaches to a boot's heel and upper. When purchasing boots on eBay, buyers should look at the surface treatment of any boot's sole to see how much traction it can provide. Often with fashion boots, it is acceptable to have a smooth sole, but boots that are purchased for wearing in poor or challenging walking conditions generally need a sole surface that can provide traction. Boot manufacturers add ridges to a boot's sole to give it more gripping power, so eBay buyers searching for boots that provide stability should look for boots that have noticeable ridges designed into their soles.
Uppers
Buyers searching for boots have many choices when choosing the upper that best suits their purposes. The upper of a boot can extend from just above the ankle to above the thigh depending on a boot's design. Boot uppers can be made from a range of materials including leather, suede, or fabric. When shopping on eBay for boots, buyers should try to coordinate the colour of an upper to the colour hues already established in their clothing collections to get the most adaptability out of a pair of boots. This allows buyers to wear their boots with a number of their personal fashion ensembles.
Boot Conditions
On eBay, buyers can find both new and pre-owned boots, so it is beneficial to read the eBay product descriptions that sellers provide to determine the condition of a pair of boots before making a purchase. Choosing pre-owned boots allows buyers to acquire boot styles no longer manufactured or that are out of their price range when purchased in new condition. If buyers choose to purchase pre-owned boots on eBay, they should assess the boots for signs of wear. Some evidence of wear, like scuff marks on a boot's sole, is acceptable but more serious damage can be problematic. Any holes in the soles of boots need to be repaired before a boot can be worn. Loose heels are a safety issue and require professional maintenance to reattach the heel properly. Tearing between the sole and upper compromises the protection that a boot can provide to a wearer and needs to be mended. If buyers are committed to purchasing a pair of boots with serious condition issues, they should contact a local shoe repair professional to learn if it is possible to make a repair and how much the repair costs.
How to Buy Boots on eBay
eBay is a great resource for women who are looking for boots, and it carries styles by famous brands like Clarks, Demonia, Dr. Martens, and Hush Puppies. For buyers on a budget, eBay Deals' Women's Boots category can also prove invaluable when finding discounted and limited quantity boots at affordable prices. To find a particular style of boot quickly, buyers can take advantage of eBay's search function. For example, typing "Rocket Dog ankle boots" into eBay's search field results in a selected list of boots that matches those search terms. Buyers should remember to check the size of a pair of boots before purchasing as well as the dimensions listed for a boot's shaft to ensure a pair of boots fits when they arrive. Buyers should also review product descriptions to find out which materials were used to construct a pair of boots before initialising a sale.
Conclusion
Boots are a valuable addition to women's footwear collections because they provide both useful and stylish benefits to a wearer. To see a wide selection of boot purchasing options, buyers can visit eBay, which offers buyers a range of boot types, sizes, colours, and styles. Since boots can be required for some activities, buyers should assess which specifications a boot should contain to be in compliance with any regulations before shopping. Although boots are simply constructed with three basic design elements, designers can produce boots with unique styling elements that can appeal to a woman's personal tastes. Buyers can find both new and pre-owned boots on eBay so they should review product descriptions thoroughly to learn about a boot's condition before purchasing. By being prepared for a boot purchase, buyers increase the likelihood of purchasing the best boots for their lifestyles from eBay's vast selection.