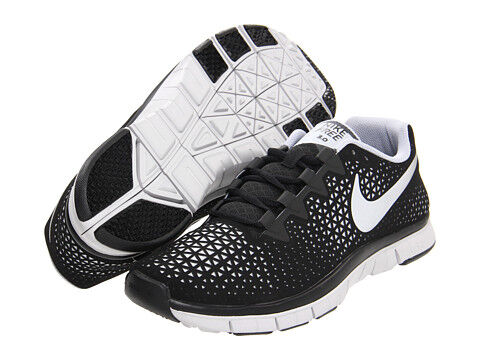 Nike is one of the most well-known and popular shoe brands around. They make a wide variety of shoes suited for many different applications which might include football, basketball, golf, running, as well as casual and lifestyle footwear. Nike employs cutting edge technology in its performance shoes and ensures wearers have the maximum level of comfort when wearing casual wear shoes.
As with all shoes, it is critically important that buyers fit Nike shoes properly. It is important to note that that the proper fit may change depending on what the shoes are going to be used for. Performance shoes must be sized snugly with little dead space for the wearer to recognise the performance benefits, whereas casual shoe wearers should emphasise comfort above all else.
Types of Nike Shoes
Nike makes a wide range of shoes for a variety of different uses. While Nike is traditionally known as a sports footwear brand, their line of footwear extends well beyond highly specialised sports shoes. It includes dress shoes, casual wear, and collector's shoes. The table below outlines some of the different types of shoes Nike offers. In addition, the chart shows how buyers should aim to fit these shoes.
| | |
| --- | --- |
| Type of Shoe | Ideal Fit |
| Sports Shoes | Snug fit |
| Collector's Shoe | Comfortable fit/Irrelevant |
| Lifestyle shoe | Comfortable fit |
| Dress shoe | Comfortable fit |
| Boots/Sandals/Other footwear | Snug fit/Comfortable fit depending on use |
When it comes to fit, sports shoes demand the most precise fit in order for the wearer to get the most benefit from them. Collector's shoes may be worn, or may simply be collected. If they are just a collector's item that is not intended for actual use, the fit is irrelevant. Otherwise, the shoe should fit comfortably. The same comfortable fit is ideal for lifestyle or dress shoes. Finally, boots, sandals, and other footwear should be sized appropriately depending on what they are going to be used for.
Sports Shoes
Nike is best known for its sports specific footwear. Nike covers virtually all the major sports when it comes to footwear including: running, baseball, basketball, football, and soccer. Nike also features products for less popular sports such as wrestling, track and field, lacrosse, and many others. Nike makes general purpose performance athletic shoes, as well as highly specialised cleats, high-tops, and other activity specific footwear. While Nike makes excellent products throughout their entire line, basketball has been a point of emphasis.
Nike is known for sponsoring some of the best basketball players in the world, and relies directly on the input of these basketball superstars when designing their shoes. This initially started with arguably the most popular sports figure in history, Michael Jordan. Michael Jordan teamed up with Nike to start his signature "Jumpman" brand of sneakers. Still popular today, the Jumpman brand is worn and collected by many and Nike continues to release new versions of it. While the shoes may make the wearer quite as skilled as Michael Jordan, they are favoured among basketball players for their excellent traction, lightweight, and snug fit.
Collector's Shoes
Nike has a wide line of collector shoes that are considered collector's items by many. Whether they are limited edition, older shoes that have been kept in good condition, or have some distinguishing feature, some Nike shoes are prized by collectors. These shoes may have a high price tag and interestingly, they are never intended to be worn by the buyer. While some collector's emphasise quantity and have hundreds if not thousands of Nike shoes, others emphasise quality and rarity. Game-worn shoes or autographed shoes are good examples of this.
Lifestyle Shoes
A lifestyle shoe is neither a sports shoe or a dress shoe. It is somewhere in the middle of the two. Lifestyle shoes should be comfortable, and appear casual enough for everyday wear although formal enough that they can be worn in more professional settings. Nike makes a variety of lifestyle shoes that come in many colours and styles. Lifestyle shoes are a nice addition to any wardrobe, as they are a versatile and comfortable shoe. These shoes fill the gap between when sneakers would be too informal but the occasion does not demand dress shoes either.
Dress Shoes
Dress shoes are well-known to everyone. Mostly worn by men and in conjunction with a suit or other formal wear, dress shoes are typically black or brown though they can be in other colours. What is less familiar to most buyers is that Nike makes an extensive line of dress shoes. These shoes should be comfortable as they are often worn at functions where dancing, standing, or walking is required. Dress shoes may feature laces, or come in a slip on version as well.
An important thing for buyers to consider when purchasing dress shoes is to make sure the shoe is versatile. The shoe should be a basic colour so it can be worn with a few different types of formal wear. It should also be formal enough to wear with a suit, or other formal wear, as well as less formal wear such as slacks. A good rule of thumb to adhere to in this regard is that a dress shoe should be simple or basic. This ensures the greatest amount of versatility for the shoe. Of course, some buyers may have a very specific purpose for the shoe in which case they should find the shoe that best meets that exact need.
Boots, Sandals, and Other Footwear
Nike also has a variety of other footwear products. For one, Nike makes boots that are used in both work applications as well as a stylish accent. Nike boots are well suited for labour and heavy duty use on a jobsite, or as sturdy footwear when navigating rugged terrain. In addition, some consider boots very stylish and they are an excellent accent for a variety of different wardrobes. Boots may be leather or other material, and should fit according to their use. Obviously, boots intended for work must fit better than those intended for just style purposes.
Nike also makes a variety of sandals as well. These might include flip flops, slip-ons, or other versions of sandals. Sandals should fit very well since their minimalistic design only offers minimal support for the foot. This necessitates a good fit otherwise the little support that the sandal offers may not be realised by the wearer. This can lead to discomfort or pain and is best avoided, which is easy if the buyer simply ensures a snug fit. Sandals are nice in warmer months and as a stylish accent to certain attire.
How to Buy Nike Shoes on eBay
Helpful websites like eBay provide a wide range of Nike shoes in all different styles, colours, prices, and types. With so many options, buyers are virtually guaranteed to find the Nike shoe they are looking for. The best place to begin is with a simple keyword search which can be conducted by entering basic terms into the search box located on every page of eBay's website. This brings the shopper to a list of the broadest possible results. Buyers who know specifically what they are looking for may choose to add additional search terms to narrow down the results. In the alternative, shoppers can hone in on their ideal product by using eBay's filters to sort the results by feature, type of shoe, price, and a variety of other criteria. Both men and women can find deals on sports shoes with just a few clicks.
Conclusion
Nike makes a wide range of shoes to fit nearly every wearer's need. Nike is best known for sports shoes and for good reason. They employ cutting edge technology, and many professional athletes make Nike their shoe of choice to increase their performance as much as possible. These shoes include both general athletic footwear as well as highly specialised footwear such as cleats and spikes. In addition to sports footwear, Nike also makes a full line of dress shoes, lifestyle shoes, boots, and sandals. A buyer has to carefully evaluate exactly what their needs are in order to select the footwear type that best suits their needs. Finally, all buyers should take the appropriate amount of time to ensure that the footwear fits the way it is supposed to, whether that be a precise fit or a more comfortable fit, depending on the type of footwear.