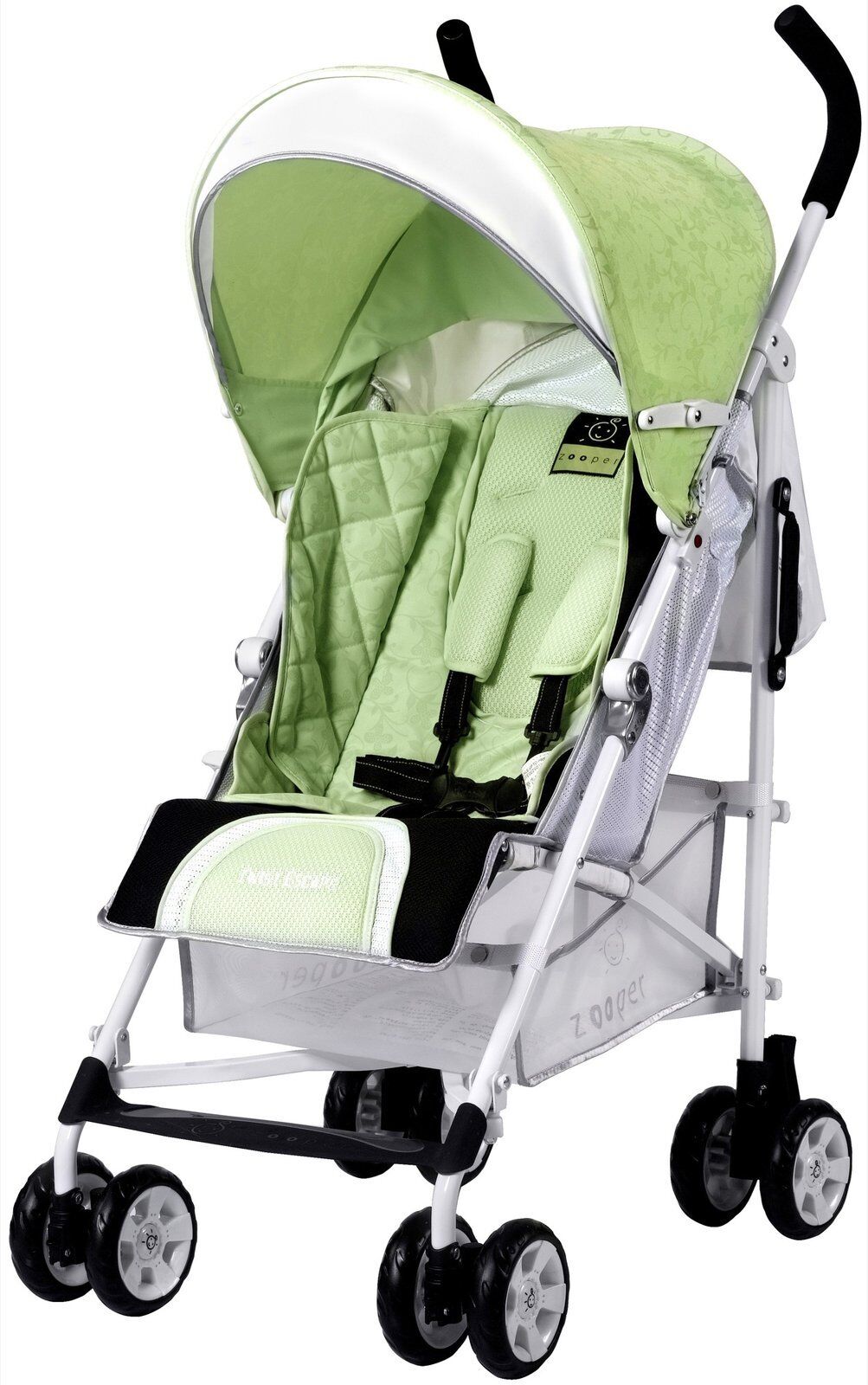 Umbrella strollers are smaller and more convenient than full-size strollers, making these lightweight strollers a good choice for parents who find themselves out and about quite often with their small children. When shopping for an umbrella stroller, parents should weigh up the advantages and disadvantages of this type of stroller, as well as consider the stroller's features, including the restraint system, the wheel locks, the footrest, and canopy.
Umbrella Stroller Advantages and Disadvantages
Umbrella strollers are small, lightweight, and easy to travel with. Because this type of stroller folds up into a small size, such a stroller takes up less room in the boot of a car. A parent can easily carry this stroller with one hand if necessary. Like all other strollers, umbrella strollers have their advantages and disadvantages.
The Advantages
Umbrella strollers are lightweight and only weigh between 4 kg and 7 kg. Additionally, one can fold up an umbrella stroller with just one hand. This means these strollers unfold quickly, too. Its smaller size makes the stroller easy to manoeuvre through small spaces, like aisles in shops and crowded walkways.
The Disadvantages
Because of its small size, larger babies and toddlers may find such trollers uncomfortable. Because of its simple design, an umbrella stroller does not allow a parent to adjust the seating position up and down. Therefore, when it comes to a young child like a infant who cannot yet sit up on his own, an umbrella stroller is not safe option. Typically, a parent should not place a baby under six months old in an umbrella stroller. Additionally, because there is only one seating position, a child cannot sleep comfortably in a reclining position. Umbrella strollers also lack wheel suspension.
Choosing an Umbrella Stroller
When it comes to choosing an umbrella stroller, a shopper must consider several factors. While all umbrella strollers have the same basic features, different brands offer different features. When choosing an umbrella stroller for a young child, a shopper needs to consider the baby's age and size, the stroller's features, and analyse the reputation of various brands.
Baby's Age and Size
As stated earlier, a parent should not place a baby younger than six months in an umbrella stroller. Parents looking for a stroller for a newborn baby should consider other options before investing in an umbrella stroller. Additionally, these strollers have a maximum weight limit. Many full-size strollers hold children up to 45 kg, whereas the smaller umbrella stroller has a maximum weight limit of 23 kg. Because the seat sits lower, a tall child with long legs may find riding in an umbrella stroller uncomfortable. Thus, parents should only consider an umbrella stroller for babies and children between four months old and three years old.
Stroller Features
All umbrella strollers have a hammock-like seat for the child to sit in, but different models offer different features. When choosing an umbrella stroller, a shopper should consider the features like the restraint system, the wheel, the footrest, and the canopy.
| | |
| --- | --- |
| Feature | What to Look For |
| | A five-point harness is ideal; it secures both the upper and lower portions of the child's body; a three-point harness is suitable for older children |
| Wheel Locks | Push-pedal wheel locks secure the stroller when not in motion |
| Footrest | Band or strap above the stroller's tyres for child to rest his feet on; protects the feet of taller children; babies do not need this feature |
| Canopy | Adjustable canopy blocks the sun from baby eyes; should tilt forward and backward to block sun from all angles; window in the canopy allows parent to see child while standing behind the stroller |
Other umbrella strollers offer features such as a snack tray, padded shoulder straps, cup holders, and even extra storage space. These features add bulk to the stroller as well as increase the price. A shopper should evaluate the features carefully so she can identify a stroller that meets her needs and fits within her budget.
Top Stroller Brands
Many manufacturers produce umbrella strollers in various sizes, colours, and with different features. Some manufacturers have better reputations than others. Brands like Graco and Evenflo top the list for providing affordable and quality umbrella strollers. Those parents shopping for high-end umbrella strollers should consider brands like Peg Perego and Bugaboo as they produce a variety of strollers. When it comes to safety, Britax tops the list for all types of umbrella strollers and car seats.
How to Buy Umbrella Strollers on eBay
eBay offers a number of selections and great deals on umbrella strollers for you to choose from. Start with a basic or an advanced search to find all listings for umbrella strollers. If you want a specific brand or feature, then be specific in your search query. Searches for 'Bugaboo umbrella stroller' and ' umbrella stroller with canopy' yield more targeted results than a search for 'stroller'. However, refining the listings by selecting options and categories relating to the stroller is another way of searching for relevant listings. Be sure to specify your price range when targeting strollers at budget prices. No matter what brand or features you are looking for, eBay offers a wide range for you to choose from.