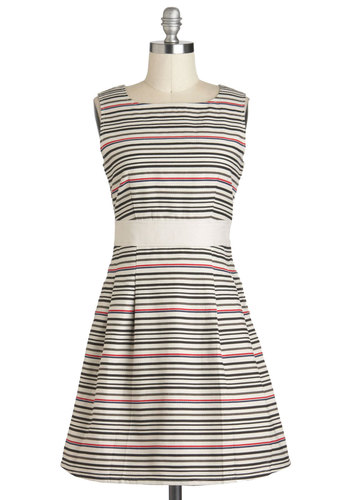 Dresses are fashion items that women should have available in their wardrobes to be able to meet a number of clothing-related challenges. In some cases, dresses are required to gain admittance to an event, so women need to have a selection of options available to dress appropriately for certain occasions. Opting to wear a dress is often a convenient style choice because women do not need to coordinate looks featuring dresses as much as they do with ensembles made of fashion separates, like blouses and skirts. Additionally, dresses can help women camouflage a number of figure problems that are frequently accentuated by wearing other clothing options like pants. Women searching for dresses can find an array of options on eBay that are suitable for many events and body types. Before visiting eBay, women should determine which style of dress they need, the best materials for a dress, which dress silhouette enhances their figures, and the most suitable features a dress should contain to make their shopping experiences on eBay successful.
Dress Styles
eBay is dedicated to providing women with dress styles that are appropriate for every occasion. When shopping for a dress, buyers should keep in mind when they plan to wear a dress to make sure that they select a suitable style for a particular event.
Formal Dresses
Formal dresses are appropriate for buyers planning to attend special events, like weddings, parties, and openings, that require attendees to adopt a formal dress style. Some occasions, like work-related parties, are best suited for formal wear that tends to be more conservative in colour, cut, and length. Conversely, weddings and dances allow buyers to choose formal dress styles that are more whimsical or trendy.
Casual Dresses
Casual dresses are appropriate for everyday wear and can include either conservative or fashion-forward style elements. Because casual dresses are worn more frequently than formal dresses, buyers should remember to choose some casual dresses on eBay that coordinate with the style elements already established in their wardrobes. For example, buyers can choose a summer dress that includes the same colours as their summer jackets or swimwear. Coordinating dresses with other clothing items allows buyers to get the most wear out of the dresses they choose. Buyers can also shop on eBay for accessories that can help transform a casual dress from a day to an evening look.
Dress Materials
The dresses available on eBay can be made from a variety of fabrics that determine how formal a dress is and how it should be cleaned. In general, formal dresses are constructed of fine fabrics, like silk or velvet. These materials require special care and often must be dry cleaned or washed by hand. Casual dresses are typically constructed of more durable fabrics, like cotton, and can be washed by a washing machine. When shopping on eBay for dresses, buyers should remember to check the product listings of any potential purchases to determine how a dress needs to be cleaned once it is purchased. Choosing the wrong cleaning method can have disastrous effects on a dress, including severe colour running and shrinkage.
Dress Silhouettes
The silhouette of a dress is the overall shape of a dress. To create unique shapes, designers situate style elements, like waistlines, in different areas along a woman's torso or add volume to certain areas of a dress to create the illusion of fullness. When shopping on eBay, buyers have a variety of popular silhouette options from which to choose that are designed to flatter certain body types.
| | | |
| --- | --- | --- |
| Dress Silhouette Type | Distinct Design Elements | Best for These Body Types |
| | Higher waistline situated just below the bust | A body type with a straight torso |
| A-line | Fitted upper top with a flared bottom | All body types |
| Princess | Fitted upper top with a straight bottom | All body types |
| Sheath | Fitted upper top and bottom | Body types that are proportional in the upper and lower body |
Since A-line and princess silhouettes are the most flattering for a majority of women, purchasing dresses in these styles is a safe buying choice for most women. Women who are not sure which is best for their body types can also opt to purchase less-fitted, flowing dresses from eBay that can hide an array of figure trouble spots.
Dress Features
To distinguish their dress designs, designers add a number of features to a dress. The features which are most preferable frequently depend upon an individual wearer, the season, and the event where a dress is worn.
Sleeve Styles
eBay shoppers can find dresses that include different sleeve styles that are tailor-made for certain situations. Long sleeve dresses are best in cooler weather or when a woman wants to project a conservative look. Short or cap sleeve dresses are appropriate for warmer weather, yet still retain enough coverage for women to wear in professional settings. If women prefer a sleeveless dress for the office, it is often advisable to pair it with a jacket unless the dress code of the office is more relaxed. Dresses that feature straps or one-shoulder sleeves are generally reserved for formal events or casual settings outside of work.
Closures
The closure of a dress is an often forgotten style feature that can have a significant impact on how easy it is to wear a dress. Dresses that feature front zippers can appear trendy or retro and are convenient to fasten. Closing back zippers frequently requires assistance, however, so women should gauge whether this is a practical closure option based on their own situations. Pullover-style dresses feature no closures and simply slide over the head and arms of a woman. This style is very convenient, but women should remember to put the dress on before finishing their hair if they want to avoid disturbing a hairstyle prepared for a special occasion. Buttons can be used by designers to add visual appeal to a dress and can make getting ready difficult for women who have any joint-related problems with their hands if the buttons used on a dress are small.
Buyers shopping for dresses on eBay should review closure options through the item specifics and pictures that eBay sellers provide to be certain that the dresses they purchase have closures that match their lifestyles and personal circumstances.
Dress Sizes
Choosing the correct dress size is important to ensuring the correct fit of a dress. Because of this, buyers should take their measurements with a cloth measuring tape before shopping on eBay. The dimensions used to determine dress sizes can vary from designer to designer, so relying on actual measurements helps buyers avoid purchasing ill-fitting garments. eBay sellers frequently include the measurements of a dress within their product listings, but buyers can also contact a seller to request size information if it is not initially provided.
Buying Dresses on eBay
Women can express their individuality by using eBay to find the perfect dresses for any occasion. To find a specific dress style easily, buyers can add descriptions like "chiffon maxi dress", into eBay's search field. eBay then publishes a selected list of results that focus on those product terms. Additionally, buyers looking for value when purchasing a dress can also visit the eBay Deal's women's clothing category to view discounted and limited quantity dress offerings. Once buyers find some potential purchases, they should review the dress details that buyers provide to make sure a dress can match a buyer's preferences. Sizing is important when purchasing a dress, as are the garment care instructions that buyers need to know to keep their dresses in good condition. Buyers can also review seller-specific information through product listings so they know how to pay for their dresses and the details of a dress shipment.
Conclusion
Shopping for dresses on eBay provides buyers with unparalleled access to different dress styles, fabrics, and sizes. To extend a wardrobe strategically, buyers can search for dresses that include style elements already established in a buyer's clothing collection. Dresses can be designed specifically for formal or casual settings so buyers can be prepared for any events by utilising eBay's vast dress selection. The materials used to construct a dress frequently require special cleaning considerations that buyers should know before making a final purchasing decision. Dress silhouettes and features can flatter certain body types and help project a professional or trendy image. Once buyers know which type of dresses they need, they can visit eBay to find purchasing options that can meet the challenges of any woman's lifestyle.