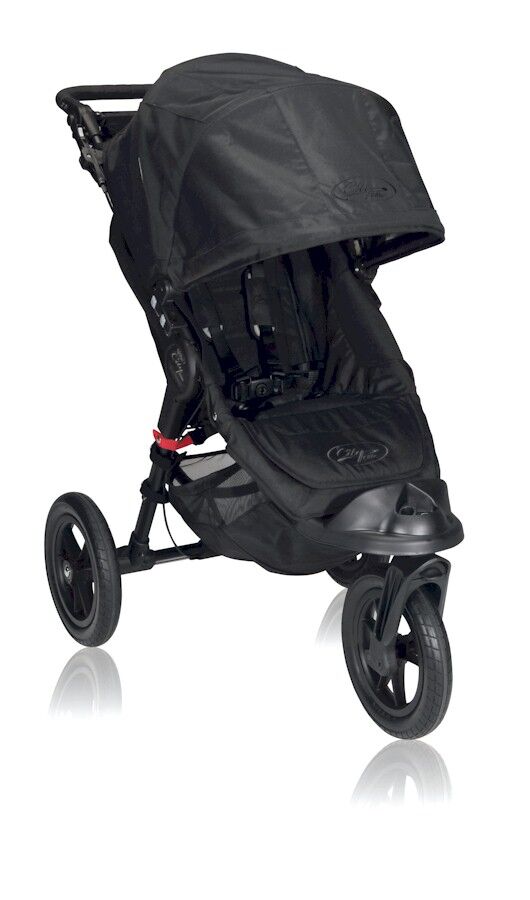 Parents, especially those who pay attention to fitness, tend to look for jogger strollers, or jogging strollers. These strollers differ from conventional strollers in certain ways, although the emphasis on providing comfortable rides for babies is not lost. The good news is that buyers now have scores of options when buying a jogger stroller.
Turning to shops that sell prams and strollers is one way to buy a jogger stroller and buyers who wish to search through as many alternatives as possible before making a decision can benefit by shopping on portals like eBay . In any case, aspects like stability, wheels, safety features, and comfort, need buyers' attention, and they should ideally learn how to distinguish between jogger strollers and others.
How Are Jogger Strollers Different?
Jogging strollers tend to come with lightweight aluminium frames and a number of features aimed at assisting joggers. These strollers come with rugged designs, designed to take a little abuse. They can have front wheels that swivel, helping to enhance manoeuvrability; special grips that are part of the handlebars; and they fold quite easily.
Stability
When buying a jogger stroller, looking for stability is important because different jogging strollers offer different levels of stability in different circumstances. Buyers should bear in mind that manoeuvring a stroller while running depends on uneven weight distribution between the wheels of the stroller, and models that are typically more stable are well suited for walking, but not so much for jogging or running. This is because the more stable a stroller is, the more difficult it is to manoeuvre while running.
Wheels
Wheels play a crucial role in jogger strollers, thereby requiring buyers' attention. While most modern jogging strollers come with three wheels, buyers can find models with four wheels as well. When it comes to models with three wheels, the front wheel can either be fixed or swivel. Both come with their own share of pros and cons.
Swivel wheels, for instance, offer better manoeuvrability required in everyday scenarios not really linked to jogging, although they are good when jogging entails a lot of turns. Swivel wheel strollers, however, can cause safety issues, since even something like a pebble in the way can get the stroller to veer unexpectedly, especially while running. Fixed wheel strollers, on the other hand, are better when it comes to jogging or running in open spaces or along trails that require minimal turning because fixed wheels offer better stability.
To incorporate the best of both worlds, a number of stroller manufacturers now offer jogging strollers that come with swivel wheels that can be locked into place as, and when, required. These strollers are good for both jogging as well as walking. However, people who intend to use jogger strollers only for jogging are better off looking at fixed wheel stroller models, given that swivel wheel strollers tend to cost more.
Some jogger strollers also incorporate suspension in their wheels along with the use of sealed ball bearings, which help to increase stability even more.
Wheel Size
The size of the wheels on a jogger stroller, whether a swivel wheel jogger or a fixed wheel stroller, need consideration in accordance to a stroller's intended usage. For instance, while larger wheels are better suited for jogging on rough terrain, smaller wheels work better when walking on smooth surfaces. The table below helps to indicate which wheel sizes suit different scenarios.
| | |
| --- | --- |
| Wheel Size (cm) | Scenario |
| | Walking on smooth surfaces |
| 40 | Flexibility in use, smooth rides for jogger and baby |
| 50 | Running, especially on long rough roads |
Wheel sizes can vary from model to model, and there are no set parameters that stroller manufacturers rely on when sizing their wheels. The size of jogger stroller wheels, for example, can start at around 20 cm and increase to more than 50 cm.
Other Features
Jogging strollers , like conventional strollers, can come with a number of other features, and while some cater to safety, some others aim at making life simpler. Independent suspension in all wheels, for example, although not a common feature, is something that helps deliver comfortable rides, but it does come at a price.
To offer enhanced safety to joggers and runners, some jogger strollers come with hand or foot brakes along with arm leashes or tethers, which are in place with the aim of preventing runaways. A five-point safety harness is something that is standard in most jogger strollers, and features adjustable handles, footrests, top covers, as well as ergonomic hand grips. Other features, depending on how much a buyer is able to pay, can include under seat storage in some form, padded seats, removable and reversible seats, removable and reversible bassinets, retractable sun canopies, rain covers, mosquito covers, rear viewing windows, and so on.
In terms of designs, buyers have scores of options from which to choose in both three- and four-wheeled variants, which include strollers for single babies, twins, and triplets alike. One aspect that should not pass buyers' attention is how much space the stroller takes up when folded, as this plays a crucial role in its transportation.
How to Buy a Jogger Stroller on eBay
Buyers looking for jogger strollers can find it worth their while by searching through the baby deals on eBay. eBay's top-rated sellers stock all kinds of strollers, jogger strollers included, and the variety on offer includes strollers in different styles and colours as well as strollers meant for two or three babies. In addition, some eBay sellers give buyers the ability to avail of free delivery.
Given that used jogger strollers are often put up for sale by parents whose babies have grown, exploring this route on eBay can help buyers save some money, and the good news is that some of the used jogger strollers on sale are in exceptionally good condition.