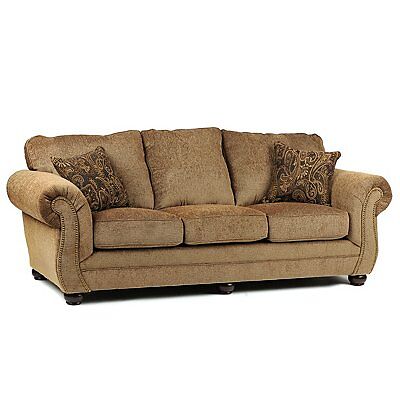 Any living room, family room, or game room is incomplete without a large sofa bed for guests to relax on and enjoy. For movie nights, game nights, or football Sundays, a sofa bed completes a room's appearance, comfort, and functionality. A three-seater sofa bed makes a great compromise between size and comfort. It provides enough space to seat three people comfortably, but it does not take up all the available space in an average room. The bed included with the sofa completes the picture and is great for kids' sleepover parties and Sunday morning cartoon festivals. Buyers need to consider the styles, materials, colours, and prices of three-seater sofa beds when shopping for great deals on eBay or in traditional furniture stores.
Materials for Three-Seater Sofa Beds
One of the most important things to consider when purchasing a three-seater sofa bed is the material. Popular materials include leather, cotton, linen, wool, and silk. The chart below offers short descriptions for these popular sofa upholsteries.
Fabric Type

Description

Leather Sofa or Faux Leather Sofa

Easily one of the most popular sofa materials

Strong, durable, easy to clean, and pet friendly

Offers a luxurious feel and look

Well suited to consumers with pets and young children

Not completely indestructible and is susceptible to wear and tear from sharp objects

Real leather is more expensive than cotton and cotton blends

Not as stain resistant and durable as leather

Looks and feels good and is a popular choice for households with less traffic

Textured cotton is especially popular

Tends to be prone to damage and wrinkling, depending on the quality and tightness of the weave

Grooves in the fabric can hold trapped dirt

Feature similar traits as cotton

An attractive choice, especially for homes without children or pets

Great for use in formal settings

Lacks the strength and durability of many other materials

Expensive and rare

Uncommon choice for sofa upholstery

Quite durable and beautiful

Fragile and difficult to maintain

Smooth and luxurious to the touch

Creates an elegant appearance

Great for use in an infrequently used room
When it comes to any type of sofa, leather and cotton blends somewhat corner the market and hold the largest market share. Linen, wool, and silk varieties are available, but they tend to be high-end market items purchased as display pieces or for homes without children and pets.
Design of Three-Seater Sofa Beds
Aside from the material, the design of the sofa is crucial and can make or break the look of a room. From traditional designs to angular contemporary designs, three-seater sofa beds come in a variety of styles. Sofa beds are much more common in some designs than in others. Consumers should review product descriptions carefully to determine if a particular sofa includes a bed or not.
Club Sofa
Club sofas , or English sofas, often feature a slightly rounded arm set with a tight seat, no skirt, and low legs on castors. These sofas offer a very traditional, yet stylish look. They do not always have beds in them, but some styles do.
Tuxedo Sofa
The tuxedo sofa's distinguishing feature is that its arms are as tall as its back. Clean cut lines offer a striking and bold look. On the negative side, some people feel the high arms are uncomfortable for lounging.
Camelback Sofa
The camelback sofa features a very traditional and formal look. It includes a tight seat and a tight, serpentine back. The legs and stretchers are sometimes exposed. This style is often found without a bed, but it is also possible to find styles with beds inside.
Mid-Century Modern
The mid-century modern, or just modern sofa, is very stylish and popular. It features straight, square lines and low, square legs. This makes for a striking and bold appearance in a room. It is relatively easy to find modern sofas with beds tucked neatly inside.
Sectional Sofa
Sectional sofas offer a very efficient and stylish look. They fit into corners nicely without wasting any space in a room. Sectionals consist of different components, including armless sofas, end units, and corner units. The larger sofa portions of the sectional often include sofa beds. Many sectional sofas resemble mid-century modern sofas in style and design.
Bridgewater Sofa
The Bridgewater sofa features low arms that are set back and is usually skirted with a rolled back. The purpose of the construction is to create an elegant and refined look. Sofa beds are not common in this style, but they do exist.
Colour of a Three-Seater Sofa Bed
Picking the colour of a three-seater sofa bed challenges many buyers. Sometimes homeowners or designers pick a sofa based on the existing theme of a room or household. Black and brown sofa beds work very well in traditional, classic settings, but a chic, contemporary setting may call for bolder colours like reds or blues. The colours chosen are essentially up to the personal tastes of the buyers. Many websites offer detailed design suggestions for consumers who would like to learn more about styling their homes.
How to Buy Three-Seater Sofa Beds on eBay
Purchasing a sofa bed on eBay allows you to choose from new or used options and easily search for the best deals. Begin by entering keywords into the search box on any eBay page. From there, you can narrow the field of choices by focusing on price, material, condition, or other factors. eBay sometimes offers special deals on home furnishings so be sure to check the deals page when shopping on the site. You may also want to consider related items like sofa covers to help keep your new sofa in top condition. By learning about the various designs and materials of sofa beds, you can easily focus on finding the perfect three-seater sofa bed to suit your personal taste.