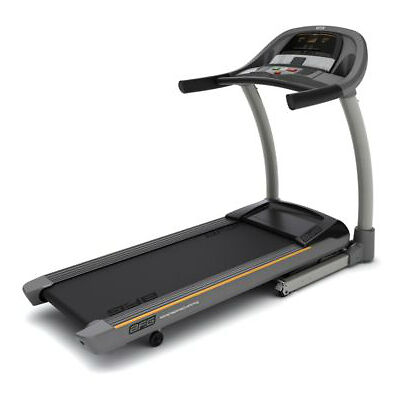 Treadmills offer users a variety of health-related benefits, ranging from increasing stamina to improving cardiovascular health to having a beneficial effect on overall fitness levels. One of the main reasons behind the rise in popularity of treadmills is the fact that they can be used at home. Another reason for the rise in popularity of these machines is that their prices have dropped considerably in the recent past, and buyers can now expect to find treadmills that cost less than 300 dollars.
When it comes to buying a treadmill, while buyers have the option to turn to shops that deal in fitness equipment, turning to online platforms like eBay can also help, and in either case, knowing just what to look for certainly helps. As a result, people looking for treadmills should start by distinguishing between the different alternatives on offer, and they should also be able to identify the features that they need.
Different Types of Treadmills
When it comes to buying treadmills, buyers are presented with a variety of options, which include treadmills designed for both commercial as well as home use. Even when it comes to treadmills designed for home use, buyers have different options from which to choose.
Manual Treadmills
Manual treadmills, as the name suggests, do not require a source of power, like electricity, and depend entirely on the energy that the user generates. These treadmills come with roller-based belts, which are among the most affordable treadmills that can be found. Given their economical pricing, manual treadmills tend to come with very basic features, such as typically narrower belts, and some offer users the ability to change incline levels. One of the biggest drawbacks of manual treadmills is that they are not really recommended for running, although they can be used for walking quite comfortably.
Motorised Treadmills
These treadmills, again, as the name suggests, make use of motors, which are powered using electricity. Some motorised treadmills come with built-in batteries, which are capable of powering the treadmills in the absence of a direct source of electricity. The belts found on motorised treadmills are put in motion using electric motors, and they are known to offer smoother walking and running experiences when compared to their manual counterparts. A majority of the motorised treadmills made available in today's world give users the ability to control various aspects like the speed at which the belt moves as well as the machine's incline all through the touch of simple buttons. In comparison to manual treadmills, motorised alternatives are generally more expensive.
Hybrid Treadmills
Buyers looking for treadmills can find hybrid models that incorporate the design of step machines or elliptical machines, which offer users a combination of a treadmill's belted movement along with semi-circular movements associated with elliptical trainers or double foot track designs of step machines.
Foldable Treadmills
Foldable treadmills can be found in manual as well as motorised alternatives, and the main distinguishing feature of these types of treadmills is that they can be folded and put away when not in use. These treadmills are normally sought by people who have to deal with space constraints, given that they can be folded and unfolded as, and when, required.
Factors to Consider When Buying a Treadmill
In addition to choosing between different kinds of treadmills, buyers are also required to pay attention to various other factors like a treadmill's frame, motor, belt, inclining capabilities, as well as other features it may contain.
The Frame of a Treadmill
The two most commonly used materials to make treadmill frames are aluminium and steel, and the main difference is that while aluminium offers more flexibility, steel gives treadmill manufacturers the ability to offer customers more rigid designs. In addition, steel frames are typically heavier and tend to come with welded joints, which makes them more stable than their aluminium counterparts. Most aluminium frames are lighter than steel frames, making them more portable, although aluminium frames, it has been noticed, come with riveted joints, which can have an adverse effect on their durability.
A Treadmill's Motor
A treadmill's motor is among its most important components, and the type of motor that a treadmill uses can have a significant bearing on its overall performance. While motorised or electric treadmills use motors to get the belt moving, models that come with inclining capabilities tend to use second motors to help with inclining and declining. Treadmill motors that come with around 1.5 horsepower are normally good for everyday use, although if a treadmill is going to be subjected to frequent usage, looking for something like a 3.0 horsepower motor is suggested. Buyers should bear in mind that low-end treadmills tend to come with smaller, less powerful motors, and high-end treadmills tend to use quieter and stronger motors. A good motor, in any case, should offer a smooth start, and should run smoothly and with minimal noise.
The Belt
The belt or mat that a treadmill comes with needs particular attention, given that this can vary from treadmill to treadmill. The length and width of any given treadmill's belt should be considered at the very onset, and should be long and wide enough to accommodate an exerciser's stride, gait, as well as stance. While longer belts are ideal for tall people, their use is recommended for everyone because they give people more room with which to work. The table below helps to indicate recommended running surface lengths based upon user heights.
| | |
| --- | --- |
| Height (cm) | Running Surface Length (cm) |
| Less than 165 | 120 |
| 165 to 182 | 130 |
| 185 to 200 | 147 |
If a treadmill is going to be used by more than one person, looking for bigger running surface lengths is suggested. In addition, paying attention to the quality of the belt is also suggested, wherein alternatives like orthopaedic mats and two-ply mats offer better cushioning and longer lifespans.
Buying Treadmills on eBay
eBay serves as a good platform for people who are looking for sports equipment deals because of the many alternatives on offer. For example, when shopping on eBay, buyers can expect to find all kinds of treadmills, both manual as well as motorised. In addition, buyers also have the option to sift through options based on their budgets, and while they can expect to find options that start at around the 300 dollar mark, they can also expect to find high-end variants that cost more than 5,000 dollars. People who want to save money also have the option to look for used treadmills.
Given that treadmills can be quite heavy, eBay buyers should pay particular attention to the postage and packaging costs they are required to pay, and buyers can also look for local sellers who offer free pickup of purchases.
Conclusion
A number of people in today's world use treadmills to get their quota of exercise, and this particular piece of equipment is favoured by many because it allows people to exercise from the comfort of their own homes. A treadmill can help an individual walk, jog, and run without having to step out of the home, and some models can even help simulate mountain climbing through inclining capabilities.
Before buying a treadmill, buyers should establish where the new treadmill is to be placed and it is recommended that they take actual measurements when space may be a constraint. Paying attention to aspects like automatic programmes is important as well, given that the inclusion of these can have a significant impact on a treadmill's price. Setting a budget is also suggested, given the varying alternatives on offer, and buyers with relatively smaller budgets should know that they have some good no-frills options from which to choose as well.