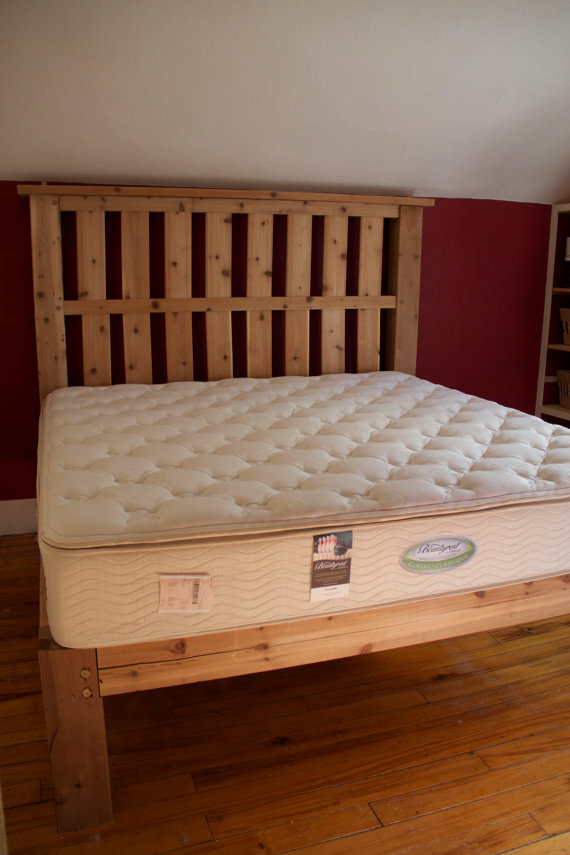 Ideally, a person should spend almost a third of their life asleep in wooden king bed frame brings a balance of style and strength to any bedroom in a single element.
Why Choose a Wooden King Bed Frame?
There are three main things to consider when choosing a new bed frame: size, style, and material. While style is often a matter of personal taste, there are many objective reasons to choose a particular size or material. At 180 by 200 cm, a king bed provides enough room for all but the tallest people to stretch out in complete comfort. As for choosing a wooden frame , while this type can be dearer than metal, wooden beds are often smoother with no sharp edges, unlike metal bed frames . Wood is strong and ages well, keeping its style and value for years, with only minimal maintenance. Weight can be an issue, wooden king bed frames can be hard to move, but that very weight helps provide unparalleled durability.
Things to Consider When Choosing a Wooden King Bed Frame
All king bed frames are big, but some look bigger than others. Choosing the right one is about matching the perceived size of the bed to the size of the room, and finding a frame to fit the style of the room. Bed buyers are often concerned about width and length, but for many, height is even more important. The height of the bed determines how easy it is to get up, and while the mattress plays a part, it is impossible to underestimate the importance of the bed frame.
One thing to pay particular attention to is the difference between king beds and king singles, as they are in no way interchangeable. Other things to look for are the presence or absence of storage, as well as the colour and type of wood. Wood can also be coloured, whether with leather or fabric, making it that much easier to match any taste or style.
Solid Base vs. Slats
The frame also works with the mattress to influence how a person sleeps. Each bed frame supports the mattress or box spring in its own way, and these differences affect how it feels to the person lying on top of it. Solid bases are generally more rigid than slats, providing a firmer base for everything to rest on. Different kinds of wooden slats have different characteristics, with some kinds of wood being springier or firmer than others. Choosing the right base can make the difference between a good night's sleep and a night spent tossing and turning even if the mattress is the same. The thing to remember is that comfort comes from the bed as a whole, not just the mattress or bed frame. Buyers should match both frame and mattress to their sleeping preferences.
Wooden King Bed Platform Frames
A platform bed frame consists of three main components: the base, legs, and headboard. They offer a wide variety of styles to fit any room, or decor. One advantage of choosing a platform frame is that they often include the headboard, making it that much easier to find a complete unit. Buyers can also choose between solid platform bases and slats, to help ensure a comfortable night's sleep based on their preferences. Some frames even come with arched slats for better overall support. There are different styles, from leather-covered platform frames to frames that show the natural wood. In either case, the frames offer all the strength and durability of wood.
Wooden King Bed Storage Frames
Another popular kind of wooden bed frame offers storage underneath the mattress. While some smaller beds have the entire top and mattress that lifts to access the storage, this is not practical for the larger sizes such as the king bed frame. Instead, large beds tend to have drawers underneath the frame, reclaiming space that would otherwise go unused. These designs combine the size and comfort of a king bed with the flexibility of under-bed storage. One thing to consider, though, is that these bed frames may be higher than others in order to provide the storage space. This may not be an issue for those buyers of average height and above, but shorter people may find this kind of bed less practical.
How to Buy a Wooden King Bed Frame on eBay
Buying a wooden king bed frame on eBay is a simple matter of typing the relevant keywords into the search box you find on any page. Once you have your results, use the filters to refine them. From there, it just takes a few moments to decide who amongst eBay's many sellers you wish to do business with. You might also want to check the offers in the eBay Deals section. Bed frames are heavy, especially wooden king bed frames, so you may want to sort by distance to find the closest seller and save freight costs. Choosing a wooden king bed frame is easy, it just sounds difficult.