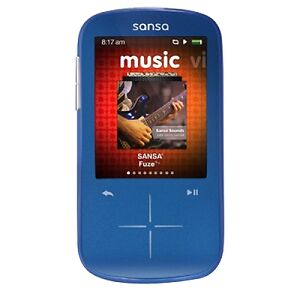 SanDisk Sansa MP3 players are a good choice for those who wish to enjoy their favourite songs, videos, photos, and FM radio stations wherever they go. Featuring SanDisk's flash memory technology, these media players provide excellent sound quality with all of the details in the audio. All of the models have a memory card slot and can be upgraded with a SanDisk microSDHC. With the added memory capacity, users can take large portions of their music libraries with them and add variety to their playlists.
The three Sansa models target different types of users. To choose the right Sansa model, a buyer needs to become familiarised with what each model has to offer. Assess the personal preferences, and use the knowledge to select the model that fits one's needs.
Sansa Fuze+ MP3 Player
The Sansa Fuze+ is a highly capable multimedia player produced by SanDisk. The first thing that stands out is its 6-cm QVGA full-colour screen, which allows excellent video reproduction. With a refresh rate of 30 frames per second, this screen can reproduce a crisp video playback. Users can store and view pictures as well, as this player can also support JPEG and BMP image formats. The Sansa Media Converter can also be downloaded and used to convert pictures into a compatible format.
Audio Playback of Sansa Fuze+
When it comes to audio playback, this player has all the bases covered. It is compatible with the high-fidelity file formats, and aside from the standard MP3, it can also read WMA, Secure WMA, FLAC, Audible files, OggVorbis, AAC, and DRM-free iTunes music. This allows users to load and use music in native format without compromising quality by conversion.
Sansa Fuze+ has a decent battery life and can support 24 hours of audio playback. That is above average when compared to other SanDisk players. If the device is used for viewing videos, the battery can provide up to five hours of uninterrupted play.
Other Key Issues
Though Sansa Fuze+ is larger than the other players produced by SanDisk, it has a slim stylish design that is ideal for active listeners. It is compact and light, weighing around 63 g. The Sansa Fuse+ has intuitive touch controls that make browsing through the media a breeze. Its memory reaches up to 16 GB, and it can be expanded up to 32 GB with SanDisk microSD or microSDHC.
Sansa Clip Zip MP3 Player
The Sansa Clip Zip is a lightweight MP3 player ideal for joggers, commuters, and other active on-the-go listeners. It is durable and compact, and it easily clips onto clothing or straps. The Sansa Clip Zip has an integrated stopwatch feature that makes it unique amongst SanDisk's MP3 players. It allows sports enthusiasts to time their workouts and monitor progress along the way.
Audio Playback of Sansa Clip Zip
This player is compatible with a variety of formats. Aside from standard MP3, it can also read WMA, Secure WMA, OggVorbis, FLAC, AAC, and Audible. The Sansa Clip Zip has been optimised for use with Rhapsody, and it even comes with a free Rhapsody Music trial license to get started.
Notable Features
The Sansa Clip Zip is a combination of a 2.8-cm display and an intuitive graphical interface. It displays album art and battery life and makes browsing through the memory a lot easier. The player comes in a 4 GB or 8 GB starting capacity, and it can be upgraded to 32 GB, which is enough to store a sizable music collection. Headphones and a USB 2.0 data cable are included in the package, making it easy to use right out of the box.
Sansa Clip+ MP3 Player
The Sansa Clip+ is a simplified version of an MP3 player offered by SanDisk. It has all the bases covered, and it all adds up to one very capable MP3 player. The Sansa Clip+ can play WMA, Secure WMA, MP3, Audible, and high-fidelity formats such as FLAC and Ogg Vorbis. With a starting capacity of 2 GB, 4 GB, or 8 GB and possible expansion up to 32 GB, this player already possess more than enough for any basic user.
Sansa Clip+ has a 2.4-cm bicolour OLED display which can show lines of text. It displays the battery life and allows users to roll through the library with ease. This player is a good choice for travellers who may not get many chances to recharge, as this MP3 player can deliver up to 15 hours of use on a single charge.
SanDisk Sansa MP3 Player Features Compared
When comparing the functionalities of these three SanDisk Sansa MP3 players, the differences lie in capacity and the absence of certain features in some models. The chart below compares the more distinctive features in these players and can aid the buyer in the decision-making process.
| | | | |
| --- | --- | --- | --- |
| Feature | Sansa Fuze+ | Sansa Clip Zip | MP3 Player: Sansa Clip + |
| Colours | Black, red, white, blue, purple | Black, red, white, blue, purple, lime, teal, grey, orange | Black, red, white, blue, purple, lime, teal |
| Supported formats | MP3, WMA, Secure WMA, OggVorbis, FLAC, Audible files, AAC, DRM-free iTunes music | MP3, WMA, Secure WMA, OggVorbis, FLAC, Audible files, AAC, DRM-free iTunes music | MP3, WMA, Secure WMA, OggVorbis, FLAC, Audible files |
| Memory capacity | Starting 4 GB, 8 GB or 16 GB, can expand by up to 32 GB | Starting 4 GB or 8 GB, can expand by up to 32 GB | Starting 2 GB, 4 GB or 8 GB, can expand by up to 32 GB |
| Screen | 6-cm QVGA, full colour | 2.8-cm OLED full colour | 2.4-cm OLED, 2 colours |
| FM radio | Yes | Yes | Yes |
| Microphone and voice recording | Yes | Yes | Yes |
| Stopwatch | No | Yes | No |
Bear in mind that all combinations of colour and capacity are not available. For example, one can find a white 8 GB Sansa Fuse+, but there may not be 4 GB and 16 GB versions in the same colour.
A Note on Overspending on MP3 Players
It is not a good idea to spend more than necessary on MP3 players. Like cell phones, MP3 players are products that are influenced by the rapid technological progress. This means that new, more powerful players quickly emerge, making the old ones outdated. Those who wish to keep up with the latest models need to be prepared to buy a new one every two years or even more often.
Buying SanDisk Sansa MP3 Players on eBay
eBay is a great source for an MP3 player. You can find different offers on the three SanDisk models can the website's 'Electronics' category. Within this category, a separate section dedicated to MP3 players lists the related offers. You can shorten the listings for SanDisk Sansa players by applying the 'Brand' filter. Other useful filters include the 'Storage capacity' and the 'Condition' filters. With the use of the latter, you may choose between offers on new, used, and manufacturer refurbished MP3 players.
You can also use the website's search bar to get the listings. Using 'Sansa MP3 player' as a query returns the listings available on eBay. If you have a specific model in mind, you can use its name as a search parameter, making the subset more relevant to your needs. Do remember to look for SanDisk Sansa MP3 players listed at promotional prices in the eBay Deals section.
Conclusion
All three SanDisk Sansa models have something to offer. Consumers may use either the budget or the personal preferences to find one that meets the needs. The three MP3 player models have several features that are common amongst them. Sansa MP3 players can be expected to provide acceptable battery life, and they include an FM radio and voice recording. All of the models support high fidelity audio formats and are capable of providing good sound quality.
Those who want to have an MP3 player capable of video reproduction should choose the Fuze+. This model even supports a couple of image formats, so users can store and view their favourite pictures on the device. Sports enthusiasts can benefit from choosing the Clip Zip model, which includes a stopwatch that allows users to time their workouts. The Clip+ model has more basic features, but it may be just what someone needs from an MP3 player.
SanDisk Sansa MP3 Player|MP3 Player|Sansa Clip Zip|Sansa Fuze+|Used Sansa MP3 Player