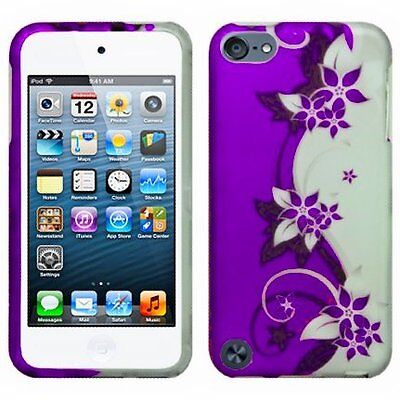 Many people listen to music on the move, and a lot of people carry their iPod Touch with them at all times. Music lovers are able to protect them from breakages with many different kinds of cases, to prevent damage if dropped or left to rattle around in bags. There are various options to fulfil a variety of needs. eBay offers everything from slim, clear cases for subtle protection to bright coloured, patterned and jewelled cases, for those who like accessories that stand out.
Whatever the case, users are able to find them easily at affordable prices on eBay. This guide will talk users through finding the most suitable case, and how they can make a purchase with a swift and easy transaction.
The iPod Touch
An iPod Touch is a portable music and video player, which is also compatible with eBay. The iPod Touch is very much like an iPhone, but without the communication options that mobile phone devices offer, such as making calls and texting. The iPod Touch can connect directly to the Internet, accessing a number of ways to play videos and music.
The iPod Touch runs Apple's iOS operating systems. It is touch screen and offers the option to create documents using a keyboard display on the screen. Newer models offer features such as push notifications, FaceTime and multitasking.
The fourth and fifth generation of iPod Touch contain features that include Apple Maps and Facebook integration. The fifth generation even allows users to take panoramic pictures.
Given this technology and variety of specifications and features, it is a good option to provide an iPod Touch with a case for protection purposes.
Things to Consider When Buying iPod Touch Cases
There are many different things to consider when purchasing an iPod Touch. This section will advise users of the most important considerations and how they may affect a purchase:
· Make/Model: Consider the type of iPod Touch the case is for. There are five generations of iPod Touch. Each generation, bar the second and third generations are a slightly different size. They are also all different in weight.
Model

Size

Weight

First Generation

110 mm (4.3 in) H

61.8 mm (2.43 in) W

8 mm (0.31 in) D

120 g (4.2 oz)

Second Generation

110 mm (4.3 in) H

61.8 mm (2.43 in) W

8.5 mm (0.33 in) D

115 g (4.1 oz)

Third Generation

110 mm (4.3 in) H

61.8 mm (2.43 in) W

8.5 mm (0.33 in) D

115 g (4.1 oz)

Fourth Generation

111 mm (4.4 in) H

58.9 mm (2.32 in) W

7.2 mm (0.28 in) D

101 g (3.6 oz)

Fifth Generation

123.4 mm (4.86 in) H

58.6 mm (2.31 in) W

6.1 mm (0.24 in) D

88 g (3.1 oz)
For lighter models, users may consider a design that a thicker and heavier case. Equally, for heavier models, users may prefer something slim and lighter.
· Material: iPod Touch cases come in an array of materials. Maybe a stylish, sophisticated leather case is more suitable, or alternatively a fitted silicone or rubber case will be more appropriate.
· Durability: Consider where the iPod Touch is kept. Many people throw them in their bags, allowing them to make a lot of physical contact with other items. In that case, buying a case with high durability will be more suitable. Consider material that cannot crack, like rubber.
· Design: With all colours of the rainbow, plus popular cartoon characters, weird and wonderful textures, attractive images or patterns, and even 3D cases available, it may be difficult to come a final decision in regards to the case that will be easiest on the eye.
· Whom the Case Is for: Whom the case is for can tie into the above considerations. If buying a case as a present for a child, a user may benefit from looking at some of the cartoon character cases. A young girl may appreciate an attractive jewelled case, whereas a businessman or woman may prefer a more subtle case, such as a block colour or even a transparent one.
Other Accessories for iPod Touch
In addition to the case itself, eBay offers a selection of other accessories, including ones that can be added to, or come with a case. Below is a list of more ways to protect or spice up the appearance of an iPod Touch:
- Flip Covers: Some cases come with flip covers for protection to the screen, as well as the back of the device. eBay offers a number of cases that have storage within the flip pocket, for credit cards and identification cards, etc.
- Screen Protectors: For cases that don't offer flip covers, there are individual screen protectors available, helping to prevent scratches and cracks.
- Screen Pens: Another efficient accessory that comes with a number of available cases is a screen pen. For those who like to keep a clean, mark-free screen, screen pens provide a way of navigating around the devise without having to make any contact with fingers.
- Stickers: It may be fun to experiment by adding stickers to a case. Cover stickers can either be placed directly onto the device solely for decorative purposes, or be stuck on top of a protective case. eBay also offers a range of round stickers to fit the iPod Touch button. However, these stickers can be placed wherever the iPod owner desires.
Using eBay to Buy iPod Touch Cases
This section will talk through how to find a suitable iPod Touch case and cover considerations that can be made for the purchase:
· eBay offers a number of easy to use search engines, separating goods according to relevance. In addition to a number of detailed and specific category titles, eBay offers a selection of sections dedicated to factors that can be found outside of a specific item search. For example, the condition in which a user would prefer an iPod Touch case to be in (that being new or used), or the location of where a user would like to purchase from, which includes an option to search solely from within Australia, or to search for iPod Touch cases being sold Worldwide.
· If the description of an iPod Touch case is vague, contact the seller. eBay offers the option to send direct messages to other users to ensure that there is no confusion with a purchase. Be sure to check seller's feedback. See if any other users have purchased an iPod Touch case and check how satisfied they were with theirs.
· In this instance, a user will select the category Electronics. Then from a number of related options that will appear, select MP3 Player Accessories, then Cases, Covers & Skins. Within this category, there will be a huge number of results, including all of those talked about within this guide. There will be an additional option to select Touch to narrow the search down further.
· Once sure about an iPod Touch Case and you are committed to the buy, use PayPal for the financial transaction. It is the safest and fasted way to transfer funds.
Conclusion
iPod Touch cases come in a large number of styles, shapes and sizes, with everything from bold, eye-catching patterns, and cute children's 3D cartoon characters, to tough heavy duty plastic and sleek leather flip covers. No matter what type of case is most suitable, eBay offers them at affordable prices.
For more low prices and a variety of offers, check out eBay Deals. Browse the Electronic section for relevant items.
eBay makes purchasing an iPod Touch case simple with its easy to use search engines and its variety of purchasing options.
Be confident about a seller before making a safe and secure payment using PayPal. Become familiar with eBay's terms and conditions. Leave feedback once the case has arrived.