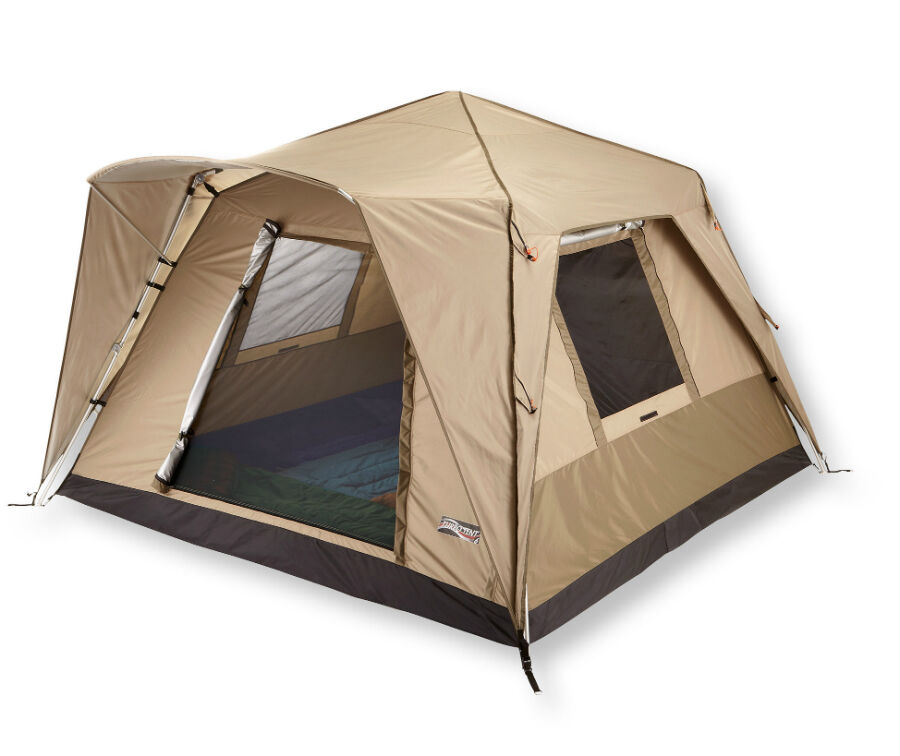 The tent is one of humanity's oldest inventions, dating back to the days when hunters and gatherers were building shelters in order to survive. Today, tents are not generally needed for survival, but they are still an important tool for outdoor enthusiasts. For the most part, tents are used for camping or as a place to sleep when hunting.
Modern tents are quite sophisticated and come in a wide variety of colours and sizes. However, this variety of options can also be daunting to those who want to buy a tent but want to avoid the hassle of shopping for countless hours. When buying a tent, it is helpful to be aware of the purpose of the tent, the kinds of tents available, and the features in tents. Taking the time to learn about tents can make it possible to successfully shop for a tent in a sporting goods store or online via websites such as eBay.
Purposes of Tents
Tents are generally thought of as camping equipment. However, there are several types of camping, and this can make a big difference in the kind of tent that is the right option. For some tent buyers, camping is nothing more than spending a night in a campground with a car that is well within walking distance.
For others, camping involves a long strenuous hike into the wilderness where few humans dare to tread. For others, the answer is somewhere in the middle, were camping involves walking along established trails and camping at campsites that do not have running water or other amenities. Each of these situations requires different types of tents.
| | |
| --- | --- |
| Type of Camping | Type of Tent Needed |
| Campground | Easy to set up; easy to store; not resistant to extreme weather |
| Trail | Lightweight; small; easy to transport |
| Wilderness | Designed for harsh weather environments; water and wind resistant |
It should be noted that the different types of tents have different price points. For example, the tent designed for a campground is generally less expensive than other types of tents.
Tent Styles
Tents come in a number of styles. In some cases, the style is defined by the tent's purpose; in others it is defined by a tent's shape or size. Still, there are common tent styles that one can keep in mind while shopping for one.
Dome Tents
Dome tents are quite common and are known for being fairly simple to set up and take down. That makes these tents popular for use in campgrounds. Dome tents come in several sizes but, for the most part, are meant for four people or less.
Three-Season Tents
Three-season tents are also a common type of tent. In fact, many dome tents can also be considered three-season tents. As the name indicates, three-season tents are meant to provide a comfortable place to rest during every season of the year but winter. These tents are primarily distinguished by the ventilation that they offer for warm weather and a rain fly used to protect sleepers during wet weather. Within the realm of three-season tents, there are many variations in size, ranging from single-person tents to four-person tents.
Four-Season/Winter Tents
Four-season tents allow campers to sleep comfortably even in very cold conditions. They are made out of stronger, more durable materials that are better suited to insulating campers. They also usually come equipped with the means of closing or sealing vents in order to keep warm air inside. Four-season tents are also more resistant to wind, as they have more anchoring points than three-season tents. The increased strength also makes it possible for the tents to withstand being covered with snow.
Family/Cabin Tents
Family, or cabin tents, are usually the largest tents available. They are typically large and square shaped, with a ceiling tall enough to allow many adults to stand fully upright while inside. In some cases, these tents have multiple rooms, allowing families to have some degree of privacy. Family tents are usually quite heavy and can be more difficult to set up than other tents. They are usually not used for hiking or for trail or wilderness camping. The extra space created inside a family tent allows some people to sleep more comfortably inside with a cot.
Tent Features
Many tents offer certain features that can enhance the camping experience. These features can be found on any tent style but not on all tents. The addition of some features may also have an effect on a tent's price.
Double Walls
Most tents are single-wall tents. There are, however, some tents that have a double wall. Double-walled tents are designed for improved ventilation for hot weather while, at the same time, offer better protection from the elements. The improved airflow has the secondary benefit of reducing condensation, which can become unpleasant for campers, especially if they mean to spend several nights in the same tent. The primary disadvantage of a double-walled tent is it they can be quite heavy, and the extra wall means that it takes up more space in a backpack. This can be a major frustration for wilderness and trail campers.
Multiple Doors
Many tents offer a single door for entry and exit. Some tents, however, offer two doors, one on either end of the tent. Aside from making it easier to get in or out of the tent, multiple doors allow for increased ventilation, an important factor after a night in a tent that has filled with condensation. A second door can make a tent heavier, however, which is an issue when the tent is be transported through a wilderness area.
Vestibule
A vestibule is essentially a screened-in porch for a tent. Vestibules usually have no floor, which means that people may not want to sleep in them. They are, however, handy places to set up a chair where insects are not a nuisance. Vestibules are also a good location for storing shoes, backpacks, and other equipment where they can be protected from rain. Vestibules are common tent features, because the lack of a floor and the thin screening material do not add much in the way of extra weight or space to a tent.
Rain Fly
A rain fly is an extra piece of material that is meant to be an extra cover to the tent in the event of rain. It is also a means of providing more protection from wind and sunlight. Tents are accompanied by instructions on how to firmly secure the rain fly. If not secured properly, the rain fly can come loose and potentially even be lost.
How to Buy the Ultimate Tent on eBay
Camping supplies like tents are commonly sold on websites such as eBay. Sellers offer tents that are brand new as well as those that are used, but in good condition. Tents sold on eBay come in a wide variety of styles and features. Finding the right tent is not as difficult as you might imagine. Once you have determined what kind of tent suits your needs, it is possible to look for it by using the search bar on any eBay web page. A simple search for a 'tent' provides a number of options, and the search term can be narrowed even further to include details about size, style, or features.
Take the time to understand the details about the product before making a purchase. The product description found with each item includes information about the product's history as well as details about its condition. You can also search for deals on tents and swags via the eBay Deals page.
Conclusion
Getting a tent is a significant step towards being fully prepared for an outdoor adventure. With the right tent, camping, hiking, or backpacking becomes a much more enjoyable experience. However, it is important to find the right tent for each outdoor activity. Tents that are heavy and bulky are usually meant for camping that takes place not far from a car. Those that are smaller and lighter are meant for toting in a backpack.
It is also important when buying a tent to make certain that the style is appropriate for the weather and other conditions that might be experienced. Some tents are better suited to rainy or cold conditions. Some features found in tents are meant to enhance the experience. Things like double walls or multiple doors can make tents seem more comfortable. When shopping with the right information about tents, it is possible to find the tent that can truly transform an outdoor adventure.