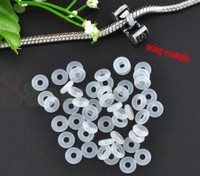 Rubber Rings
Dear friend,
Here are some usages of the
rubber ring
to share with you, which can be used as spacers, links, or beads as you like, or to fix freely on any part of your bracelets, necklaces and lariats, separating your beads in a perfect way.
Some detailed usages of this item for your information shown below, hope they can benefit to your jewelry design and making:
Rubber Rings are mainly used instead of lock beads, to stop other beads falling off the bracelet when it is unfastened.
Rubber Rings can be added randomly on the smooth European Snake Chain Bracelets or Necklaces, and then choose your favorite Clip Stopper Beads to clasp on it, it's very flexible for added on and remove.
Rubber Rings are useful on rubber or leather bracelets with no screw thread to hold a lock bead.
Rubber Rings are also used to keep your beads from moving along the bracelet, by putting a rubber stopper at both ends of the beads, the beads are held in place where you want them, this is useful if the bracelet is not full.
Rubber Rings can also be used on necklaces, to hold some beads higher up the necklace, away from the lower beads.

These are common usages of rubber ring, if you have any other special and interesting usages of this product, please feel freely to share with me. It will be much appreciated.
May you have a happy shopping and jewelry making time! ^_^
Sincerely
Hong (Lisa)