For every numismatist, it is a noteworthy fact that the minting of coins in Vienna only commenced at a relatively late date.
In a way, English king Richard the Lionheart was partly responsible for the founding of the first mint in Vienna. A short chronology of events follows:
During the Third Crusade (1189 - 1192), a conflict arose between the English king Richard I. "the Lion-hearted" and the Duke of Austria, Leopold V., over the course of which Leopold V. swore to take revenge on Richard I. after the Crusade.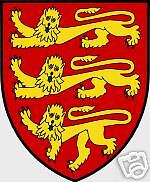 Richards escutcheon


As the alternative routes were even more dangerous, Richard I. decided to risk making his way home through territory ruled by Leopold V. In order to remain unrecognized, he travelled in the guise of a beggar.

On the 21st/22nd of December, 1192, Richard I. was recognized in Erdberg, a suburb of Vienna. He was overpowered and imprisoned at Dürnstein, then a castle and presently a ruin, until March 1193, under the charge of Hadmar II. of Kuenring. According to legend, Richard the Lion-hearted was tracked down there by his loyal friend Blondel, who came to Dürnstein while searching for his king. He is said to have intoned the King's favourite tune - whereupon the King completed the melody by singing from his dungeon window.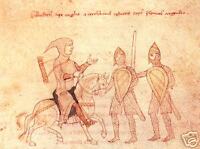 The capture of Richard the Lionheart, Codex of Petrus de Ebulo, A.D. 1197


Subsequently, Richard I. was turned over to Henry VI., Holy Roman Emperor and King of Germany, who held him captive at Castle Trifels in Annweiler until February 4th, 1194, when the exorbitant ransom demanded for the King - 60 tons of silver - arrived from England. Half of the ransom was given to Leopold V., who used it to found the Vienna mint.
Over the next decades, the silver from the ransom was minted into Vienna Pennies, which thus came to be the first coins struck at this mint. Until then, external coins such as the Enns or Wiener Neustadt Penny were circulated in Vienna.
Vienna Pennies, which generally consist of excellent silver, are encountered relatively often on the numismatic market even today. The legend surrounding the dispute between the English king and the Austrian duke is of interest to both historians and numismatists, but has also invigorated tourism in the Wachau region.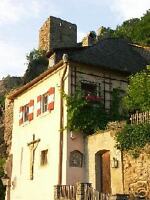 Castle and chapel of Dürnstein in the Wachau


To date, no comprehensive study exists on the question whether the coins minted in the late 13th century at the Babenberg mint in Vienna/Hoher Markt, founded in 1194, also originated from unaltered silver used in the ransom. It is probable that the bullion had already been struck in its entirety at this time. What is certain is that older Vienna coinage taken out of circulation was melted down and used for fresh issues. Thus, it is highly probable that Vienna Pennies contain a certain amount of the so-called "ransom silver", although this is not necessarily proven to be true for each single coin.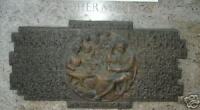 Commemorative plaque on the house at Hoher Markt no. 4, mentioning the monetization of the Lionheart silver


===> agora-wien Shop