What Is Anime?
Well, simply put, it is the term used to refer to Japanese animation movies and series. They are not simply cartoons, as they tend to contain more deeply thought out story lines, detailed animation and character development. Most of the best titles are for a more mature audience and are of a serious nature, containing all the elements you would find in an M15+ rated movie or higher. They are in essence every bit a live action movie or series, the only difference being that everything is animated. Not quite the same kettle of fish as Spongebob or Disney features, but there is a lot of light hearted Anime available for the younger viewers.
For helpful hints and tips about buying anime on eBay, read my other guide here: Buying Anime on eBay
The Availability
Anime has now become a mainstream form of entertainment, with most common titles becoming available in English dubbed form. Most die-hard fans would say that the English dubs detract from the overall feel of the anime, but I disagree. Despite the prevailance of predominantly 'American' accents in the english dubs, which sometimes sound out of place with the Japanese character names, professional dubs by licenced outfits are highly enjoyable.
Most official licensed releases also tend to include the original Japanese sound track with optional English subtitles, so you get the best of both worlds. Australian released anime is comprehensive and excellent when it comes to quality and presentation, usually including both English dub, and Japanese dub with English subtitles. Larger eBay DVD stores stock many Australian released titles, so keep an eye out.
It has to also be noted that anime does take time to get officially released in Australia, and some titles may never get released here. In these instances, eBay proves to be a valuable resource in obtaining import versions from the U.S.A and Asia.
Cautionary Note: Always Beware of Bootlegs. Buy from reputable E-bay stores and sellers and you should be pretty safe.
Here are a couple of Australian eBay Stores I buy official DVDs from. They stock heaps of anime as well as everything else you could ever want on DVD. Click and type the name of an anime title in the search field and check out what's on offer. (I will add more links as I find them).
More Links:
My Top Picks (Must See Anime)
Anime Movies (In No Particular Order)
Akira
Ninja Scroll
Ghost In The Shell
Patlabor Movies 1, 2, 3 (WXIII)
Cowboy Bebop, The Movie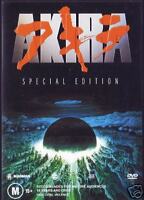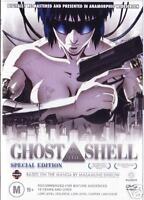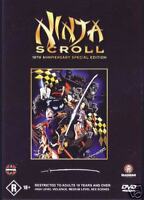 From the few movies I have listed above, the first three are a must see, and were a source of inspiration for the creators of the Matrix Trilogy and the Animatrix. Akira, Ninja Scroll, and Ghost In The Shell are available in a boxed set called the Anime Classics Boxed Set on E-bay. A good investment in my opinion, as the set also comes with an 'Anime Sampler' DVD containing first episodes of a number of anime series as well as tons of previews and trailers. The sampler DVD also has its own list of 'Must See' anime, as well as trailers for each.
Anime Series (In No Particular Order)
Cowboy Bebop
Trigun
Initial D (For car lovers/enthusiasts)
Samurai Champloo
Ghost In The Shell: Stand Alone Complex (Series 1 and 2)
Hellsing
GTO Great Teacher Onizuka
Macross Zero (the animation in this short series is breathtaking)
Neon Genesis Evangelion
Ninja Scroll
Naruto (this anime series is awesome)
Some of my personal collection's Boxed Sets are pictured below. Great Teacher Onizuka (10 DVD), Neon Genesis Evangelion (8 DVD), Cowboy Bebop (6 DVD + Movie DVD). Note: The Cowboy Bebop box comes with an extra empty slot for the movie, which I bought later on and added into the box. All these boxed sets were released by Madman and contain heaps of special features as well as trailers and both English and Japanese audio.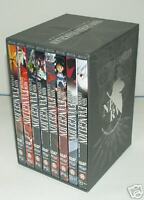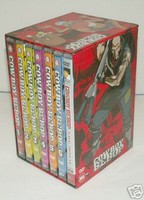 Other series available in such completed boxed sets include, Hellsing, Bubblegum Crisis 2040, Ninja Scroll, Ghost In The Shell: Stand Alone Complex (Series 1), Trigun, and many more. A few months after all the individual DVDs are released, a completed boxed set is usually released by Madman also. 'Platinum' DVDs are also available for some of the series, this just means that it is a newer release with remastered Audio (Dolby Digital 5.1) and Video, as well as subtitles in some cases. Some of the original releases did not come in full 5.1 Audio simply because those tracks were not available. Newer series, as well as 'Special Editions' all seem to be released with Dolby Digital 5.1 Audio though. All such details will be available from the sellers and their listings.
Anime Wish List (anime I haven't seen yet but intend to see)
Gungrave (Series from the creator of Trigun)
Bubblegum Crisis Tokyo 2040 (Series)
Macross Plus (Another highly recommended series)
Samurai Deeper Kyo (Series)
Berserk (Series)
Last Exile (Movie and Series)
Neon Genesis Evangelion (Movies)
Tenjho Tenge (Series)
Bleach (supposed to be very good too)
Geneshaft (Series)
Street Fighter Alpha Generations (Movie)
Street Fighter 2 V (Series)
Gundam Seed (Series)
Gundam Wing (Series)
Heat Guy J (Series)
Blue Gender (Series)
Blackjack (Movie)
Vampire Hunter D (Movie)
Initial D (Stage 3 and 4, im resisting the temptation to get an imported set of these 2 stages, as it is not released in Australia yet.)
Other Anime I Recommend
R.O.D. Read Or Die Movie
R.O.D. Read Or Die The TV
Blood The Last Vampire (Short Movie)
Vampire Hunter D: Bloodlust (Movie)
Armitage Dual Matrix (Movie)
Armitage Polymatrix (Movie)
Perfect Blue (Movie, psycho thriller)
Spriggan (similar sort of movie to Akira I thought)
Street Fighter 2 (Movie, I am a Street Fighter Fan)
Street Fighter Alpha (Movie, I am a Street Fighter Fan)
Yukikaze (Awesome animation, I've seen V1, V2 out now)
Ghost In The Shell: Innocence (Movie)
Noir (Series)
Dragon Ball Z (I was addicted to this series back in the day, they always took so long to 'power up'.)
Other Anime I Have Seen (series not completely seen)
RahXephon (Series)
Full Metal Alchemist (Series)
Burn Up Excess (Series)
Burn Up W (Series)
Wicked City (Movie)
Bio Hunter (Movie)
Golgo 13: Queen Bee (Movie)
Ikki Tousen (Series)
Full Metal Panic (Series)
Gasaraki (Series)
Arjuna (Series)
Parasite Dolls (Movie)
Spirited Away (Movie)
Howl's Moving Castle (Movie)
Grave Of The Fireflies (Movie)
One Piece (Series)
Shadow Skill (Movie)
Virus (Series)
X (Movie)
InuYasha (Series)
Orphen (Series)
Gundam Wing (Series)
Gundam Seed (Series)
Mezzo Forte (Series)
Anime On TV
Series like 'Neon Genesis Evangelion' and 'Ghost In The Shell: Stand Alone Complex' have been shown on free to air TV (SBS) in the past.
Pay TV also airs a few anime series on stations like Cartoon Network, especially on their 'Adult Swim' session. Past series they have aired that I have watched include Trigun, Initial D and Neon Genesis Evangelion.Currently they are showing Inu Yasha, Naruto, Gundam Seed and heaps more on a weekly/daily basis. Check local guides and listings for further information on when and where you can catch more Anime.
Note
I like mostly action related sci-fi anime titles (with a touch of humour), and most of the above are very much in that genre. Most of them also contain mature themes amidst the violence, so please stick to the advised rating given on Australian released DVDs. All official released version of anime in Australia are licensed and presented by Madman Entertainment Pty Ltd. Be sure to check out their website for official anime release schedules and catalogues, as well as trailers.
I would also like to mention that I have only been exposed to anime for maybe 5 years or so, and in this time I have only begun to scratch the surface as far as seeing the available anime titles. I only really started buying and watching anime in 2004, before then i had only seen the occasional movie or episode on TV and had always been intrigued. It is a wonderfully diverse world when it comes to choosing titles, as they have ones to suite every taste. This little guide is solely intended to give new comers to the anime world a bit of a 'heads-up'.
On The Web
Search for 'Anime News' or 'Anime Reviews' or etc. on the web and you will find sites with in depth reviews of heaps of titles, both good and bad. For some helpful tips and hints about buying anime, read my other guide here: Buying Anime on eBay
Thats all from me for now. Hope I have shed some light on the world of anime for newcomers. I decided to do this guide because I had a couple of questions regarding what 'anime' was, when I listed anime titles for sale. If I watch any more anime that I believe is a 'must see', I will add it to my list above. Cheers.
PS: That Anime Classic Boxed Set will expose you to 3 all time classics as well as a myriad of other titles on the sampler DVD, from which you can begin to build up your anime collection. Thats where I started actually.