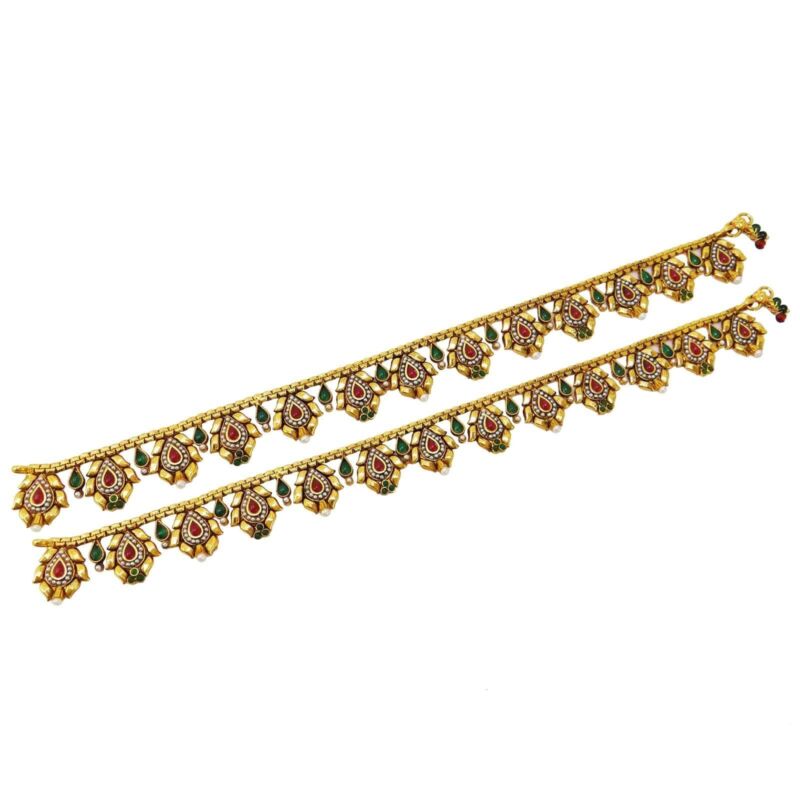 The social status of an Egyptian woman from pre-dynastic times was defined by the pattern of her anklets. Upper class women wore anklets made of expensive metal such as gold etc whereas the lower class women stuck to less expensive ones such as silver or iron. If we talk about South Asia, Rajasthani women wear the heaviest type of anklets made of silver signifying their tribal culture. With the changing fashion trend, the anklet trend is also changing. Gold and silver has been replaced by leather, plastic or nylon. Besides anklets or payals, Indian dance forms have seen the usage of Gunghru (
Traditiona​l Ethnic Payal Indian Ankle Bracelets
) as a part of costume which the dancers tie around their ankles.
Western fashion trend inclines on women wearing anklets just on one foot only. You can wear it with a pair of jeans or Capri besides wearing it with your Indian ethnic attire. Since anklets are jewelries that add the finishing touch to your appearance, you need to pick the right one for yourself and of course wear it appropriately. For that you need to do the following:
Choose the anklet that is neither too night nor too loose.
Select such a model that would go well throughout the day.
Keep your ankle neatly manicured if you are planning to wear your anklet for some event.
Wear small decorative anklets.
Besides these, I have also enlisted a few errors we generally tend to make while wearing an earring. They are:
Avoid wearing earrings made of cheap materials because your anklets are likely to undergo a lot of wear and tear. Skin moisturizer, dirt and swear can cause damage to your anklet making it lose the luster. Precious metals are mostly preferred because cheap metals can cause damage to your skin causing allergies. Moreover durability factor of a cheap metal becomes questionable.
You obviously cannot match your anklet with any outfit. A heavily embellished anklet for a simple get together will get you into an awkward situation altogether. Therefore, if you want to avoid getting yourself into such a situation, go for a neutral pattern that goes with every attire or skip wearing your anklet for certain occasion.
We have at our store a collection of traditional anklets (Gold Plated Indian Payal Bollywood Anklets) that can be adorned especially for Indian rituals or traditions. Pair the heavy ones with a saree and the thin ones with a salwar or a lenhenga and you will look stunning.