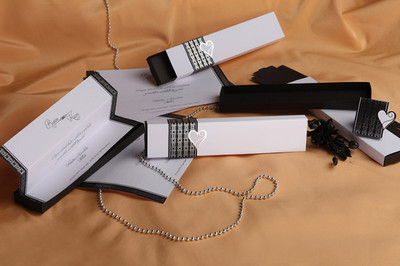 Invitations gives first impression to the invitee, so it should be reflecting your personality, appreciation to your guests and considering how you value them.
Our store contains pre made elegant blank invitations, RSVP and Place cards.



We have variety of invitations to select from which include different designs, colors and accessories. Our supplier uses inexpensive materials to make these cards without compensating from quality, this makes our products the best and most economic in the world.
These items are perfect to use instead of do it yourself items which looks easy and economic but it is never like that, as they absorb a lot of time and money and your final product always looks unprofessional and cheap look.
Our manufacturers (ERDEM INVITATIONS) is one of the best companies in Europe to design and print wedding invitations, they use the best products made from the finest European paper from reliable sources which are excellent in quality and environmentally friendly. The workmanship is also excellent as the company uses over 100 skilled employee which enabled them to compete in world's most difficult market (Europe) with very high measures and standards.
Our invites are easy to print on them as contents come separately packed which makes it easy for you to print and assemble by folding them, adding ribbon or beads then inserting them into envelopes. All elements come packed together in a well presented heavy duty packaging box for safe and professional postage.