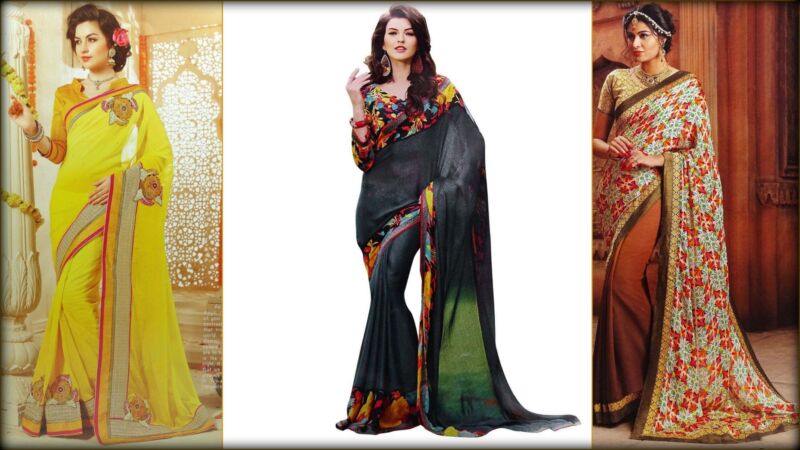 Indian women are considered to be amongst the most beautiful women in the world.
Saree
is the most sensuous outfit which makes a woman of any age group looks very charming. It is one of the most preferred garments of the Indian women especially during some auspicious occasion. Chronologically analyzing, the evolution of saree dates back to the Indus Valley Civilization around the Western part of the Indian subcontinent. Records outline that there are more than 80 ways to drape a saree. The Indian market has a variety of traditional sarees being categorized regionally. They are hand woven with minute detailing which brings out your classiness and draws your personality sketch. With advancement in machines post revolution, the process of weaving and printing has changed. Moreover, with the tinsel town magic, the Bollywood Saree trend has spread across the globe.
Categorically arranging the types of saree, we have the following ones:
Banarasi Saree: One of the highly priced and highly demanded sarees especially during the wedding season. Made in Varanasi (earlier known as Banaras), the holy city of India; the most eye catching feature of a banarasi saree is its vibrant color range. The detailed embroidery and the zari or brocade work in golden or silver hue gives a royal touch to the saree. The golden or silver work highlights mainly the pallu with dense crafting that exhibits the Mughal pattern designs such as flowers, plant, paisley etc.
Silk Saree: Smooth and shinny, silk sarees are very much popular in India. 'Paat' in Eastern part of India, 'Pattu" in Southern part and 'Resham 'in the rest of the nation. The designs, texture and the vibrant colors make it mostly loved garment all around the world. There are many varieties of silk sarees such as a Mysore Silk, Kanchipuram, Bhagalpur silk, Tussar silk, Raw silk, Art silk etc. Tussar silk also comes with a blend of woolens and is a specialty of Bihar.
Chanderi Saree: A mixture of silk and cotton and is known for its light weight. Easy to drape, a chanderi saree originates from Chanderi-a small town in Madhya Pradesh. Famous also for brocades and musin, Chander produces silk chanderi and cotton chanderi sarees.
Tant Saree: Soft and light muslin which is the most comfortable fabric for summers. A tant saree is the famous attire of West Bengal. Light weighted, transparent and comfortable garment, available in multiple color and designs in the Indian market. A tant saree is conisered to be an evergreen saree as the trend never vanishes with changing fashion trend. A perfect casual as well as a festive wear saree. The elaborated and elegant pallu extends from the border which is made of silk thread.
Chiffon Saree: A chiffon saree is known for its trendy look and availability in multiple colors and patterns. Made of cotton, silk and synthetic fibre, a chiffon saree is mostly preferred by young women in India.
Georgette Saree: Affordable and highly in demand for party wear because of the embellishments. Available in a variety of colors, can be worn in different styles and is easily washable. There are many kinds of georgette sarees such as designer georgette sarees, pure georgette or jaal embroidered georgette saree.
Net saree: Made from different net-soft and hard both, a net saree give a glamorous look with a comfortable feel. Net sarees give a modern look and is the perfect party or wedding wear for most women. Recently, women of every age group can be seen flaunting a net saree.
Bandhani Saree: Famous in Rajasthan and Gujrat and is available in many colors and variety. Jaipur is famous for Bandhej, Lehraiya and Garchola sarees.