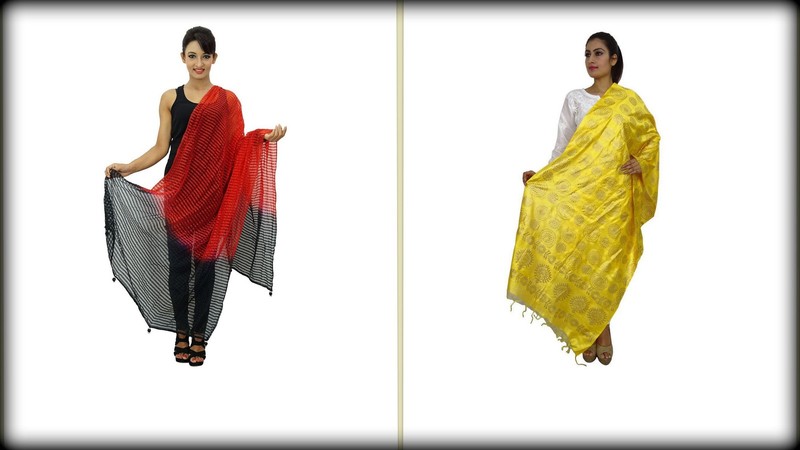 The quintessential element of Indian outfit, dupatta, was intrinsically designed for women to use with salwar kameez, kurta or ghagra-choli. Made of multiple fabrics such as cotton, silk, georgette, chiffon and many more, a
dupatta
was considered to be a symbol of modesty. Women in many parts of India use it as a veil on their head or tucked as a waist band with ghargra. History doesn't give any evidence of dupattas being adorned by the Harappan or Mohenjodaro civilization. Vedic people donned Adhivasa which was similar to dupatta which was used by both men and women to cover their upper parts. Considering the importance of a dupatta, one cannot miss out on the Indian family lifestyle-The Purdah System which involved secluding women and keeping them under veils. Hindu and Muslim women had to follow complex rules of veiling in order to avoid public appearances, especially in the presence of their relatives and strange men.
Dupatta is not limited to a traditional garment in the contemporary world. It has banged into the fashion world and has created style statements for itself. Even now, Indian women cover their head with odhni or dupatta while offering prayers in a temple and also in order to show respect to elderly members of a family, especially in the rural areas. Dupattas range from Phulkari from Punjab to hand embroidered silk and
cotton
kantha from West Bengal, Maheshwari hand block printed dupatta from Madhya Pradesh to silk and
Art silk
from South India. On the other hand, prints vary on the basis of region such as, hand block printed dupattas have evolved from Maheshwari and
Chanderi
in Madhya Pradesh. Weaving and printing have been an age old style of hand block printing. Similarly, different fabrics has originated from different places but is being donned all over India.
Types of fabrics:
Net fabric: They are generally light in weight and the best option to show off your hairstyle.
Georgette fabric: Comparatively heavier than net fabric and is opaque unlike net which is transparent. It is the best choice of dupatta if you wish to hide your flabby skin around your tummy.
Chiffon fabric: Unsubstantial fabric that is prone to wear and tear if there's excessive embroidery on it. Soft in texture and best with lehengas for lighter occasions.
Organza silk: sheer, thin and heavier and crispier than silk. It is stronger and durable.