Are you thinking about buying an ePad? This guide will hopefully help you make up your mind!
1. ePads are cheaper than other tablet PCs on the market (you know the one I am talking about!), and your expectations about the product should be reasonable. Think of it this way, if you are buying a DaeWoo, you wouldn't unreasonably expect the same quality and refinement as a Mercedes Benz!
2. The touch screen is resistive, meaning it can be used with a stylus, unlike some other touch screen devices available. When used with a stylus, the screens are very responsive, but you can still use your finger.
3. Battery life is 2 - 3 hours at most. It is important that you charge the battery overnight before the initial usage. Battery life can be drastically improved if you lower the brightness settings and turn WIFI off, as searching for WIFI sources is the main reason the battery would run slow.
4. Watch out for low quality devices! If the device that you are buying does not have a silver back, then it is of a very low quality. Fully black ePads have a soft plastic screen, which is very uncomfortable to use. Also, this devices use Android 1.5, which is very slow.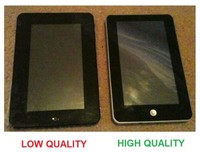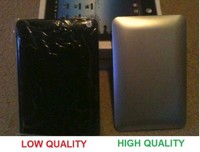 5. Android version: For 7" devices, it should be at least 1.6, and for 10" devices it should be at least 2.1.
6. If you are buying an ePad, postage should be included in the price (around $300.)
7. The ePad should have an in-built USB drive on 10" models. If it doesn't, look elsewhere!
**UPDATE**
New aPads are now available, these run on Samsung CPUs, have higher memory and are of better quality! These devices are slightly more expensive ($50 or so more expensive, but are by far much better value!)
Before I started selling ePads, the first ePad I bought was the low quality, fully black model. It was useless. Luckily I was able to buy the much better, silver backed model.
If you are looking for a device that can display ebooks, play some games, watch movies, surf the web and more, then the ePad is an amazing device for you! The 10" screen will amaze you, and you will be happy that you got a 10" tablet PC at around $300. If you are someone who is really tech-savvy, then this device may not be for you. Unless you enjoy hacking/modifying devices, then ePads are mainly aimed at the entry-level market, or people who want a fun device but don't want to pay extraordinary amounts.