This guide does not contain instructions on how to do your acrylic or gel nails, it is a guideline for what you require and the equipment needed.
Are you finding it hard to find time to get to your nail tech, finding it is starting to become costly, then maybe now is the time to start doing it yourself at your own leisure.
But before you even start down this road, it is recommend that you have at least had your nails done a few times by a professional nail tech. If not, then start by going to visit one and getting acrylic or gel nails applied, watch very carefully what they do, ask lots of questions about the products they use. If after this you decide that YES you can do it you will need to purchase the correct equipment and materials.
Always remember that you are using chemicals, each with their own unique components and each should be treated with the utmost respect.

For a
good acrylic kit
, we recommend the following:
1. good quality files
2. anti bacterial solution
3. nail prep - this temporarily removes the natural oils in the nail plate to help with better adhesion of the acrylic or gel and is also an anti-bac.
4. nail primer - this lays down a chemical base for the acrylic or gel to adhere to.
5. Good quality acrylic powder or gel
6. An acylic liquid or monomer which does not have MMA. There is plenty of data available on the internet about MMA and we strongly believe it is a product that should be avoided.
7. A good brush
8. Soak Off - used to remove acrylic nails.
9. Good quality tips
10. Glue
11. Dappen Dish
12. Cuticle sticks
13. Cuticle pusher
14. Whiteblock
15. Cuticle Oil - regular application of cuticle oils helps with continued adhesion of the arcylic or gel.
For Gel Nails
- all of the above PLUS
16. Cleanser plus - used for removing the sticky residue after curing and cleaning your brush.
17. A UV Lamp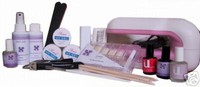 Remember to treat your nails with respect and to do everything you can to minimise damage to the nail plate because damage will allow fungal infections in and weaken the nails.
Keep your products at a cool room temperature, if it is a hot day, move them to somewhere cooler during this time as this will help the chemicals life expectancy.
If you feel you are still not sure about doing your own nails or are having trouble, there are ebooks available with instructions on how to apply acrylics or gels and it is always handy to have a copy at hand for referral.