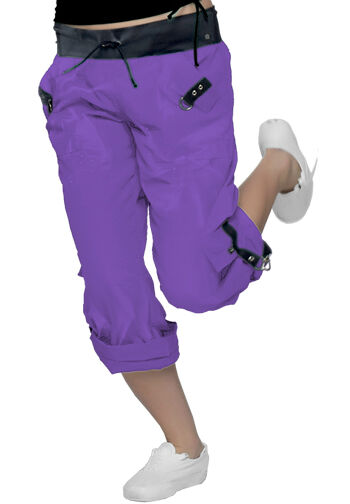 Shorts are a popular commodity in Australia because of the country's climate; in some parts of the country, for instance, they can be worn all year round. Because of this, many designs of men's shorts have been manufactured for the current market in a whole host of different sizes.
Three-quarter length shorts are one of the designs that have emerged in recent times due to their practicality and style potential. This guide will look at what elements to look at before buying a pair, including some important buying considerations that shouldn't be missed.
It will look at buying in respect to using shopping website, eBay, where an extensive choice and potential deals can be found.
What Are Three Quarter Length Shorts?
In simple terms, three quarter length shorts are classed as those longer than regular shorts but not the full length such as trousers/pants. They will fall down to the shin area, but not far off the knee. Some people will refer to them in different ways; these include:
- Jams
- High waters
- Three-quarter length trousers
The vast majority of people in warmer weather conditions, especially Aussies who grow up in an environment where it is the norm, prefer wearing shorts. Of course, some men may feel uncomfortable wearing low-cut shorts so three-quarter length versions are a suitable alternative.
They provide a less restrictive sensation around the legs, as heat can escape easily through the open bottom side of the shorts. Their extended length can also protect the legs further from any water or mud that can splash up unexpectedly. Some designs can present a more formal appearance, whilst maintaining the previously noted advantages.
Who Wears Them?
All sorts of men, for various reasons, wear three-quarter length shorts. They can be used for general purposes, i.e. going to the shops or lounging around the house, or more specific sporting activities. Many skateboarders and extreme sport participants also have adopted longer shorts as part of their image.
Some smarter cord or denim designs of longer shorts have also meant that they have gained fashionable value in some quarters. Slim cut and baggy versions that come in numerous colours and styles cater for any personal preference.
Different Styles of Three Quarter Length Shorts
This section will look at some the varying styles that consumers can choose between when coming to make a purchase. Think of why specifically the shorts are being bought and which particular style will become most suitable. The table below highlights these further:
| | |
| --- | --- |
| Type of Shorts | Description |
| Denim | The popularity of jeans has seen shorts become manufactured in the same style, but simply reduced in length. Like normal jeans, they can come in a slim or wider cut. The bottom part of them can be upturned, cut-off or hemmed openly. |
| Cargo | Cargo shorts have a distinct 'army' feel to them, with an increased amount of pockets incorporated into them and khaki colour scheme. They are useful for storing small items in separate places. They have a casual and informal feel, making them popular with men. |
| Casual | For casual use like lounging around the house or general use socially, three-quarter length shorts usually made from cotton, wool or polyester materials provide a lightweight and flexible item to relax in. They can be used for recreational purposes also. |
| Sporting | Cycling shorts are commonly extended to provide warmth to the legs whilst remaining flexible. Some running shorts too can be three-quarter length, preferred by some in colder weather. They provide a cooler lower half when participating in physical exercise. |
Other Considerations for Three Quarter Length Shorts
As well as the style, some other factors to consider can make the purchase more efficient. The following points outline these in more detail.
Size
Selecting the right size is one worry that comes with buying online. For shorts, however, this worry should be reduced due to their casual style. When buying on a site like eBay, sellers will have listed their shorts in one of the main size denominations (small, medium, etc) but may also give exact details of the waist size and length in inches or centimetres.
Also consider the length in terms of how far down they will come down the leg. Three-quarter length shorts should really come down over the knee, but not too far that they reach the ankle.
Design
Designs features of various shorts can differ, for example, in respect to the waistband. Due to the casual nature of most three quarter length shorts, many will have elastic waistbands that provide freedom when moving. Some will come with drawstrings that can be pulled tighter if necessary whilst denim versions may require the use of a belt.
Consider the amount of pockets also and where they are positioned. Cargo versions will have an increased amount of pockets, which are sometimes enlarged down near the side of the leg. Look out for mesh pockets also that can increase ventilation.
Appearance
There is no real limit to the colour scheme of men's shorts, although traditional blacks, whites and blues are commonly found. Their appearance will depend on what type they are also – denim shorts will generally be a blue colour whilst cargo versions will invariably be a military brown shade. Look out for a chequered or camouflage 3/4 length shorts also.
If buying the shorts for fashionable wear then think in terms of other items of clothing being worn also. With shorts, the shoes and socks will become more obvious as full-length trousers will not cover them up.
Shopping on eBay
Searching for three-quarter length shorts is made trickier on eBay due to the numerous ways they can be listed by sellers. The best way to find them is to enter the appropriate section and search from there.
To do this, enter the 'Men's Clothing' section of the 'Fashion' category and select the 'Shorts' link from the left-hand side of the page. Typing in a relevant term, such as "three quarter" or "long", will bring up the shorts that have been listed in this manner. Select the 'Include Description' box to increase the results also.
Typing in specific terms according to particular preference will pinpoint the most appropriate shorts, whilst using the refinements menu will also help narrow down the listings. Choose between the desired size of the shorts and their main colour as well as the condition and desired price range.
One of the main benefits of using eBay is that many items can be found for reduced prices. Check out Auction listed items, as well as Buy It Now ones to help with this. Also consider using the eBay Deals section of the site and specifically the 'Men's Clothing' area – this can sometimes offer further reductions in price for three-quarter length shorts.
Conclusion
The almost universal use of shorts in Australia means that they are developed in different ways to suit the preference of certain people, both old and young. For those who don't feel comfortable wearing either shorts or longer trousers, then three-quarter length versions are a perfect alternative.
When coming to make a purchase, evaluate all the possible styles on the market and make extra consideration about choosing the correct size in terms of the waistline and how far they will come down on the leg. Be careful when using eBay and review all parts of any transaction carefully, asking the seller any questions if necessary.