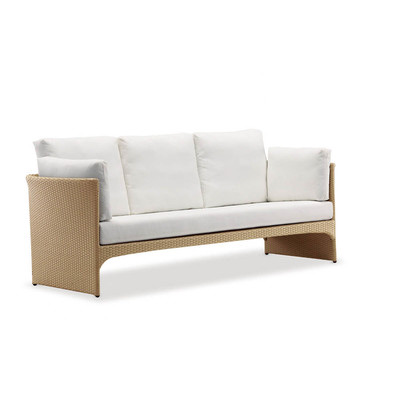 The sofa is a central feature in the living room. Having a three-seater sofa allows ample room for sitting comfortably together. Whether consumers favour contemporary style, traditional style, vintage style, or a combination of different styles and periods, eBay has a quality three-seater sofa to suit them. From brand-new to used, three-seater sofas provide comfort and style. For a craft project, consider purchasing a three-seater sofa in need of maintenance or reupholstering. Alternatively, choose a contemporary sofa with geometric shapes or rigid lines. Traditional sofas, from any period, or traditional-style sofas, bring a little piece of a bygone era to the home.
Three-Seater Sofa Styles
There are a range of different sofa styles available to suit any living area. A vintage sofa fits nicely in an eclectic living space, while a contemporary sofa with clean lines fits naturally in a modern home.
Contemporary Three-Seater Sofas
With sleek lines and geometric shapes, contemporary three-seater sofas constantly evolve with fashions and trends. Contemporary-style sofas generally have exposed legs made from metal or wood. Contemporary sofas lack the intricate scroll work associated with more traditional and vintage pieces. However, because of the simple style of contemporary sofas, they work well in busy rooms, minimalistic rooms, or ultra-modern living spaces. Leather contemporary sofas, as well as fabric models, are commonplace. However, the use of faux leather and other inexpensive synthetic fabrics means that there are many high-quality, affordable sofas available that are stain-resistant and easy to maintain.
Traditional Three-Seater Sofas
Designed for comfort, a traditional three-seater sofa normally has rolling arms and a high back. Ideal for watching television or simply relaxing with friends, a traditional sofa provides maximum comfort and makes any living room look elegant and warm. Traditional three-seater sofas are the most common type of sofas available. Purchase these sofas in a wide range of styles including camelback, Chesterfield, and Bridgewater sofas.
Vintage Three-Seater Sofas
Vintage sofas are available from different periods of time. Purchase some sofas in like-new condition, while others need some work to bring them up to a high standard. A vintage three-seater sofa creates an interesting focal point and conversational piece, as well as creates a comfortable seating area. Vintage pieces from the Victorian era are popular, although these can prove expensive. Three-seater sofas from the early 20th century are popular for their intricate woodwork and opulent style. Vintage sofas from the mid-20th century are popular for their unusual shapes, including geometric shapes and straight lines used in conjunction with curves.
Choice of Material
One of the most important decisions to make when choosing a three-seater sofa is the choice of material. There are several different materials from which to choose, each with different advantages and disadvantages. Buyers should consider the durability of a material, as well as how easy the material is to keep clean.
Leather
Leather is a very popular choice of material for a three-seater sofa and modern production techniques mean leather sofas are more affordable. By choosing a plain leather three-seater sofa, it is possible to give a room a contemporary feel. However, there is also a range of traditional sofas made from leather that contain a distressed look. They are easy to keep clean and spills wipe up without causing damage to the leather. Leather lasts for a long period of time, and although it fades if placed in strong light, it withstands wear and tear. However, if the leather rips, it is generally expensive to repair. Leather is also resistant to dust mites and is, therefore, an excellent choice for anyone suffering from a dust mite allergy.
Fabric
There is a wide range of fabric sofas available in many different colours and styles. Plain or patterned three-seater sofas are available, so it is easy to find one that suits the decor of a room. Buyers should carefully consider the size of a room before purchasing a patterned sofa, as a three-seater sofa that has a bold pattern makes a small room feel overcrowded. Comfortable on which to sit, many fabric sofas have removable covers that are easy to wash.
Suede
A suede sofa gives a sense of warmth to a room. It is very comfortable to sit on and adds style to a room. Suede can be difficult to keep clean and stains easily. It is advisable to spray a suede sofa with a protective sealant that helps protect the material from stains. Mainly available in neutral shades of brown, suede sofas are an ideal choice for a room of a natural shade.
Choosing the Correct Colour for a Three-Seater Sofa
Many people choose to buy a naturally coloured three-seater sofa for their living area, such as brown or beige, as these colours tend to fit well with any pre-existing decor. If a neutral sofa seems boring, brighten it up by using brightly coloured cushions. If there are young children in the home, then browns and dark greys are good choices for a sofa. These colours hide stains easily, keeping a sofa looking new. If the room is particularly small, then it is best to avoid dark colours that make a sofa appear even larger and make the room look smaller.
How to Buy a Three-Seater Sofa on eBay
You can find a deal on a three-seater sofa on eBay with ease. The user-friendly interface allows you to search from the eBay search bar located on every page. To refine your search, use the search filters provided including price range, item location, and item condition. Some sellers offer free delivery on large items, like sofas, while others charge for delivery, so buyers should factor this into their budgets. If you have any questions about the sofa, contact the seller and ask for additional information before you confirm your purchase. To breathe new life into your living space, consider purchasing a comfortable, attractive three-seater sofa from eBay at an affordable price.