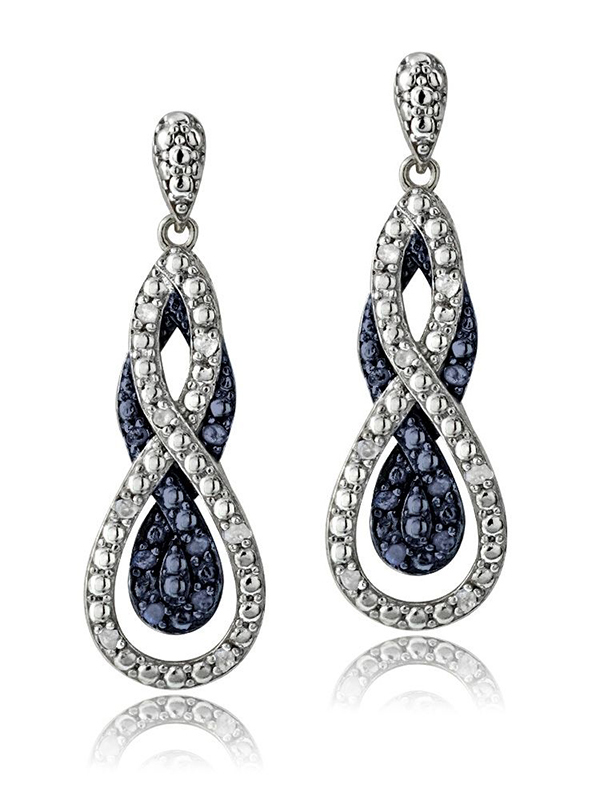 Diamonds are a precious stone that have long been a favourite jewelry item for women. They have a beautiful, sparkly appearance and are very expensive. Diamonds can be worn in a variety of ways, including watches, necklaces, bracelets, rings and earrings. Diamond earrings are a great way to show off the beauty of a diamond. When purchasing diamond earrings, however, it's important to consider a number of different factors. Carat, Cut, Colour and Clarity are the main considerations when purchasing diamonds. These four characteristics will determine the value of a diamond, and shoppers should be careful to examine the diamond closely with these factors in mind.

How Diamonds Were Made
Diamonds were formed millions of years ago when volcanic pressure caused intense pressure and temperature changes in the Earth. Most diamonds are mined in Africa, but there are also some diamond mines in Australia, South America, China and Russia.
Types of Diamond Earrings
There are a number of different types of diamond earrings, and choosing which type is largely a personal preference. Shopper's preferences will vary based on face shape and hair style, among other factors. Some people like earrings that sit on the earlobe, some prefer earrings that dangle. Diamond earrings can be found in the following cuts:
Heart cut earrings are cut in the shape of a heart.

Pear cut earrings are cut into a teardrop shape.

Marquise cut earrings are similar to pear cut but they are a pointed oval shape.

Round cut diamond earrings are the most simple cut and often the most affordable.

Princess cut diamond earrings are a square shape.
Characteristics of Diamond Earrings
Before purchasing a diamond, buyers should be careful to examine the stone carefully. Sometimes owners themselves are not even aware of the authenticity of a diamond, so buyers have to be sure they are getting a fair value for the price. High quality diamonds can be very expensive. There are some moderately-priced diamonds available that are of lower quality but can still be very beautiful. Consider these four characteristics when purchasing diamond earrings:
Carat
Carat refers to the weight that measures the mass of a diamond. The more carats a diamond has, the more expensive it will be. A good way to save money on diamond earrings is to purchase a smaller carat. Round cut and princess cut diamonds typically have fewer carats than Pear and Marquise diamond earrings.
Cut
The aforementioned cuts refer to the way a diamond is cut and polished from the original shape. The cut of a diamond can affect its value. It is a measure of the diamond's light performance and affects how much the diamond sparkles. If the cut is too shallow or too deep, light will escape the diamond instead of reflecting off the diamond.
Color
Diamonds come in a variety of different colors. They are measured on a scale of D - Z, with D being perfectly colourless and Z having a noticeably yellow color. Perfectly colourless diamonds are very rare and very expensive.
Clarity
Clarity refers to the number and size of imperfections that naturally occur in all diamonds. Most of these imperfections don't affect the way a diamond looks because they are so small, but they can lower the value of a diamond. Many times, diamond earrings that have slight imperfections that aren't visible to the eye will be much less expensive but just as beautiful as flawless diamond earrings.
How to Buy Diamond Earrings on eBay
Buyers can find a wide selection of diamond earrings on eBay. In order to get started, buyers can enter "diamond earrings" on the search page. They can then browse through the listings to get an idea of what items are available. Buyers can also refine the search by condition, price, style, etc. With expensive items like diamonds, it's a good idea to make sure that the earrings have some proof that they are authentic or to get them professionally inspected by a professional gemologist before purchasing. Scroll through the results and look for sellers that have high ratings. Buyers should feel free to contact the seller directly through eBay if they have additional questions about the item or the price. Buyers can also find additional bargains on eBay deals from time to time.
Conclusion
Diamond earrings make a great gift and are generally an easy to care for investment. Buyers should be careful to closely inspect the diamonds before purchasing to make sure that they are getting a good quality for the price. The main characteristics to inspect are carat, cut, colour and clarity. A number of sellers on eBay have diamond earrings available for sale in a variety of shapes, sizes and prices.