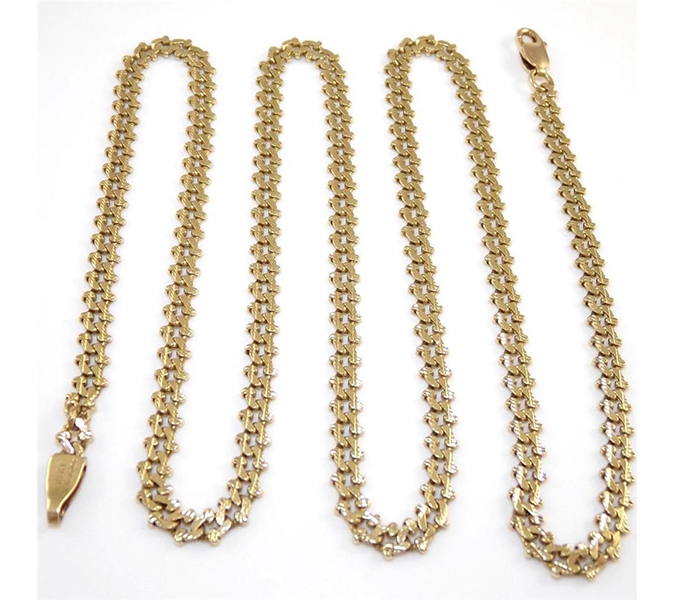 Gold is a good investment option and there are several ways to buy the physical product. Buyers can purchase Exchange Traded Funds (ETFs), where a large bank holds the gold. This is the cheapest and most convenient way to obtain gold, but there is the risk of losing the investment if the bank fails. Keeping hold of physical products in the form of bullion, nuggets, coins, and bars requires more attention because owners must consider where to store them safely. Before buyers invest in gold, they should understand the carat and gold percentage stamps listed by gold dealers and sellers on eBay, which are used to determine the purity of the gold. They should also choose which form of gold to buy and how to store it.
Understand Carats and Gold Percentages
Gold is listed by carats or a percentage. These values refer to the purity of the gold with respect to the amount of alloy included in the final product. Understanding the carat and percentage values means that buyers know the quantity of pure gold in the item. Dealers may list 24ct gold as 99.99 per cent, 999, .999, or pure gold. These all mean than the item contains little to no silver or copper. The chart below explains the formula for calculating the percentage of gold.
| | | | |
| --- | --- | --- | --- |
| Carat (ct) | Remaining Parts of Copper or Silver | Percentage Calculation | Listed Percentage Stamp |
| | 15 | 9/24 x 100 = 37.5 | 375 |
| 10 | 14 | 10/24 x 100 = 41.6 | 416 |
| 12 | 12 | 12/24 x 100 = 50.0 | 500 |
| 14 | 10 | 14/24 x 100 = 58.5 | 585 |
| 18 | 6 | 18/24 x 100 = 75.0 | 750 |
| 22 | 2 | 22/24 x 100 = 91.6 | 916 |
| 24 | 0 to less than 1 | 99.9 | 999 |
Copper and silver in gold help to determine its colour. A gold alloy containing a lot of copper has a red or pink hue, while an alloy with more silver results in shades of yellow.
Choose a Form of Gold
Gold coins are great for collectors, but they also tend to cost more per gram. Buyers who choose to invest in gold coins should research products extensively to find those that hold their value. Gold nuggets vary in size, colour, and purity, so it not easy for buyers to spot a good deal because the price per gram also varies. Many investment experts recommend gold bars for a long-term investment.
Find a Gold Dealer
Buyers often worry about the fluctuation of gold prices after they make their investments. Therefore, it is best to buy gold in small quantities. This means that if the price falls, buyers can still invest in more gold at a cheaper price and benefit from a higher return when the price goes back up. One way to find reliable gold products is to use a well-known dealer. The chart below highlights some of the most popular Australian gold dealers and their locations.
Gold Dealer

City

Perth

ABC Bullion

Sydney

Ainslie Bullion

Brisbane

Guardian Gold

Melbourne

Australian Bullion Company

Melbourne

Sydney

Gold Bullion Australia

Gold Coast

Melbourne

Sydney
Different gold dealers operate in each region. Before purchasing gold, buyers should find out which dealers offer the lowest commissions and premiums.
Store the Gold Safely
Owners of gold bars, bullion, coins, or nuggets can store their items in a safe at home only if their home insurance covers the current monetary value of the items. A safety deposit box is another storage option, but using a bank's safety deposit box has similar risks to purchasing ETFs and can result in the loss of the investment. Owners can use safety deposit companies that are not related to banks to avoid this issue.
How to Buy Gold on eBay
Investors can search for gold using the field available on any eBay page. For specific items, enter keywords, such as "gold bullion", a carat value, or a percentage. Read the item description and the seller's feedback to find a reputable dealer. If any details regarding the gold items are unclear, contact the seller directly via eBay. Discuss delivery options with the seller to ensure that the gold arrives safely. Before committing to a purchase, understand the value of gold items by learning about the carat or gold percentage stamps that sellers list with the product description. Decide which form of gold satisfies your investment requirements and find a safe place to store the items.