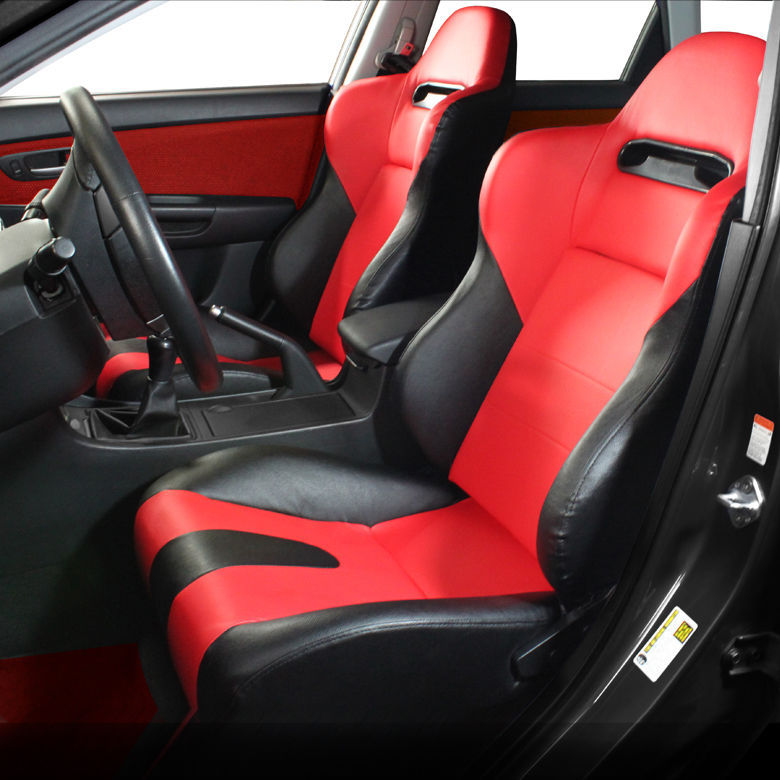 Many car owners install aftermarket sport seats into their cars to enhance the look and feel of their car. Also called "racing seats" or "bucket seats," sport seats are a vehicle customisation that is aesthetically pleasing and functional. Where a regular seat offers little support, a sport seat is designed to cradle the occupant. This allows for a smoother, more comfortable ride and increases the driver's ability to handle the car.
Sport seats can be bought at car customisation dealers, but they are also available online. There are some very good deals to be found on eBay but it is important to know what to look for.

Types of Sport Seats
There are three basic types of sport seats available.
| Type of Seat | Characteristics | Car Use |
| --- | --- | --- |
| Dedicated Racing Seat | Composite shell construction, non-reclining with pass-throughs for sub straps. Approved for competition racing. | Dedicated track event car or race car |
| "Mild" racing seat | Either a "mild" composite shell with fixed back (can't use a 3-point seatbelt) or a supportive reclining seat that offers more support than factory seats. | Dual duty street and track car |
| Supportive Reclining Sport Seat | Reclining seat that offers more support than factory seats, but is not as restrictive as a composite shell seat. Can use a regular 3-point seat belt. | Street Car |

For a regular user that simply wants to update the look of the car, a supportive reclining seat is the best choice. But there are a few things to consider before purchasing.

Factors to Consider When Buying a Sports Seat
Drivers needs to consider fit, firmness, and safety when looking sports seats.
Fit
Most sport seats cradle the body and have an ergonomic design to ensure greater comfort and support. It may include design features such as raised padding to mould around the buttocks and thighs or large side bolsters to support the shoulders. Unfortunately everyone is not built the same way, so padding that may be comfortable for one person may be uncomfortable for another.
Firmness
A well-cushioned seat will be very comfortable, but it is also important that the seat is not too soft. Although softness may feel luxurious at first, a firmer seat will offer more comfort over longer periods of time.
Safety
Car seats all have to provide some level of impact support to prevent injury to the occupant. Sport seats (especially dedicated racing seats) in particular are designed to keep the driver cradled in the seat. As drivers who buy sports seats are prone to driving at higher speeds it is also important for the seat to protect the driver from injuries during quick manoeuvres. Sport seats should absorb impacts, provide back support, protect the body from moving sideways too much and have an adjustable, cushioned headrest to protect the head.
Additional Features
Just as with other after-market seats, sport seats come with a range of extra features that are designed to either enhance comfort, performance, or both. For the driver, choosing which extra features are important will greatly depend on the planned use.
Upholstery
The type of upholstery will depend on the style of the rest of the car, but keep in mind that some types, such as some faux leathers, may be too smooth, causing the body to slip.
Lumbar Support
Adjustable lumbar support is important as it allows the occupant to decrease or increase the pressure to certain parts of the back.
Heating
Some seats can be heated for extra comfort and have their own heat settings.
Electronic controls
With electronic controls, a seat can be adjusted more easily and more precisely than with manual levers.
Measurements
Owners of bigger cars won't have to worry about whether a specific sport seat will fit or not, but those who own smaller cars will need to obtain a tape measure before shopping for a seat. Take measurements of the seats that are currently installed, plus the extra space that is available for each seat. Also check that the car would be able to fit the adaptors that come with the seat, as these are used to secure the seat.

Buying a Sport Seat on eBay
Finding sport seats on eBay is easy to do. Simply type "sport seat" in the search bar at the top. Browse the available options among the results that come up, or further refine the search by using the filters in the left-hand menu bar. After making a choice, look at the reviews of the item, the seller's rating and the shipping options before completing the purchase.