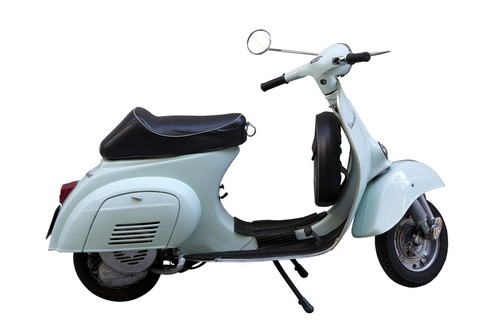 Along with fuel efficiency, convenience, and versatility, the scooter is the transport of choice for many inner city dwellers and others who love the simplicity and freedom it offers. Evoking a distinctive image from the motorcycle, the scooter finds favour among a broad range of people. Its central place in the mod culture of the early 1960s ensured it would remain a style icon for many generations.
From the legendary Vespa to the racy Aprilia, the scooter expresses both personality and utility needs. eBay lists motor scooters at tempting prices, but buyers should be careful not to choose one simply because it is cheap. Customers wishing to purchase their first scooter should instead focus on those features that can enhance their riding experience.
The Right Fit
The first and foremost necessity in buying a scooter is choosing one that fits. Body type and weight should be a prime determining factor for the customer who needs road travelling comfort. A 50cc scooter is ideal for light and small framed customers, but the laws of physics determine that large and heavy riders should choose a bigger engine and a somewhat wider frame, even if for strictly inner city use.
Customers should sit in a variety of scooters to get a feel for the one that offers the ideal fit, comfort, and support. This is of particular importance for the new rider who may experience significant trepidation when starting out. Inexperienced riders should choose a scooter that they can sit on with both feet flat on the ground. This adds confidence and enhances the sense of balance.
Stability
A motor scooter's road stability depends largely on its wheels and tyres. Heavier wheels and wider tyres mean greater traction because there is more rubber in contact with the road. This is a good option for those purchasing their first scooter and who may not be used to riding. The only drawback of wider tyres is its heavier handling for tight cornering, compared to one with narrow tyres and a lighter wheel base. Conversely, a thinner tyre profile on lighter wheels allows for more responsive steering, but may intimidate a new rider. Larger wheels and tyres therefore provide optimum stability.
Engine Size
The most common engine sizes are 50, 150, and 250cc. Scooters with up to and in excess of 500cc engines are superfluous for most riders except those who wish to engage in racing or attempt steep inclines. The 50cc engine provides great fuel efficiency on low speed city roads, but is completely impractical on highways because of their limited speed of approximately 60 kph. Riders who need their scooter predominantly for the CBD, but who sometimes travel on faster roads such as bypasses, freeways, and arterials, should choose an engine of between 100 and 200cc. These sizes represent a sweet spot, as they facilitate both faster speeds and overall fuel economy. A scooter with a 150cc engine has roughly the same body size as one with a 50cc engine, which makes it ideal for the tight inner city squeeze.
Legal Requirements
Licensing requirements differ in various jurisdictions. In some Australian states and territories, an applicant with a full car drivers' license may legally ride a 50cc scooter, but must obtain a motorcycle license to ride anything more powerful. Other states and territories require the rider to obtain a motorcycle license in order to ride any motor scooter.
Servicing
For the sake of easy and cost reducing maintenance, customers should consider their proximity to their dealer of choice. Riders typically take their scooters back to where they purchased them from for servicing. Customers should think about the ready accessibility of parts and their associated costs when choosing a scooter. This is especially so if choosing a retro or second hand scooter.
Cost
Scooters in the higher price bracket generally feature better quality components. Buyers who purchase a scooter as their primary form of transport should budget for a high performing model that offers supreme durability and reliability. BothLambretta and Honda scooters represent some highly trusted examples. However, this does not have to be the case for the occasional hobbyist or those with low riding demands.
How to Buy Scooters on eBay
If you wish to purchase a scooter on eBay, make a broad or model-specific search such as "Vespa scooter". Also check eBay Deals for any related offers. Ensure you ask your designated seller any questions necessary to satisfy all qualms before making a decision. Conduct independent research of your preferred model to ensure it receives consistently positive reviews. Only choose a seller with a proven track record on eBay.
You may find the motor scooter solves many of your problems associated with traffic, parking, licensing, or other practical issues. When you do find the perfect scooter that ticks every box, just be prepared to spend some long hours with your new object of affection.