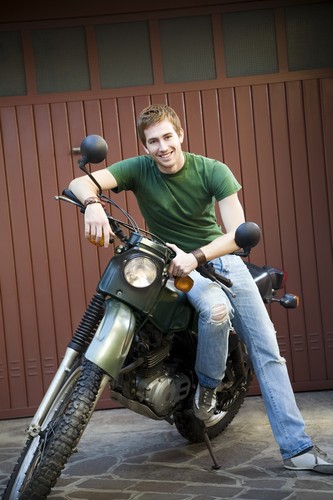 Motorcycles are a popular mode of transportation for riders of all ages. Buying a used motorcycle is not unlike buying a used car; however, some aspects of a used motorcycle purchase differ from buying a car, truck or other passenger vehicle. Motorcycles come in a wide variety of models and are designed for a broad range of riding styles. Therefore the selection of which type of bike to buy is more closely linked to the individual tastes of the cycle owner. Following some basic buying tips can help consumers select the ideal motorcycle for their riding style. Buyers can find used motorbikes from motorcycle dealers or private owners selling their own bikes. Buyers looking for the largest selection of used motorcycles to choose from should also consider shopping on eBay.
Select the Right Motorcycle
Probably the most important factor in making a used motorcycle buying decision is choosing the right type of bike to purchase. First and foremost, buyers should think about how they plan to use the motorcycle. Buyers should also consider their budget as well as the advantages and disadvantages of different styles of bikes.
Vintage Motorcycles
Many motorcycle enthusiasts dream of owning an originalIndian or early model Harley-Davidson motorcycle. While having one of these classics in a collection would be a prize to display, in actuality they might be nothing more than a showpiece. Vintage motorcycles are expensive, costly to insure, unlikely to be ridden in anything other than perfect weather conditions, and truthfully not very comfortable to ride.
Road Cruiser Motorcycles
For pleasure riding or travelling long distances, cruisers are hard to beat from a comfort standpoint. Motorcycles such as theHonda Gold Wing,Harley Fat Boy Softail, or a BMW R1200 Cruiser provide a smooth ride and do not wear out the rider during a long day on the bike. More expensive than less luxurious models, a cruiser may put a dent in the budget and it can be a hassle to lug it around for short commuting distances.
Sport Motorcycles
Blurring acceleration, nimble handling, and compact efficient design are the first things riders notice about sport motorcycles. Rides such as theKawasaki Ninja,Yamaha R1, or a Ducati 999 get the heart racing and zip riders from place to place quickly. Lightweight and easy to manoeuvre, sport bikes work well for short commutes or a speedy race from one location to another. However, riding a long distance while hunched forward hugging the fuel tank is not the most comfortable position to maintain for extended periods of time.
Other Used Motorcycle Buying Tips
Before making a decision to spend a significant amount of money on a used motorcycle, make sure the bike is worthy of the investment. Used motorcycle buyers should always have a motorcycle technician inspect the cycle to ensure there are not any hidden conditions that would seriously impact the value of the bike. Ask the owner for a record of the service history on the motorcycle. Proper maintenance is important to the health of the motorcycle, so owners serious about taking care of their bike should have records of oil changes and other services performed on the cycle.
First Time Buyer Tips
When buying a first motorcycle, spend some time researching the product, talk to active riders, and seek the advice of more experienced cycle owners. Be prepared to invest in quality safety equipment like a well constructedhelmet,boots and riding gloves in addition to the cost of the motorcycle itself. Have an experienced rider road test the bike and provide an opinion as to how roadworthy the motorcycle is compared to the asking price. First time buyers should be honest about their riding expectations; do not buy a bike that is beyond the limits of the buyer's riding skills.
How to Buy a Used Motorcycle on eBay
Buyers can shop for used motorcycles on eBay simply by entering motorcycle into any eBay search bar and clicking search. Narrow search listings by using the filter menu to view specific makes or types of cycles. Enter specific descriptions such as Harley Sportster to see just the listings that match the
keywords
used. Buy with confidence, and review seller
feedback
ratings to see how previous buyers rate their satisfaction in dealing with a specific seller. Buying a used motorcycle can save thousands over the price of a new bike and often allows buyers to get more of a bike for the budget they have to spend. Whether the motorcycle is for everyday transportation or the occasional afternoon of fun and relaxation, selecting the proper cycle for the purpose assures that the purchase provides long term satisfaction to the buyer.