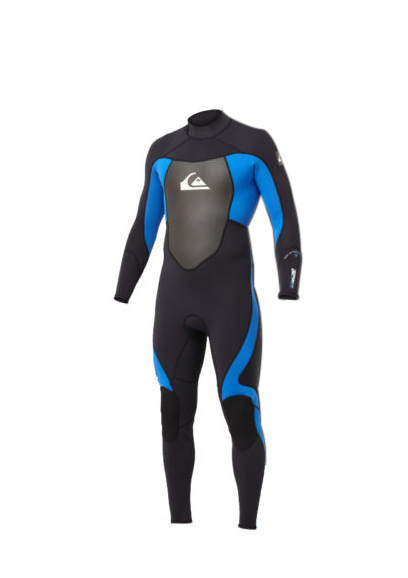 Wetsuits provide insulation, comfort, and protection from underwater hazards. In some cases, wetsuits only deepen the enjoyment of an activity. In others, wetsuits are completely necessary. Properly selecting a wetsuit leads to years of enjoyment. Choosing poorly leads to discomfort and compromised capability in the water. There is no substitute for a quality wetsuit when it comes to water sports. Consumers should learn about specific sport wetsuits, their thicknesses, styles, accessories, and sizing before making a purchase. Sports enthusiasts can purchase wetsuits at sports shops and online at eBay.
Sport-Specific Wetsuits
Not all wetsuits are equal. Manufacturers design each model of wetsuit for a singular use. Customers should find the greatest satisfaction with a wetsuit designed for their particular pursuit.
A surfing wetsuit accommodates a greater range of motion in the arms than a diving wetsuit. Manufacturers tailor different levels of insulation specifically for the motions of surfing. Brands construct diving wetsuits with the rigours and increased pressure of diving in mind. They are consistently more rugged than surfing wetsuits and are mandatory for the serious diver. Sports, like water skiing or wakeboarding, demand a water sports wetsuit, with altogether different features.
Choosing the Correct Thickness
The first and, ultimately, the most important concern for choosing a wetsuit is the temperature of the water. Greater insulation from a thicker wetsuit is critical in colder water. Below is a short list that shows the correspondence of wetsuit thickness to the temperature of the water.
| | |
| --- | --- |
| Thickness (in millimetres) | Temperature Range (in degrees Celsius) |
| | Above 28 |
| 3 | 21 to 28 |
| 5 | 16 to 20 |
| 6.5 | 10 to 20 |
For insulation in water lower than 10 degrees Celsius, a dry suit is the ideal apparel. Temperature ranges and wetsuit thicknesses may vary slightly depending on brands.
Wetsuit Styles
Since people use wetsuits in a variety of activities, there is a range of styles for the best results in different situations. Some of the most popular wetsuit styles include the shortie, the Farmer John, three-quarter, and full suits.
Shortie
When temperature is less of a concern than sun damage or hazards in the water, some divers prefer the shortie, which has short legs and sleeves. People should only use the shortie for warm water sports.
Farmer John/Jane
Divers in cold temperatures appreciate the Farmer John/Jane in conjunction with a neoprene top to add a little more insulation and warmth. This style is much like a pair of overalls with no sleeves. Consequently, it is a great choice for canyoneering in warm weather or warm water diving with low risk of scratches.
Three-Quarter
Three-quarter suits have full leg coverage and short sleeves, making them an ideal choice for moderate temperatures. People can modify a three-quarter suit with a pair of booties for colder water.
Full Suit
Full suits provide the most warmth and coverage short of using a dry suit. Full suits are ideal for the coldest water.
Again, wetsuits have very different builds depending on the activity. It is common for wetsuits to employ different levels of insulation on different parts of the body. For instance, more insulation around the core and less on limbs help divers to stay warm without compromising mobility.
Accessories
An ideal way to augment or vary the coverage and warmth of a wetsuit is with accessories like hoods, booties, and gloves. Increased comfort stemming from greater insulation leads to more time in the water. Athletes in sports that rely on dexterity of extremities, like surfing, are excellent candidates for such accessories.
Sizing Considerations
Wetsuits do not keep the athlete dry. There is always some amount of water in a wetsuit, but excess water from a poor fit is an excessive burden on the wearer. Athletes generally appreciate the snuggest fit possible from a wetsuit. Below is an example of a general sizing chart for wetsuits, though different manufacturers have more accurate size charts for their specific models.
| | | | | |
| --- | --- | --- | --- | --- |
| Men's Size | Chest (in cm) | Waist (cm) | Hips (cm) | Height (cm) |
| | 90 to 94 | 83 to 79 | 83 to 87 | 170 to 175 |
| Medium | 94 to 97 | 79 to 84 | 87 to 90 | 172 to 178 |
| Medium-Large | 97 to 103 | 84 to 87 | 90.5 to 92.25 | 175 to 180 |
| Large | 103 to 107 | 87 to 92 | 92 to 94 | 178 to 183 |
| X Large | 107 to 110 | 92 to 95 | 95 to 100 | 180 to 185 |
| XX Large | 110 to 112 | 95 to 103 | 100 to 104 | 183 to 188 |
Trying on a wetsuit dry is a good way to gain an approximation of the correct size, but wetting the suit down before sizing eases the fitting process. Signs that a wetsuit is the wrong size include:
* Voids in armpits and crotch
* Neck or collar should be snug but not constrictive
* Ankles or wrists should be tight enough to keep rushes of water out
How to Buy a Wetsuit on eBay
Your search for the appropriate wetsuit should begin by inputting specific keywords into the eBay search bar found on every page. Use keywords for neoprene thickness and input specific features to find the best match for which you are looking. Alternately, sort by brand or item condition to weed out any unwanted models and zero in on the best wetsuit for you.
Wetsuits vary greatly based upon the sport for which a person is using them. Putting a little extra effort into finding the perfect wetsuit ensures that upcoming water sport outings are much more enjoyable and give you the freedom to perform at your highest potential.