Here are some helpful tips to search and purchase movie model cars. Be aware of authentic and non authentic models. eBay has one of the largets selection of vintage and rare movie model cars for sale.
Don't limit yourself to only eBay Australia; choose Worldwide under the Location after your search results have been returned to your screen. Personally I have found after adding the cost of delievery it s still cheaper than retail.
Searching
In the search text box (you must be loged in), see figure 1, you can use keywords such as "movie models", "tv models", tv cars", "movie cars". Use the specific name of the movie for example, "james bond"or "007". Other search keywords such as "vintage", "rare", or if you know the model you are looking for , type in the model, for example, "1969 Pontiac GTO". Another keyword to consider is "restoration". I have found few movie model cars needing restoration for under $5 and now they are worth much more aftre been restored.
Don't only use the main search feautre, go into the stores section too.
Leave the search criteria to All Categories and click the search button.
Figure 1

When eBay returns the search results, clik on Toys & Hobbies to narrow the search further. See figure 2
Figure 2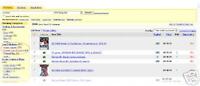 After you find what you are looking for:
Ask as many questions as you can think of. Some sample questions are:
Can I get a product ID or product code? This will let you check the model again the manufacturers website to make sure it is genuine.
Is there any dmange?
If the model is loose, is it a genuine movie model merchandise?
Request for more images of the model and the packaging. so you verify the model is a genuine movie release. Generally sellers are happy to comply with this. The pakagin will contain images from the movie.
Be aware of customised versions. I have found many of the customised version are fantastic. This will depend if you are happy with a model created by fan, rather than a genuine movie merchandise produced by a manufacturer.
Make sure are you are happy with the model you purchasing. Always follow your first instict and do not second guuess yourself. Few times I have second guessed myself and wasn't happy with my ourchase.
Be aware of cheap replications. I have model models produced in Twain with original movie packgaing and the model deosn't look anything like its on screen version.
If the model is a limited edtion ask for a photo of the Certification of Aunthenticity.
Don't limit yourself to only diecast versions consider the platic model kits of the particular model. Sometimes there is a much greater satisfaction building the model yourself. Especailly with movie models you build them and using your imgination to display the model.
Consider purchasing models that require restoration. I have purcased a few movie car models for under $5 and now after restoration are worth more.
Try to aviod removing the model from the packgaing, unless you have a different maner in which to display your models. Store your packging in a dry are where less dust will collect.
My Top 5 Movie Model Cars
My Top 5 Movie Car Manufacturer
Additional Reading
Click here for Diecast Toy Vehicles Buying Guide
Click here for When Buying Diecast Collectible Cars What to Look For