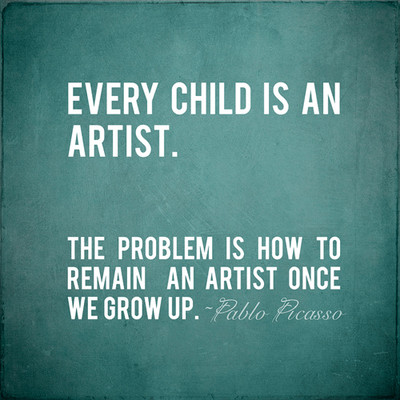 Picasso said, "Every child is born an artist, the problem is to remain one once they grow up." From birth, our children are gifted with creativity and a natural inclination to explore the environment, experiment, discover, and learn. Children view the world with a fresh mind, full of imagination, where anything and everything is possible. Their thoughts are often filled with heroes, princesses, fairies and other characters which unyieldingly overcome all barriers to come out on top and ultimately save the day.
As we grow, most of us slowly let our creativity and imagination slip away. Focused on work that needs to be done and bills that need paid most of us lose our creative thinking skills. We stop practicing. I know you may be tempted to say: "So what? I can live my life very well and be perfectly happy without following in Picasso's or Shakespeare's footsteps." But creativity is not only about art, writing, or music. Creativity is the ability to develop ingenious and innovative solutions. It is the ability to invent and become the shakers and movers who change the world. Creative thinking allows us to be more flexible in our thinking and to sometimes jump outside of the box and choose less conventional solutions. Not only will it help open your eyes to rediscover the world around you, but being creative also means having more fun, more joy, and more laughter in life. Here at Mr. Monkey, we think that's what life should be all about. So what can we do as caring parents to ensure our children maintain and grow their creative minds, even into adulthood? How do we encourage them to use more of their minds in order to think more creatively?
Here at Mr. Monkey, we've given this aspect quite a bit of thought, and from our shared experiences we have come up with some tips that will help keep your little one's creative mind flowing throughout the years.
1. Give your child an environment to stimulate his/her creativity
Your child needs a physical and social environment which allows him/her to explore and learn new things all of the time. One way to do this is through creative games which challenge his/her way of thinking and encourage him/her to find unique and innovative solutions. It is also important to offer your child a diversified cultural and social environment that will show him/her how different people think and act. This will teach him/her that it's ok to have a mind of his/her own. Additionally, give your child simple toys that he/she has to put together and create imaginative games himself/herself. If your child is surrounded, by majority, with electronic toys or toys that have set rules to follow, he/she will not get enough practice thinking for himself/herself and will be less likely to come up with original ideas.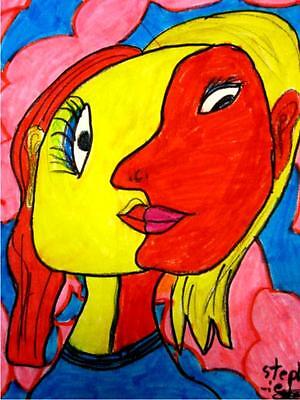 2. Accept his/her more unusual ideas
Don't admonish your kid for being unique. Even if there are times when what he/she is saying seems to have no logical direction, we should reward them for the effort of thinking differently. A less inspired idea can lead to a brilliant discovery. Give your child the freedom to face the consequences of his/her own thinking. We often get sucked into socially acceptable ways and tend to make our children always follow the same pattern. It's okay if your child doesn't always want to color the elephant grey. Let his/her mind make the elephant blue with red polka dots if that's why he/she wants.
3. Answer questions with questions
I'm sure that most parents are tired of being pestered with questions by curious little ones. We tend to give typical encyclopedia answers, you may tell them that they'll find out at school, or sometimes send them to question a more capable authority (yes, I'm referring to the poor grandparents; after all, being an authority in all matters comes with certain expectations). Why not ask your child questions instead, "What do you think it means/does/is used for?" Very likely he/she can put two and two together and hazard a good guess. Encouraging your child to gather information and make deductions based on that information is a form of creative problem solving.
4. Find answers together
At some point in time, your kids will begin asking questions that you can't answer. There's no shame in not knowing. You can't know everything even if you are a genius; which, let's face it, most of us are not. What do you do then? Engage your little one in research for the correct answer. It will strengthen your relationship and you'll both learn something new. You might even get some fun out of it.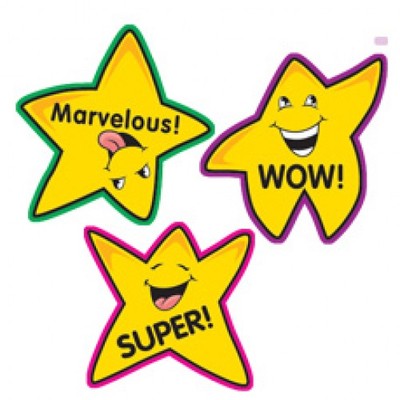 5. Reward efforts more than results
As a student, your child will come home with excellent marks at times and poor marks at other times. Don't fall into the trap of rewarding him for the scores. In spite of the poor result, he might have studied really hard for that test. Instead, try asking him where he thinks he was wrong and what he can do to make things better in the future.


Creativity and knowledge come from learning, making an effort to understand things, and trying different solutions to solve problems. By motivating your kids to make the effort to learn, to study and to solve problems, you give them valuable skills for life and encourage them to use their minds. By stimulating their creativity, they'll grow into successful individuals who are able to think "out of the box" and come up with truly innovative and original ideas in their field of activity.



There is no wrong time to try and rediscover your creativity! Having young children at home to get creative with is the perfect opportunity for you and them. Remember, creativity is a state of mind, not something that some people have and others lack. Like all skills, it takes practice and needs to be used often. We were all overflowing with it at some point in time and if we don't feel so inspired now, it means that this natural gift of ours is simply dormant and we have to give it a good shaking to wake it up.



Sources:

The Artist's Way for Parents: Raising Creative Children by Julia Cameron, Emma Lively
Raising a Creative Kid by Jillian Riley
Punished by Rewards: The Trouble with Gold Stars, Incentive Plans, A's, Praise, and Other Bribes by Alfie Kohn