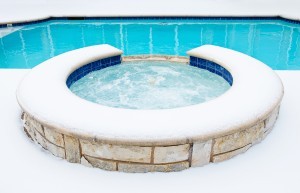 The days have started to feel colder, temperatures are definitely lower than a few weeks ago… this doesn't only have an effect on you and your choices of wardrobe, it also effects your pool!
So here are some tips for you to protect your pool and get it ready for winter.




1) Clean the filters – Your pool filters should be cleaned at least once a year. Why? It gets rid of those stubborn oils and debris that are missed during backwashing or hosing. Cleaning these filters will also improve its efficiency! Not sure what to clean it with? Try BioGuard's Filter Brite.

2) Clean the exposed pool surfaces – those dirty marks and lines that build up over summer (around the water line) are an ideal food source for bacteria and algae. So make sure to remove them! You could try the BioGuard Sueaky Clean surface cleaner to do this.

3) Clean the pool skimmer box – Remove any debris from your pool and the skimmer box.

4) TEST – Have the water in your pool tested to make sure that it is balanced. We advise to get it professionally tested monthly during winter. See our website for more information on our FREE water testing services. Having the pool water correctly balanced isn't just better for your health and skin but also means that your pool chemicals will be working more efficiently. Therefore, in order to not waste money, reduce the risk of damaging the surface and equipment of your pool it is vital to keep the water balanced.