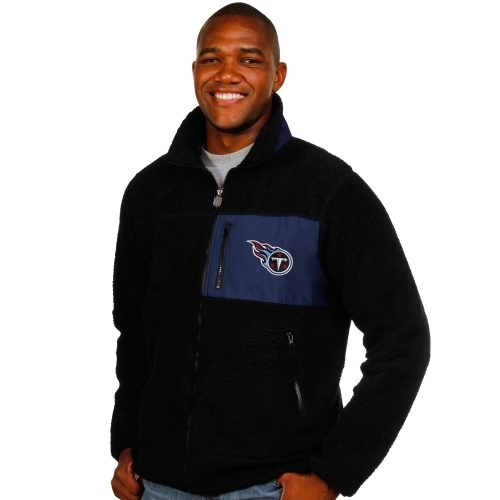 A Titans Jacket is a sports team jacket featuring the logo and colours of this national rugby team, and wears much like any other jacket. These jackets and team clothing are designed to show off one's favourite team and some of the profits from the sales go to the team. Sports jackets are actually several different types of jackets. There are the more classic styled jackets that tend to be more formal looking, and the flashier styles that are sold by teams. Appearance, comfort, functionality, and quality are important. Luckily, many Titans jackets are made with all these things in mind. You can purchase a Titans jacket through the team website, a licensed merchant, sports store, or sites like eBay.
Form and Function
Sports jackets have a special function in the world of fashion. They are designed to shelter the wearer in cold, rainy, and windy weather with ease, while also supporting the team. Unlike classic styled jackets, these ones are more practical for actual sports watching. The appearance is up to the designer and the team, but most sports jackets are made to be quite stylish with respect to sports team apparel standards.
A Titan jacket can come with a few key features. These include appearance, functionality, and comfort. Comfort is straightforward, if it feels good then it is comfortable. These jackets are intended to help keep fans warm while out supporting the team during a game. Appearance has two considerations, team colours and logo, and attractiveness. The logo is licensed, so this is what fans are really paying for when they buy a team jacket. Also, a subtle design looks good, rather than standing out.
Functionality is more complicated. A jacket keeps the wearer dry and warm in bad weather, but is not too hot in mild or warm weather. Pockets are an important consideration too.
Types of Jackets
Gold Coast Titans jackets are produced in many styles each year. Avid fans of the Titans may even want to collect each year's Titans jersey or jacket. There are also closely related clothes that are commonly used as sports apparel. Most people tend to think of the colourful jacket worn for school sports when they think of team jackets, but Titans apparel is understated and can be worn outside the game.
A Titans jacket can be any kind of jacket ranging from jerseys to windbreakers. An increasing trend is to wear hoodies and sweatshirts, as an alternative to jackets and coats. Of course, each of these items of clothing has their own style.
Hoodie
Not quite a jacket, but ever present in the world of sports is the hoodie. Many Gold Coast Titans fans can stay warm in a hoodie, without having to search wide and far for rarer types of jackets. New designs are made each year for Titans hoodies and they are readily available through private sellers and licensed merchants. A Titans hoodie is almost always pale blue with the team logos on the front and the team name. A front zipper makes it possible to wear the hoodie open or closed, and a generous hood, keeps out the weather. Hoodies are available in men's and women's styles, for adults, youths, and infants.
Zip Up Jacket
Slightly more difficult to find is the zip up jacket. This light knit jacket helps to keep off the early morning chill, but does not feature a hood. A zip up jacket is almost always offered each year, and is navy in colour with a light blue trim. The zip up jacket is often marketed as unisex, rather than offering different styles based on gender.
Coaches Jacket
More rare is the coaches jacket designed to look similar in style to jackets worn by team coaches on the field. The 2009 coaches jacket was a black windbreaker with a short collar, no hood, long sleeves, zip up front, and storm flap to cover the zipper and keep the wind out. The team logo is on the right arm sleeve, and left front side of the jacket. These jackets are usually made of nylon or polyester blends.
Puffy Jacket
Another less commonly seen style is the puffy jacket. The 2009 puffy jacket is still available through a few sellers. These jackets are meant to be worn in heavy winter weather. The 2009 puffy jacket is black with the team logo on the front left side and a pocket placed on the right breast. This jacket is synthetic in material, likely polyester or nylon, with a small amount of polyester fibre fill to keep it insulated. The puffy jacket does not usually include a hood, although future styles can always change.
Poncho
Fans on a tight budget can still get team themed outerwear without the expense. Team ponchos are usually available each year and in large quantities, making them very affordable. The poncho has a hood, is made of white plastic with the team logo on the front. Gold Coast Titan ponchos can be saved or disposed of after the game. These are meant for wet weather, are unisex, and come in one size fits all adults.
How to Buy
You can purchase a Titans jacket through eBay sellers who are licensed to sell Titans merchandise or just want to sell some of their excess jackets and clothing. These jackets are considered collectible memorabilia, so they are more expensive than the average jacket or hoodie. When searching for a Titans jacket to buy on eBay, use the team name in the search engine to ensure you find clothing made for Titans fans and not clothing from other rugby teams. Also, some styles of jackets and hoodies are made for men or women. Check the gender style of the item before paying for it. You may be able to find other Titans accessories and jackets in the eBay Deals section at an additional discount.