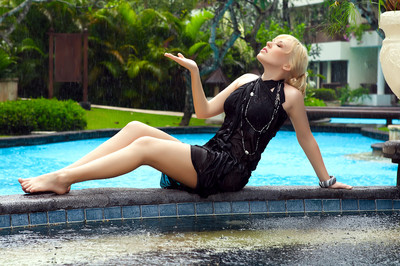 What to do?
Lately in NSW, we experienced a lot of rain! To all pool owners, don't worry about what you should do about your pool, just have a quick read through this blog and you'll be fine!

First of all, if you usually are meticulous with the chemical balance of your pool you should not be worried, especially if it's just a little bit of rainfall. Even if the rain is acidic (pH around 5.0), the pH of your pool can drop, but this is just very slightly and temporary, it's going to bounce back again without you doing anything.

If the rainfall was more drastic, a thunderstorm for example, the first things to do is to drain the pool to reduce it back to the correct level of water; then skim the water, vacuum it and then test it to make sure the chemical balance is correct.

If the chemicals level is not right, refer to our previous blog to check what the correct level is and what measures to take if it needs balancing. It is also quite likely that you will have to shock the water, don't forget to test it again after before anyone goes to swim.

Most of the time, rain is not bad for your pool so don't worry, if you have the right systems in place and make sure to check the water from time to time everything will be fine.