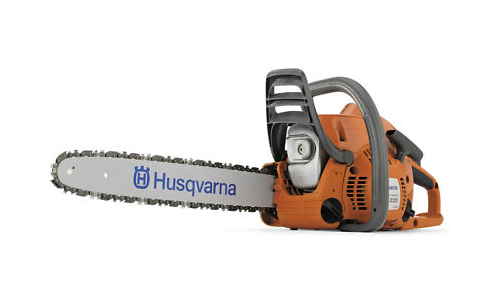 Chainsaws are an important tool for many homeowners. They make do-it-yourself landscaping a breeze and come in quite handy following harsh weather. There are hundreds of options when it comes to choosing the right chainsaw to add to one's collection of power tools. Options include electric, petrol, and even cordless rechargeable options. Size varies significantly, and most models feature a variety of blade lengths. With so many chances to customise, individuals should have no issue finding brands that are capable of the job. Like any do-it-yourself tool, it is important to make a purchase after gathering a good deal of information. After all, even the least expensive chainsaw is an investment.
One can purchase chainsaws at the local hardware store, but it is worthwhile to consider the large inventory of tools available online through eBay.
1. Husqvarna 240 E
The Husqvarna 240 E series of chainsaws is designed to be ultra-light while still providing top-performance. This size, performance level, and low-emission petrol intake makes the Husqvarna a good choice for homeowners, especially those performing light tasks like pruning. Additional features beneficial to the average do-it-yourselfer include easy starting and tool-free tension adjustment. The Husqvarna 240 E series of chainsaws offers an excellent, easy-to-use option, ready to go, straight out of the box.
2. Poulan PP3516AVX
The Poulan PP3516AVX operates via a two-cycle petrol engine. It comes with an anti-vibration handle and clean air filter system. The unique handle reduces instances of operator fatigue, making it easier for users to complete large tasks in record time, without injury. Chain tightening is tool-free, and the weight of the Poulan rests at around 5.4 kg.
3. Solo 636
The Solo 636 chainsaw was designed with homeowners in mind. Ideally suited for 10 to 100 hours of use per year, the Solo features a powerful, 2-hp engine and easy-to-start primer. As chainsaws go, the Solo 636 is extremely light at 4.22 kg. This makes it far easier to hold overhead for long periods of time when working on tree limbs or performing light-duty gardening tasks.
4. John Deere CS36LE
John Deere is a trusted name in the landscaping world. The John Deere CS36LE carries on the brand's commitment to excellence by offering an easy-to-use, lightweight option for homeowners. Carburettor and idle speed are easy to adjust, and the on-off switch is safely protected from debris and dirt. The weight of the John Deere CS36LE is approximately 4.3 kg, making it quite easy to hold upright during trimming.
5. Stihl MS 210 C-BE
The Stihl MS 210 C-BE was designed for backyard work at home. However, users often feel that it has the power and strength to handle professional jobs. A casual pull on the Stihl saw's rope, and it starts up right away. The on and off switch operates with ease, almost like starting a car.
6. McCulloch MCC1635AK
The McCulloch is an economy-priced chainsaw. It is designed for light-duty work, making it perfect for weekend do-it-yourselfers. Though it is not appropriate for long-term, heavy usage, it can make quick work of an occasional log. At 5.6 kg, the weight of the McCulloch is a bit loftier than some of the other options. However, the average retail cost is much lower. For the homeowner in need of a quality, but inexpensive chainsaw, the McCulloch is a nice option.
7. Echo CS-370
The Echo CS-370 offers top-notch power in an affordable, easy-to-use package. These qualities make it an excellent choice for simple, backyard projects. The highly-effective nose guard keeps users safe from kickback in even the worst of conditions. Consumers are offered a choice of three different bar lengths for the ultimate in customisation. The machine is quiet and easy to start, both huge pluses for many casual users.
8. Holzfaller G372
The Holzfaller G372 comes at a great price. The European-designed chainsaw features a cutting power of 13,500 revolutions per minute. It offers a high level of power in an easy-to-use package. The power behind the Holzfaller exceeds what people may expect of a moderately priced chainsaw. Though homeowners have no trouble using it, this chainsaw can also perform most professional tasks with ease.
9. Makita 12 Volt Lithium ION Cordless
Makita revolutionised the world of chainsaws by offering the first cordless, electric option. The Makita Lithium ION cordless can cut up to 93 pieces of wood off a single charge. The 12-volt model weighs in at 5.6 kg, making it a bit larger than some of the other options. Consumers willing to overlook the hefty weight benefit from a cordless option that does not require petrol. A good option for the environment, which still retains the flexibility of a petrol-run device by not requiring the user to be tied down to a cord and outlet at all times. Though it may not be the best option for industrial work, this tool is great at backyard tasks.
10. Millers Falls 38cc Petrol
The Millers Falls 38cc Petrol chainsaw offers an effective cut for a variety of tasks. With a powerful RPM of 7500, it blows many other chainsaws in the same category away. The 1.1-kW engine and highly-effective, anti-vibration handle make it a cinch to use in even the most trying conditions. Despite all this power, the device still comes in at a light weight of around 5 kg.
Petrol vs. Electric Chainsaws for Homeowners
Chainsaws come in petrol and electric versions. Until recently, using an electric chainsaw meant remaining tethered to an outlet and cord at all times. However, newer brands have been experimenting with a cordless tool energised by a heavy-duty, rechargeable option. There is a good deal of debate regarding the benefits and disadvantages of petrol devices versus electric ones within the world of chainsaws as well as all other power tools.
Advantages of Petrol Chainsaws
Petrol means not being tethered to anything. Users can perform cutting tasks anywhere without having to stretch a cord or tote a generator. For many people, the petrol option seems to provide a greater level of power. This is especially true when comparing low-quality versions of petrol and electric chainsaws.
Disadvantages of Petrol Chainsaws
The disadvantages of petrol are primarily related to the environment. Although many models are designed to provide low emissions, the fact that they use petrol as an energy source guarantees a certain level of pollution, even if it is low. Additionally, petrol requires the purchase and handling of petrol. Often, the petrol must be mixed with a certain amount of oil before being added to the machine. Also maintenance can be more difficult with many petrol options. If rain or dirt enters the system, the machine's petrol tank has to be completely flushed and cleaned before refill.
Advantages of Electric Chainsaws
Electric chainsaws emit no pollution. They run from most residential grade outlets without issue. There is no dirty oil or gas to clean up. Electric chainsaws were once believed to be less powerful, but manufacturers have been addressing this issue for years, and some high-end models are capable of providing an equivalent amount of force.
Disadvantages of Electric Chainsaws
The biggest disadvantages of using an electric chainsaw is the cord and the requirement for a constant source of electricity. Even for the newer wireless versions, electricity proves to be a downside. After all, these devices can unexpectedly wear down and require hours of charging.
Buying Chainsaws for Homeowners on eBay
eBay is a great place to begin your search for a chainsaw. eBay sellers offer a variety of power tools, with chainsaws being one of the more popular choices. To start the search for a chainsaw, simply enter keywords related to what you hope to find in the site's search bar. In the case of chainsaws, start out with something rather simple, like "chainsaw" or "petrol chainsaw". After listings appear, use eBay's refinement options to customise the search and narrow down the choices.
When ordering something as heavy as a chainsaw, shipping fees are an important consideration. Before committing to purchase a chainsaw, be sure to get an estimate for shipping, handling, and shipping insurance. Add these factors to the list price of the chainsaw to ensure that the total cost is within your budget. Another option is to seek local sellers who may permit you to pick up your saw in person, thereby avoiding shipping charges.
Conclusion
A chainsaw is an extremely useful tool for the house. Not only do chainsaws help with minor home chores, like pruning and trimming bushes, they also are a highly effective tool for cleaning up after a storm or removing a fallen tree. Having a chainsaw on hand is especially important to homeowners residing in heavily wooded areas or those who maintain a large line of shrubbery. Chainsaws make quick work of projects that is otherwise handled with a small hatchet, machete, or other manual tools.
Chainsaws are available at a wide range of prices to fit all budgets. Once can choose from petrol, electric, and rechargeable options to accommodate any number of needs. To find the right chainsaw for one's needs, it is a good idea to read product reviews, descriptions, and consult with friends and family. Some home improvement stores even offer rentals, providing consumers an opportunity to test a chainsaw before committing to a purchase.