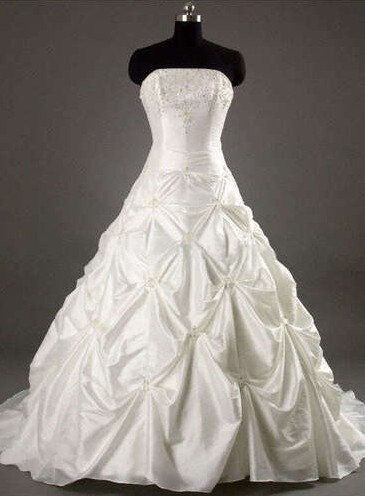 Every season, designers come out with a new line of wedding dresses. Some of them are brand new styles intended to catch the eye of the fad hungry bride, but many more are simply twists on classic designs that have been around for decades. There is a reason for that. A classic design becomes classic because of its beauty and ability to flatter and truly highlight all of the bride's best features.
In the world of fashion, trends come and go. One that is sure to stay, however, is the trend to choose a wedding dress that follows a classic design. That is likely to continue to be a choice for many brides because there is no better way to create the look they are after than by sticking with what works: classic beauty. When browsing through wedding dresses, keep the classic styles worn by these 10 well-known brides in mind.
1. Kate Middleton
Easily the most widely known bride in recent history, Kate Middleton's lacy gown is the picture of classic beauty. Created by Sarah Burton, it featured numerous elements that gave it a Victorian appearance. The satin bodice was narrow at the waist and closed at the back with loops approximately 58 buttons. The top of the bodice, as well as the full sleeves, were all lace and formed a sharp V at the bust. The long, appliqued, skirt incorporated soft pleats, which accentuated her narrow waist.
2. Elizabeth Taylor
The gown worn by Elizabeth Taylor for her first wedding to Conrad Hilton in 1950 is considered by many designers to be the picture of classic beauty. It was designed by Helen Rose and included a 15-yard satin train and a strikingly beautiful, classic off-the-shoulder look. Yards and yards of shell white satin were used to create the gown and it was detailed with precious seed and pearl beads throughout.
3. Carolyn Bessette
When Carolyn Bessette married John F. Kennedy Jr. in 1996, all eyes were on her in her sleek, silky bias-cut, Narciso Rodriquez gown. The dress had clean lines and very few fussy details. It was long and silky and caressed the form of her body. The simple, classic look of this wedding dress was perfect for the setting and the occasion, as it would be for many others.
4. Princess Diana
In 1981, Lady Diana Spencer played the lead role in every young girl's dearest daydream when she married Prince Charles of Wales. Her gown was perfect for the scene and will forever reside in the memories of those who witnessed the occasion. It was crafted from ivory silk taffeta and detailed with antique lace. The full, puffy upper arms and 25-foot long train are two features of this classic gown that truly exemplify the look.
5. Audrey Hepburn
The gown that Audrey Hepburn wore during her wedding to Mel Ferrer in 1954 is a classic one that diverges from the traditional wedding dress look. While most gowns are floor length, hers was a short, tea-length gown that suited her petite stature wonderfully. The gown was minimally detailed with a trim waist and slightly puffed shoulders on a three quarter length sleeve.
6. Grace Kelly
In 1956, Grace Kelly wore a gown designed by Helen Rose when she married Prince Rainier III of Monaco. The fitted bodice on the dress was made of antique, floral lace and embroidered with tiny seed pearls, giving it a truly romantic look. No detail was spared on this classic style, and the gown even included blue satin bows sewn to her petticoats. This was a classic look, if there ever was one.
7. Charlene of Monaco
Charlene of Monoco wore a beautiful, white silk gown when she married Prince Albert in 2011. It was designed by Armani and included large amounts of silk and silk organza. The fine details of this classic, off-the-shoulders dress are what really make this gown memorable. Covering the front and trailing down the train of the gown are unending numbers of delicately embroidered flowers. This detail is repeated in a graceful pattern up the back of the dress as well.
8. Jacqueline Lee Bouvier
A classic look means that the style can stand the test of time. Never is this more truer of the bouffant gown than it is of the one worn by Jacqueline Lee Bouvier when she married John F. Kennedy in 1953. The gown is elegant in the way that it flatters her slender figure with the placement of its fine detailed stitching. It was designed by Ann Lowe, created from over 15 metres of ivory silk taffeta, and the bodice and the skirt of the gown are both examples of fine attention to detail.
9. Katie Holmes
In 2006, when Katie Holmes married Tom Cruise, she wore an elegant, silhouetted gown, designed for the occasion by Armani. The dress was trimmed with Valenciennes lace, accentuating the bride's features and making it a truly classic look. The surface of it is detailed with hundreds of delicate Swarovski crystals.
10. Ivanka Trump
More recently, Ivanka Trump wore a gown designed by Vera Wang when she married Jared Kushner in 2009. When it comes to a classic lace wedding dress, nothing comes closer to the iconic image than this one, which boasts three layers of the delicately sheer material on the skirt. The bodice also has lace covering it, which extends in a delicate layer to lightly lay on her shoulders and upper arms.
Buying a Classic Wedding Dress on eBay
These are just some of the many examples of classic wedding dresses that are available. When shopping for a gown, most brides turn to a bridal shop for options. Unfortunately, that option can potentially limit the number of gowns that are available for them. Shopping online, especially on a site such as eBay, is a great way to open up much more potential for finding just the right dress. You can browse thousands of styles by simply entering "wedding dress" into the search bar found on every page. If you know what you are looking for, adding additional keywords, such as "bouffant skirt", helps to narrow the selection.
Because these are classic looks, it may be wise to consider some of the many pre-owned gowns that are listed for sale on eBay. While not new, these gowns are sure to be in excellent condition. A bit of tailoring and select alterations can turn a pre-owned gown into a memorable classic that is absolutely perfect for the big day. When shopping, be sure to check out the bargains listed on eBay Deals in order to find opportunities to save even more on wedding items.
Conclusion
Every woman wants to steal the show with her natural and overwhelming beauty on her wedding day. That is why finding the perfect dress is so important. The most strikingly beautiful wedding gowns often incorporate classic looks, leaning on trends that are tried and true rather than those that may be passing fancies.
It is easy to get an understanding of what defines the perfect, classic style when it comes or wedding dresses by looking at the ones worn by some of the most memorable brides of all time. With a focus on the inclusion of fine details, form-fitting cuts, and the use of exquisitely rich fabrics, the styles represented by these gowns are truly classic looks.
classic wedding dress|kate middleton wedding dress|lace|satin|bouffant