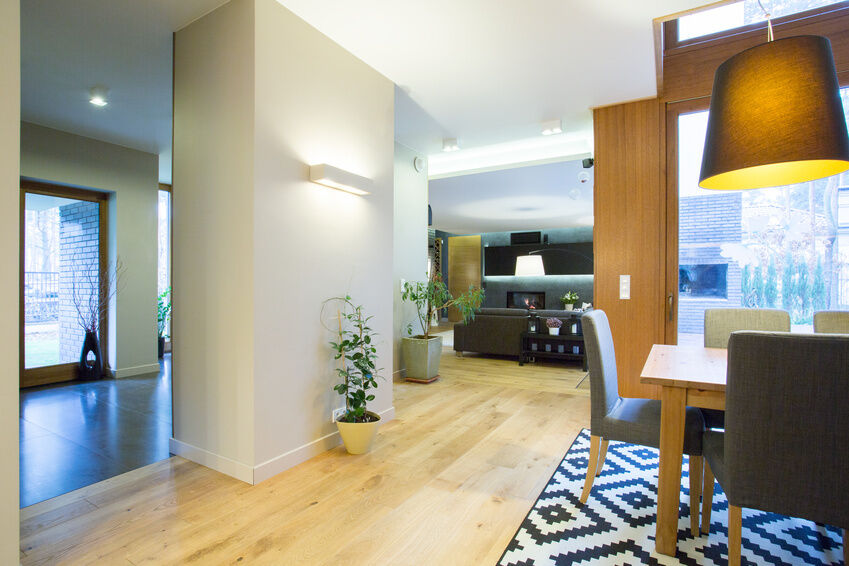 Decorating a home in a Modernist style incorporates more than neutral colours and a traditional minimalist look. The contemporary style seeks to find the balance between sharp clean lines and a comfortable living space. Although incorporating a contemporary style into home design may seem a little intimidating, it is simple to achieve. These top ten ideas can help give any home a modern look.
1. Define the Style
Choose the preferred type of "modern" beforehand. Although modern and contemporary are used as decorating terms interchangeably, there are some differences. Modern design dates back to the late 1800s, and it was influenced by Asian and Scandinavian design with simple lines and neutral colours. HGTV states that mid-century modern emerged during the 1950s and brought bright colours with streamlined furnishings like sunburst wall clocks and mirrors. The 1970s introduced contemporary style, and it combined a mixture of Art Deco, Futurism, and other styles that reflect the current trends.
2. Keep it Simple
The concept of modern decorating is not focused on placing solitary pieces in a room. The idea is to keep the décor to a minimum, which basically means no clutter. Unlike country decorating where organized clutter is welcome, modern home decorating keeps the space open and as clear as possible.
3. Function is the Key
Functionality is the key to modern design. Upon entering a room, homeowners should find that items are easy to access and use. For a kitchen environment, all the cooking items will be in one place. This not only streamlines the process, but it allows the room to function more effectively.
4. Monochromatic Can Make the Room
Many people think in shades of grey and brown. While those neutral colours have their place, designers today often prefer monochromatic schemes ranging from shades of white to shades of blue. Use a variety of textures to avoid having the room take on a hospital or office feel.
5. White on White is not Always Right
White on white is perhaps the epitome of conservative modern decorating. Depending on the size of the space, monochromatic colours can also overpower a room. Prevent this by introducing a small splash of colour throughout the space. Add red pillows, red flowers or even red curtains to break up the monotony and give the room some kick.
6. Let the Windows Go Naked
Since a view of the outdoors helps to emphasise openness, many modern-style homes have large windows that homeowners choose to keep bare. This not only makes rooms look larger, but it allows natural lighting to enter the room. This idea might not work in a neighbourhood with tightly packed homes, so consider using simple unadorned curtains to ensure privacy.
7. Think Low, Simple and Modular
Many modern furniture designs use chrome and leather with low sleek lines. Pick up this type of furniture for a fraction of the cost by buying office furniture, since it is also popular for medical waiting areas and business lobbies.
8. Mix those Stripes and Patterns
With modern design, it is perfectly fine to have more than one pattern. Use striped pillows and a floral bedspread, or add a zigzag pattern on the curtains with a paisley patterned rug.
9. Go Bold in the Bedroom
The colours and furniture in a bedroom should reflect the objective for personal space. If homeowners want the sleekness and style of the furniture to take center stage, they should use grey or beige on the walls. Try a more feminine feel with pinks or purples, or use dark blues or greens for a more masculine look.
10. Technology is the Thing
Keep the technology streamlined. Modern flat-screen televisions and whole-house sound systems allow electronics to integrate flawlessly into a room without overpowering the design. Consider a wall-mounting shelf for the television, and keep DVRs and other types of electronic systems hidden and out of sight.