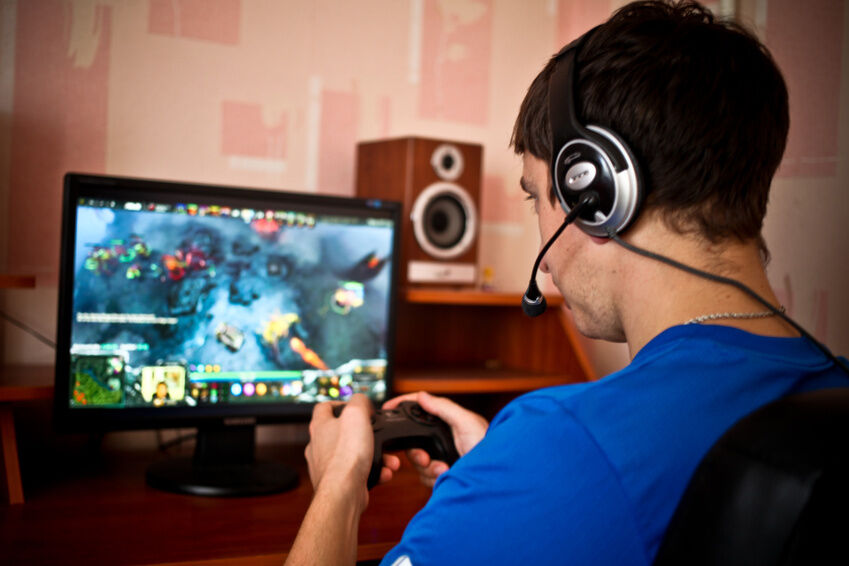 Each year, video game enthusiasts, role-playing aficionados, and board game lovers flock to gaming conventions around the world. These lively, multi-day expos feature game release previews, product reveals, live demos, panel discussions with field experts, competitions, eye-popping costumes, and even celebrity appearances. Gamers who wish to connect with other like-minded people and learn about the newest industry trends can plan a dream trip to one of the top gaming conventions around the globe.
1. Comic-Con International: San Diego
Comic-Con International: San Diego is the ultimate meet-up for comic book, science fiction, movie, video game, and pop culture fans. It draws around 130,000 people annually, including a slew of big-name celebrities, from film stars to illustrators to game developers. Guests can attend panels and seminars lead by industry professionals, watch screenings of new anime and independent films, or play the day away in open game areas. Aspiring students can snag a portfolio review with leading companies, and cosplay enthusiasts fiercely compete for best costume.
2. Electronic Entertainment Expo
E3 is a top gaming convention that focuses specifically on video, mobile, and computer games, and it takes place annually at the Los Angeles Convention Center for three days. E3 gives leading game developers a chance to show off the latest technology. Software developers, retailers, venture capitalists, and gamers share the latest high-tech games and gaming devices.
3. Penny Arcade Expo
PAX is a popular gaming expo that takes place every year in Melbourne, Boston, Seattle, and San Antonio. Live music has always been a big a part of PAX, and several bands that specialise in the nerdcore genre, such as MC Frontalot, often headline the event. PAX also features free console play, an exhibit hall, and a tournament competition called Omegathon.
4. Global Gaming Expo
G2E is an annual gaming trade show that takes place in Las Vegas and Macau, China. The event presents the latest trends in gaming. Attendees can purchase different levels of passes to gain access to certain exhibits and seminars. Networking breakfasts and lunches give guests a chance to mingle with peers and industry leaders in a casual setting. Musical and variety acts soften the commercial aspects of this expo.
5. BlizzCon
BlizzCon celebrates the latest in Blizzard games, such as "Warcraft", "Starcraft", and "Diablo". The event takes place annually in Anaheim, California, but free live streaming on the Blizzard website allows gamers who cannot attend in person to view championship competitions, guest speaker interviews, and live music. Tournaments, costume contests, access to commemorative merchandise, and discussions with Blizzard developers highlight the convention.
6. MineCon
MineCon is a gaming convention that celebrates the video game "Minecraft". Organisers choose a different international venue each year, and attendees receive a free in-game cape emblazoned with a fan-voted design. Elaborate scenery, costumes, and merchandise are available at the convention. Game developers give attendees a sneak preview of upcoming "Minecraft" updates and drum up excitement for new features.
7. Gen Con
Gen Con is the longest running tabletop gaming convention. Thousands of gamers flock to Indianapolis, Indiana for the annual event. The convention features pen and paper, board, and card games. Its most popular amongst those who enjoy role-playing games and collectible card games, such as "Magic: The Gathering", "Dungeons & Dragons", and "Sails of Glory".
8. Transylvania International Game Convention
Tig Con is an annual gaming expo held in Transylvania that centres on board, card, role-playing, and war games. The event also prominently features games and toys designed for young children. Attendees have access to a playground area that allows anyone to test out new games and products before they debut to the public.
9. World Boardgaming Championships
Around 2,000 people attend WBC in Lancaster, Pennsylvania, each year, going head-to-head in board game competitions, playing "Risk", "Advanced Civilization", "Air Baron", and more. Any player can preregister to compete. Experienced Game Masters at the event can show beginners the ropes. Organisers award plaques to winners, keep records of champions, and post ratings on the Internet.
10. Internationale Spieltage
Internationale Spieltage is a four-day gaming convention in Essen, Germany, that features role-playing, dice, educational, kids', board, and card game competitions and merchandise. Internationale Spieltage is a family-friendly event for gamers of all ages.
How to buy games and gaming accessories on eBay
Fans of all stripes can find games, accessories, and even convention memorabilia on eBay. Type keywords describing what you want into the search box, such as "12-sided die" or "Magic: The Gathering". Filter results by category, brand, condition, and seller location. Look for sellers who provide detailed descriptions, photos, and attractive shipping options. Some items, such as consoles, come bundled with accessories, such as games or controllers. Committed gamers can find the tools they need to succeed at and celebrate their hobby.