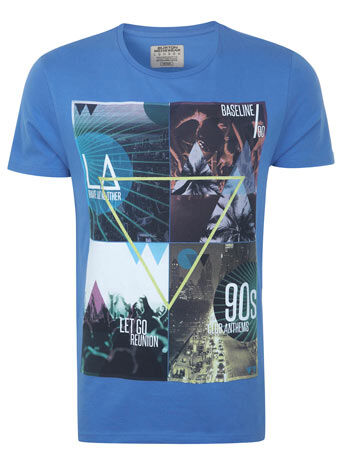 In the business world, men often have a limited selection of office-appropriate attire. Some may wear suits every day, while others wear polo shirts and khaki pants. However, for some jobs, casual attire is appropriate, including jeans and T-shirts. Even business professionals, when they are not on the job, enjoy donning a comfortable, casual T-shirt.
As men shop for T-shirts to add to their wardrobe, they should keep in mind some of the top T-shirt styles for men. Each style has its own unique look and its own advantages and, depending on the year, one style or another may be rated the number one choice for men by top fashion magazines. Whether buyers are shopping for T-shirts in local stores or on eBay, they should consider a broad variety of styles, colours, and materials until they find shirts that fit their size, budget, and lifestyle.
1: Crew-Neck T-Shirt
The crew neck T-shirt is among the most popular for men, and was rated the best T-shirt for men by Esquire magazine in 2012. The trademark feature of crew-neck T-shirt is the simple rounded neckline. It may have short sleeves or long sleeves, although most men opt for short sleeves for versatility. Men can layer crew-neck T-shirts under blazers or suit jackets for an office-appropriate yet casual look. They may also use them under polo shirts or collared shirts. After work, men can slip into a crew-neck tee and jeans to run errands, go out with friends, or enjoy a relaxing evening at home.
2: Striped T-Shirt
Most men have multiple striped T-shirts in their wardrobe. These T-shirts offer a little more visual interest than the standard solid-coloured shirt. The stripes are usually horizontal. They may be all the same width, or they may vary in width. Many striped T-shirts include a combination of thick and thin stripes of various colours. Some striped T-shirts feature a nautical colour scheme, with a pattern of white and navy stripes. Larger men should avoid very wide stripes, since they can add bulk to the torso of the wearer. Thinner stripes or stripes of varying widths are generally more slimming and flattering. Striped T-shirts come with different necklines, including crew necks and V-necks.
3: V-Neck T-Shirt
A V-neck T-shirt is another classic style that belongs in every man's wardrobe. Younger men with toned muscles may want a short-sleeved version with a deeper V to show off their chest. Some men may opt for a milder V-neck if they prefer not to show too much chest hair.
Like the crew-neck T-shirt, the V-neck is easy to layer. Men can put it on under a sweater, blazer, suit jacket, or vest. Buyers can purchase a loose V-neck T-shirt and layer it over a crew-neck tee of a coordinating colour. Almost all companies manufacture V-neck T-shirts for men, and major brands include Abercrombie & Fitch, Levi's, and Jockey.
4: Pocket T-Shirt
The pocket T-shirt is a V-neck or crew-neck with a small pocket over the left breast. The pocket is more for style than for practical purposes, adding interest to an otherwise plain tee. For a casual day at home, the shirt goes well with jeans. For a business casual environment or an evening get-together with friends, men can throw on a blazer or a stylish jacket to take the look up a notch. Pocket T-shirts come in a variety of solid colours. Men usually opt for at least two or three in neutral colours that coordinate well with other pieces in their wardrobe.
5: Henley T-Shirt
Henley T-shirts come with long sleeves, three-quarter sleeves, or short sleeves. The Henley style has a neck opening of several inches with three buttons to close it. Owners can wear it buttoned up, or they can undo one or two buttons. While most Henley T-shirts come in solid colours, others are two-toned or include trim or detail at the neck or a larger design.
A Henley T-shirt is slightly dressier than the average crew-neck, V-neck, or graphic T-shirt. It is appropriate for some workplaces, especially if it is in a block colour, such as Esprit T-shirts are, usually. The buttons make successful layering a little more complicated, but with careful coordination, owners can achieve a layered, stylish look with their favourite Henley tees.
6: Graphic T-Shirt
Many different kinds of T-shirts fit into the category of graphic T-shirts. Some graphic tees feature the logo, mascot, or brand name of the manufacturer in various interesting fonts or stylistic representations. Others have shapes, geometric patterns, or artistic designs, such as T-shirts by True Religion, for example. Some feature designs only on a limited area of the shirt, such as the chest, while others include patterns or images that twine up the sleeves of the tee or wrap around from the front to the back.
Graphic T-shirts allow men to more fully represent their personal style and their favourite things. Some graphic tees feature characters from books, movies, or popular culture. Others depict famous bands or music artists. Still others feature catchy slogans or photos of animals.
7: Surfer T-Shirt
A surfer T-shirt is a specific type of graphic T-shirt. It usually features images of beaches, waves, surfboards, palm trees, and ocean-related objects. Sometimes fish, dolphins, and other aquatic animals appear on these T-shirts. Famous brands include Quiksilver and Billabong. Even men who far from the ocean may enjoy wearing a surfer T-shirt from time to time, if only to remind themselves of beach breezes and curling blue waves. Surfer T-shirts are particularly popular during the spring and summer months.
8: Ringer T-Shirt
Ringer T-shirts have a crew-neck style. The body of the shirt is one colour, while narrow strips around the neck and sleeves feature a contrasting colour. For instance, the shirt may be white with navy neckline and sleeve openings. It could be vivid green with white edges at the neck and sleeves. Other shirts combine two tones of blue, red and blue, grey and black, or sky-blue and grey. The colour combinations are practically endless, offering men the opportunity to select ringer T-shirts that suit their personal style perfectly. Ringer T-shirts can have a vintage flair or an athletic feel, depending on the colours and cut of the shirt.
9: Vintage T-Shirt
Some men may have an innate love of all things vintage. Vintage T-shirts often boast images, slogans, or sayings from a past generation. They may be brand-new or used, softened by wear and washing. Vintage T-shirts are often valued for their limited availability. Some of them may boast one-of-a-kind status, especially if they are autographed by a famous person or have some unique history attached to them. Vintage rock and roll T-shirts are popular with fans of classic rock.
10: Novelty T-Shirt
Novelty T-shirts also fall into the graphic T-shirt category. These shirts feature words, slogans, concepts, or statements that represent the wearer's views and opinions. They may identify a man's political affiliation or boast his favourite sports team. Men should be judicious regarding when and where they sport certain T-shirts, since some slogans or affiliations may be controversial.
Buying T-Shirts for Men on eBay
To find T-shirts for men on eBay, type 'T-shirts for men' into the search bar on any page of the website, or enter the name of the specific T-shirt you want. eBay includes a number of filtering options so that you can limit your search results to the products that most closely match your needs. Check eBay Deals for the best prices of the day.
On eBay, the most highly rated sellers have special Top-Rated Seller seals on all their listings. These seals indicate the seller's commitment to high quality and rapid delivery. Read each listing carefully to see if the seller is offering any extras like free shipping, bundles, or package deals. If you need a digital photo of the T-shirt or confirmation of a seller's policy, contact the seller by clicking the 'Ask a Question' link on the product page.
Conclusion
After a long day in office attire, most men enjoy going home and changing into a favourite comfortable T-shirt. The top ten T-shirt styles for men reflect the need for comfort, breathability, fit, and eye appeal. To identify the right colour, style, and material, buyers need to consider their lifestyle and the types of activities that they plan to undertake while wearing the shirt.
When selecting T-shirts, men should also ensure that they choose the right style but also the right size. For online purchases, trying the shirt on may not be an option. Instead, men can take some measurements and consult online sizing charts from the T-shirt manufacturer's website. Then they can go on eBay to find good deals on their favourite brands of T-shirts.
Men's T-Shirt|Crew Neck T-Shirt|Striped T-Shirt|V-Neck T-Shirt|Pocket T-Shirt