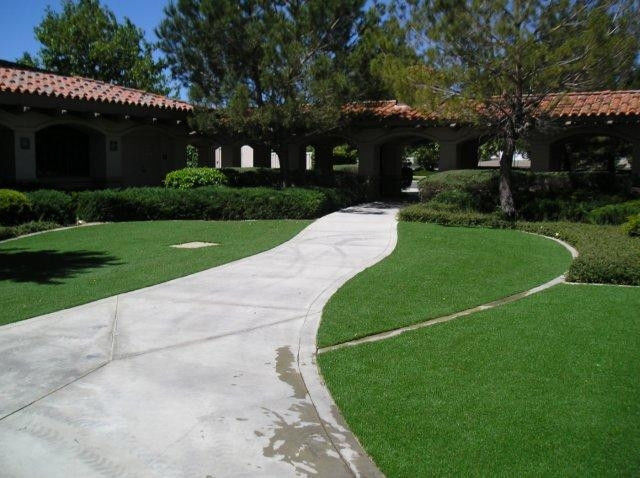 Artificial turf or synthetic grass has existed for decades. It is a common sight in sports, but advances in technology also make it a viable option for home lawns and private property. Synthetic grass has a natural appearance, and it requires less maintenance and offers a number of other advantages over its living counterpart. By evaluating the top benefits of synthetic grass, homeowners can determine if it is the best choice for their properties.
1. Minimal lawn maintenance
One of the greatest benefits of installing synthetic grass on a property is the reduction in lawn maintenance. Homeowners do not have to mow, water, fertilise, or weed their lawns to maintain a beautiful green appearance. After the initial cost of installation, the cost of maintenance drops dramatically and saves homeowners substantial amounts of money over the long term.
Because homeowners do not have to spend time taking care of their grass, they can spend their weekends enjoying time with their families rather than spending hours handling the upkeep of the turf. They also reduce indoor housekeeping because they no longer track in loose blades of grass and soil from outdoors.
2. Durable grass with a long lifespan
Unlike living grass, synthetic grass is not dependent on the weather or the amount of water and fertiliser it receives. Additionally, frequent walking, running, and playing on the grass does not cause significant damage, which is why artificial turf is a top choice for sports fields that endure heavy use. The turf also allows teams to return to the field sooner after rain, and players do not have to worry about damaging the field or loosening the grass from the added moisture. It can withstand extended use in all weather conditions without requiring a recovery period.
Synthetic grass has a long lifespan, and homeowners do not have to worry about frequent replacement. On average, it lasts for 25 years, but the exact time depends on how well owners maintain their lawns during that time. Sports fields with synthetic grass installations typically have a lifespan of about 10 years.
3. Minimal water usage
Reducing the amount of water used lowers utility bills and also helps with conservation efforts. One of the biggest ways consumers waste water is by watering the grass on their properties. By installing synthetic grass, homeowners effectively reduce general water consumption down to zero and save their wallets and the planet simultaneously. Artificial turf also offers better drainage than living grass when it comes to removing water from the property and preventing pooling that can damage structures and attract pests.
4. Safe for pets, children, and the environment
People are sometimes reluctant to install synthetic grass on properties because of their pets or their children. However, it is safe for the entire family. In fact, the artificial grass is especially popular with those who have grass and pollen allergies, according to the National Institute of Health in the article "Synthetic Turf: Health Debate Takes Root". Artificial grass allows them to enjoy the outdoors without having to worry about itching and sneezing.
Homeowners also limit their exposure to the toxic chemicals in fertilisers and pesticides, and that offers many health benefits. They also do not have to worry about releasing the toxins into the environment.
5. Attractive grass all year
Synthetic grass maintains its attractive appearance all year, regardless of the weather or temperature. Although many homeowners must endure unattractive, brown, and dormant lawns in the cold winter months, those with synthetic grass enjoy bright green lawns at any time of year.
Synthetic turf has come a long way since its introduction in the 1960s, and many types of artificial grass look and feel just like living grass. Homeowners do not have to worry about grass that looks like plastic affecting the appearance of their properties. Older versions of synthetic grass sometimes had a fake appearance, but modern advances allow homeowners to enjoy perfectly manicured lawns with a natural look.
How to buy synthetic grass on eBay
You can easily shop for synthetic grass from the large selection of home and garden supplies available on eBay. Use the basic and advanced search options to locate the items you need using keywords. Specify a price range to eliminate listings that do not fit within your budget and narrow the results to items for sale locally so you can pick up the grass in person and save on postage costs. Eliminate the cost and time needed to maintain a beautiful lawn by installing attractive and durable synthetic grass on your property.