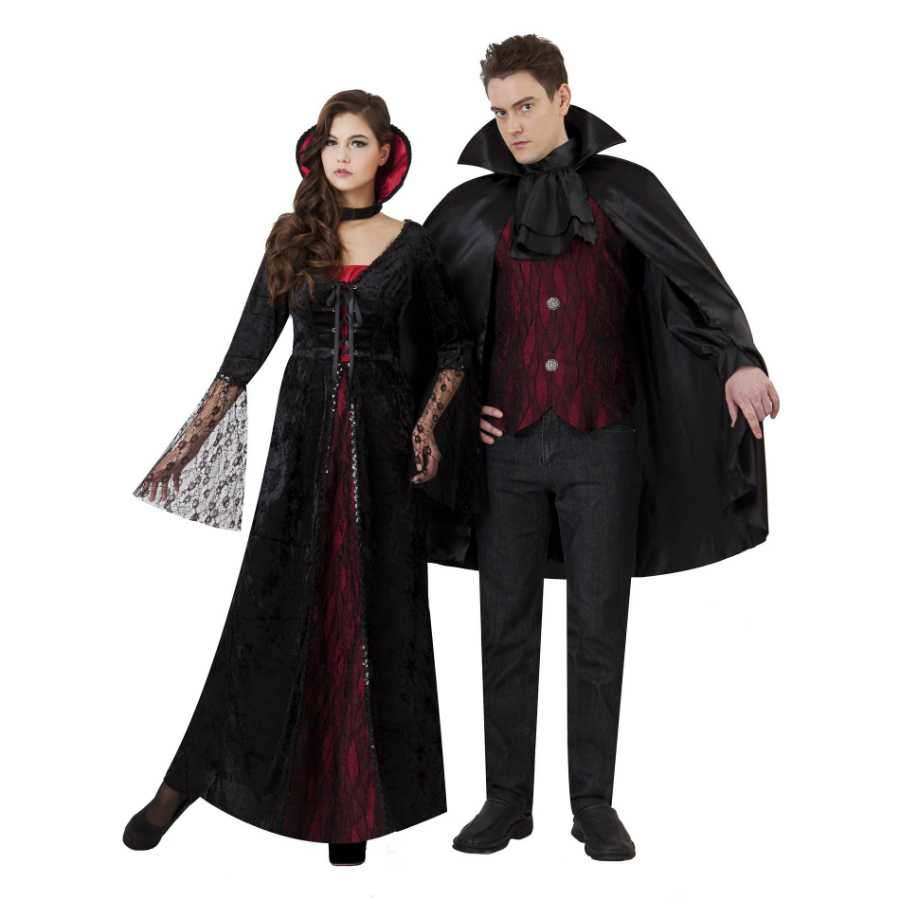 The intrigue of concealment is part of the allure of attending costume parties, but what makes costumes truly great are the memorable characters that come to light. What defines the best costumes for customers is often in the eyes of the beholders, yet it is safe to claim that the best costumes have the staying power to be relevant now and 20 years into the future. Partygoers can find the bestcostumesin novelty shops across Australia, but the best venue for buying the best costumes is online at eBay. eBay hosts sellers who offer high-quality costumes of memorable characters, at affordable prices. First, take some time to review the factors involved in buying the best costumes for couples, and then read about five outstanding costumes that become the life of the party.
What to Consider When Purchasing One of the Best Costumes
The best costumes for couples work in a variety of festive social settings. For example, couples do not need to search for the right Halloweencostume, and then toss the costume into the garbage heap. Costumes for couples can be a bit pricey, especially the costumes in high demand. Therefore, look for multi-event costumes that can last for several years. Here is a brief list of factors that couples should consider when they shop for costumes.
Comfort
Since costume manufacturers produce high-end costumes with heavier materials, couples should search for costumes made with breathable, low-density materials that promote the evaporation of perspiration. Make sure the costumes do not contain fibres that cause rashes or other types of body discomfort. Masks are the most worrisome costume accessory because of potentially harmful plastics used to construct them. Couples dressed as knights in shining armour may look impressive, but such costumes are virtually impractical for long periods of standing.
Durability
The goal is to purchase two costumes that couples can wear to different social events. While popular themes play a huge role in determining how often couples can wear their costumes, buying a multi-purpose costume means nothing if it falls apart after only a couple of parties. Look for costumes made of blended materials, including some combination of cotton, nylon, and polyester. Nylon and polyester provide resistance to tears and stains, while cotton balances the feel of the heavier materials by offering soft comfort.
Accessories
Imagine aDarth Vadercostume without the potent laser sword, or matching cowboy and cowgirl costumes without the six-shooters. Not only do the costumes diminish in authenticity, the extra components that fill out the costumes cost more than buying a complete costume with all of theaccessories bundled into one package. Buying the best costumes for couples means buying the entire ensemble from one seller.
New vs. Used
Couples may be tempted to save money by searching for used costumes. The problem with this approach is the lifespan of the used costumes. New costumes ensure high-quality stitching and clean fabrics. However, one e-commerce venue hosts sellers who offer virtually new costumes at reduced prices. Some eBay buyers may have changed their minds about a costume or find out their plans no longer include wearing a costume to a party. The only reason the sellers have to list the costumes as used is that they have removed the costumes from their original packaging.
Fitting for Costumes
Most adult costumes come as one-size-fits-all or an adult regular size. For both men and women, costumes include elastic waistbands or sashes that customise the fit, except for extra small and extra large sizes. As the following chart indicates, the standard adult size range runs from 80 to 105 cm.
| | |
| --- | --- |
| Size | Waist (cm) |
| Small | 80 |
| Medium | 90 |
| Large | 95 |
| Extra large | 100 |
| Plus size | 105+ |
Couples who are uncertain of their costume sizes should choose the larger of two costume sizes under consideration. Costume designers typically make costumes to run smaller than their indicated sizes. Moreover, wearing a costume that is one size larger than normal provides more room for air to circulate within the costume to prevent overheating.
Top Costume 1: Adam and Eve
A review of some of the more prominent online costume websites shows how popular the Adam and Eve costumes have become. The sites regularly run out of the costumes that typically feature two flesh tone jumpsuits, two leaf headpieces, and two lightweight, one-piece togas.
Top Costume 2: Batman and Catwoman
"The Dark Knight" rejuvenated the venerable Batman series, and as such, increased demand for Batman and Catwoman costumes for couples. The Batman costume features a headpiece that includes the bat mask and ears, long cape, chiselled muscle suit, attached boots, and utility belt. Catwoman prances around in black leather trousers that feature fake slashes in the thigh area and an exaggerated bra-style top. Make sure the Catwoman costume comes with plastic claws and the character's famous headpiece.
Top Costume 3: Bill and Monica
Nothing turns heads quicker at a party than the sight of Bill Clinton and Monica Lewinsky. The realistic over-the-head masks are the only components of this costume and that is a good thing. This allows the couple to dress as if they are heading to Camp David or attending an inaugural ball. The Bill and Monica costumes are the only best costumes for couples that do not require accessories to complete the appearances.
Top Costume 4: Luke Skywalker and Princess Leia
First, there was the original trilogy, followed by the prequel trilogy. Hollywood never allows a good movie theme to die a quick death, and the "Star Wars" franchise is no exception. With the third trilogy, Luke Skywalker and Princess Leia costumes should command extremely high demand. Make sure Luke's costume includes the lightsabre and classic robe. The Princess Leia costume should include the stylish intergalactic dress, belt, boot tops, and wig.
Top Costume 5: Zombies
The predicted end of the world means zombies should soon inherit the Earth. For the time being, they are popular characters at costume parties. Zombie costumes feature dishevelled attire and enough makeup to project a realistic look at a couple on the brink of extinction. Some online costume shops offer Zombie costumes that include all of the required accessories, while other outlets may only offer the makeup kit.
Buying the Best Costumes for Couples on eBay
On every eBay page, there is a powerful search engine that makes finding the right seller quick and easy. Specify your keywords to ensure the sellers that eBay's search engine lists match your buying criteria. You can specify that you want the seller to live in Australia to reduce shipping times. You can also type in costume-specific keywords that include general themes, such as religious- and sports-themed costumes. Make sure to include the search term "couples" to ensure eBay returns sellers who have two costumes for sale. Search for sellers who bundle costume accessories into packages that cost less than if you purchase the accessories individually. eBay also offers a number of deals on products sold on the e-commerce site on a revolving basis.
Conclusion
Most people rent costumes to defray the cost of hiding their identities during parties and celebrations. However, couples can find deals on costumes at eBay. The costumes considered by eBay buyers should have themes that possess staying power, as well as provide comfort and durability. Consider new costumes and costumes that include all of the character's famed accessories. Rarely can buyers find used costumes for couples that make it to the list of best costumes for couples. While defining "best" can be subjective, partygoers cannot go wrong with time-tested themes, such as Batman and Catwoman, Adam and Eve, and any combination of the "Star Wars" characters. Costume manufacturers design with the creative genius to turn heads at parties, and once noticed, they draw a variety of humourous responses from fellow partygoers.
Costumes for Couples|Batman Costume|Star Wars|Best Costumes|Bill Clinton